Whenever you visit a spy app website, you'll be enticed by promises of total access and glowing testimonials from happy customers. This makes it tempting to immediately purchase their services, especially if you urgently need to monitor a child or partner.
However, the reality may not live up to the marketing hype. After handing over your hard-earned money, you might find the app fails to deliver on its lofty promises and leaves you feeling cheated.
But there is a way to avoid buyer's remorse – read detailed, unbiased reviews before making a purchase.
One spy app that boldly promises to satisfy customers is Aispyer. Before you trust Aispyer blindly based on its own claims, read this comprehensive review first. I recently tested Aispyer myself to see if it could actually provide the powerful monitoring abilities it boasts about.
Upon visiting the Aispyer website, the grandeur of their promises hits you right away. Happy customers, cutting-edge features, and claims of being the best. It's everything you'd expect from a top-tier spy app, but does it hold up upon closer inspection?
Quick Summary
Aispyer is a phone monitoring app that lets parents/employers track calls, texts, location, apps and social media activity on Android and iOS devices.
Pros:
Robust logging of calls, messages, location
Takes screenshots to monitor social media
Keylogger captures texts well
Easy to view data on web dashboard
Cons:
Limited iOS support without jailbreak
Buggy app list doesn't detect uninstalled apps
Slow and delayed screenshot syncing
Web history tracking unsuccessful
Search is case-sensitive
While Aispyer delivers solid performance for communications monitoring and social media spying via screenshots, it falls short in other aspects like web tracking and app list management.
More polished competitors like mSpy and Eyezy offer smoother overall tracking and monitoring.
Aispyer can still be a good option for parents/employers focused on social media monitoring or call/text logging. But limitations prevent a full recommendation over other established spy apps.
What is Aispyer?

Aispyer, at its core, is a Lightweight Mobile Phone Monitoring Solution designed to offer an in-depth and reliable remote monitoring experience for mobile users. But it doesn't just stop there. Aispyer is committed to helping people address vital concerns most effectively and appropriately.
Beyond just monitoring phones, Aispyer claims it will also support tracking other internet-connected devices like cars, home appliances, and more. So it aims to be an all-encompassing IoT monitoring tool.
For tracking Android devices specifically, Aispyer bills itself as the most reliable app to keep kids safe. It boasts the ability to monitor over 30 different types of files including texts, calls, locations, social media and more.
Aispyer says it can be installed completely hidden, without the target user ever finding out. It also claims to require no root access on the monitored Android device.
Let's break down what Aispyer brings to the table across various devices.
Aispyer for Android 🤖
Aispyer presents itself as the Most Reliable Android Mobile Tracker App that aims to keep your loved ones, especially kids, safe.
Available On: Android versions 4.0 – 11.
Key Features:

Phone Number Tracker: View all call details, including date, time, and call duration.
GPS & Web History Tracker: Keep tabs on the device's location and browsed content.
Additional Features: Email tracking, calendar insights, keylogger capabilities, app usage data, and more. Aispyer also extends support for WeChat, Viber, Kik, and more.
Aispyer for iOS and iPhone 🍏
For iOS devices, Aispyer offers more limited monitoring without jailbreaking. It claims to track data from every iOS app, even deleted files. The main features for iPhones include WhatsApp monitoring, message recording, call logs, photos, videos, browsing history, and text tracking in apps like Calendar and Notes. Aispyer promises secure and comprehensive iPhone tracking without the need for jailbreaking.
Aimon for Windows and Mac 💻
Aispyer also offers desktop monitoring software for Windows and Mac called Aimon. It boasts 40+ features to fully track all computer activities.
Aispyer's Aimon is a powerful computer monitoring software tailored for both parents and employers. It's designed to provide a comprehensive overview of computer usage.
Available On: Windows 10/8/7 and all Mac systems.
Key Features:

Monitor IMs & Internet Activity: Track popular IM chats, emails, and web browsing habits.
Verify Network & File Activity: Stay updated on network connections and safeguard your data.
Visible/Invisible Mode: Choose how the software operates – seen or unseen.
Keylogger: Discover everything typed, including search terms and notes.
Aimon for Mac 🍎
Similar to its counterpart for Windows, Aimon for Mac is the go-to computer monitoring software with 40+ unique features.
In summary, Aispyer presents itself as a comprehensive, undetectable monitoring solution for mobile devices, computers, and other connected gadgets.
Device Compatibility: Will Aispyer Work on Your Device? 📱💻
Before purchasing Aispyer, it's important to verify that it will actually work on your target device. Here is a rundown of which devices and systems Aispyer supports:
Android Compatibility 🤖
Aispyer for Android: This is available for most Android devices. If your smartphone runs on Android version 4.x to 11, you're in luck. Specifically, it's compatible with Android versions 4.0 – 11.
iOS & iPhone Compatibility 🍏
Aispyer for iOS and iPhone (No Jailbreak): For those not keen on jailbreaking their devices, this version is suitable for iOS versions ranging from 9.0 to 14.x.
Aispyer for iPhone (Jailbreak Required): If you have a jailbroken iPhone, or plan to jailbreak, this version is tailored for you. It's compatible from iOS 9.0 to iOS 14.8.
Aispyer for iCloud (No Jailbreak): Planning to monitor via iCloud? This requires iCloud credentials and backup. Note: If the iCloud backup isn't activated on the device you're monitoring, or if 2-factor/2-step verification is enabled, physical access to the device becomes a necessity.
Windows & Mac Compatibility 💻
Aimon for Windows: Catering to a broad spectrum of Windows users, Aimon for Windows is available for Windows 7, 8, and 10.
Aimon for Mac: Mac users, rejoice! Aimon is designed to be fully compatible with every version of macOS.
So in summary, Aispyer offers extensive monitoring for non-jailbroken Android devices from version 4.0 and up. iOS support is more constrained unless you jailbreak. And it can monitor Windows and Mac computers running fairly recent OS versions. Know your target device's details before purchasing to ensure compatibility.
Aispyer Setup & Installation Guide 📲
Before utilizing the services of Aispyer, it's pivotal to understand its setup and installation process. Here's a detailed guide to help you navigate the process effortlessly:
For Android Users:
Video Tutorial: If you're a visual learner, watch the How to Install Aispyer for Android tutorial for a comprehensive walkthrough:
1. Preliminary Steps:
Account Creation: Navigate to the Aispyer website and click the Sign Up Free button. Input a valid email address and password to create an account. Thereafter, select one of the three available plans for Aispyer for Android to access its advanced monitoring features.
Downloading the App: Upon purchase, a confirmation email, containing a download link and QR code, will be sent to your registered email address. Utilize these to download and install the Aispyer app on the target device. Ensure you follow the installation instructions carefully.
Accessing Tracked Data: Post-installation, log in to your Aispyer account on their website. If set up properly, you should see the device name and related details. To view the tracked data, head over to the dashboard. Please allow some time for initial data syncing from the Android device.
2. Setup on Your Device:
Visit Aispyer: Go to the official Aispyer website and click the Log in option at the top right.
Account Registration: Since it's your first use, opt to create an account by clicking on Create an account at the bottom of the page.
Account Details: Fill in the target person's name, your email, and set a password. Agree to the terms and hit Register.
Account Activation: An activation link will be sent to your registered email. Click on this link to activate your account.
Logging In: Re-login using your credentials.
Dashboard Access: Upon login, you'll be directed to the dashboard. Click on Start Now.
Plan Purchase: Purchase the desired Aispyer plan. Post-purchase, an email with your login credentials will be sent.
3. How to Install Aispyer for Android on the Target Device:
Decrease Security Level: To ensure discreet installation:

Disabling Play Protect: Navigate to Play Store -> Menu (hamburger icon) -> Play Protect. Tap on the settings (gear) icon and toggle off Scan apps with Play Protect.
Enabling Unknown Sources: Go to Settings -> Biometrics and Security -> Install unknown apps. Choose your browser and toggle on Allow from this source.

Aispyer Installation:

Link Access: Use the incognito mode in your browser and access the URL: Tracksp.in. Ensure the link doesn't redirect.
Proceed with Download: If you encounter a warning screen, select Advanced and proceed to Tracksp.in. Tap on the download icon and then OK.
Installation: Once downloaded, click Install.
App Configuration: Agree to Aispyer's privacy policy. Input the registration code you received post-purchase.

Modify Phone Settings:

Permissions: Grant the necessary permissions like device administration, system update service, screen recording, and notifications.
Additional Permissions: Allow Aispyer to access contacts, manage phone calls, access calendars, logs, photos, location, media files, record audio, and messages.

Finalizing Installation: Complete the setup by clicking Finish. The Aispyer icon will discreetly vanish, ensuring the app remains hidden.
Once installed correctly, you can log into your account dashboard to view tracked data from the Android device. Just note it takes some time for data to initially sync over.
Aispyer Setup & Installation on iOS
Aispyer can monitor both jailbroken and non-jailbroken iOS devices including iPhones and iPads. Here are the steps to set it up:
Your Aispyer Account
Go to Aispyer's website and sign up for an account. Choose a monitoring plan.
After your purchase, check your email for download and installation instructions.
For Non-Jailbroken iOS Devices
Download and install the Aispyer iOS app on a Windows or Mac computer that the target iOS device will connect to.
Connect the target iPhone or iPad to the computer via USB/Lightning cable. This will allow Aispyer to access a backup of the device's data.
Aispyer will scan the backup and extract monitorable data from it. Whenever the target device reconnects, new data will sync over.
For Jailbroken iOS Devices
Follow the jailbreaking process on the target device. Then install the Aispyer iOS app directly onto it.
Launch the app and enter your Aispyer credentials to activate monitoring. Grant the necessary permissions when prompted.
The app will run hidden in the background gathering data.
Viewing iOS Data
For both jailbroken and non-jailbroken devices, you can now login to your Aispyer dashboard to view monitored texts, calls, locations, apps, and other iOS activities. Note that more data is available if the device is jailbroken.
Aimon for Windows Setup & Installation:
Create an Aispyer account.
Install and Activate:
– Post-purchase, use the download link from the email to install Aimon for Windows on the target PC. – Activate using your License Key.
Note: Disable your antivirus temporarily if it interferes with the installation.
Start Monitoring: Log into the online dashboard to use all monitoring features.
Aimon for Mac Setup & Installation:
Create an Aispyer account.
Install and Activate:
– Use the download link from the post-purchase email to install Aimon for Mac on the target Mac computer. – Activate with your License Key.
Start Monitoring: Log into the online dashboard to use all monitoring features.
Aispyer for iPad Setup & Installation:
Create an Aispyer account.
Install and Activate:
– After your purchase, an email will be sent to you. – Login to the online dashboard, find "Reference Manuals" under Help, and follow the detailed installation and activation guide to set up Aispyer for iPad on the target device.
Start Monitoring: Log into the online dashboard to use all monitoring features.
Aispyer Dashboard
The dashboard is the hub where you can view a summary of the monitored data from the target device after setting up Aispyer.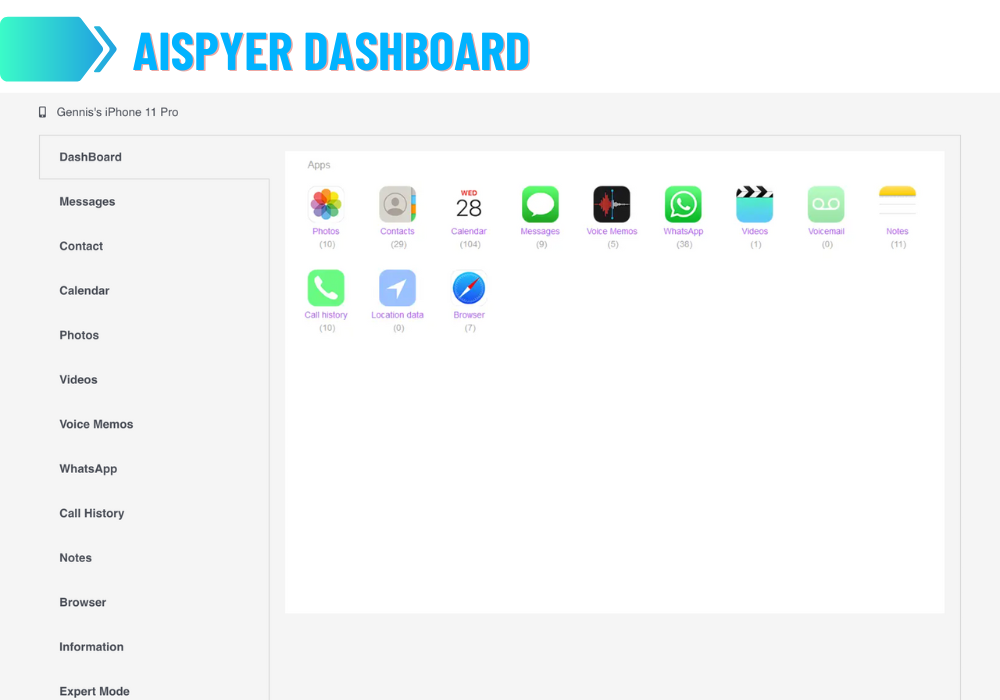 At the top, it displays key information about the target phone:
Device model
Battery percentage
Current location on a map
Connected WiFi network
Having battery status and location visible immediately allows you to take actions like telling your kid to charge their phone or picking them up if needed.
The dashboard also highlights:
Most frequent contacts for calls and messages, so you can quickly see who the target is interacting with a lot.
Last known location on a map, so you can click and check exactly where they were recently.
Quick access shortcuts for key features like calls, texts, location tracking and social media monitoring.
The streamlined dashboard design means you don't have to dig through menus to find the most important monitoring data. With a glance, you can check on battery, whereabouts, frequent contacts and quickly access deeper monitoring for each aspect like calls and social media.
While it doesn't offer every single monitoring option upfront, the Aispyer dashboard provides a convenient centralized overview of actionable insights into the target device's activities and patterns. This allows for informed monitoring without information overload.
Aispyer Features
If a spy app possesses a robust list of features that can win over the user, it can retain its customer base for longer durations. Aispyer offers a wide array of monitoring features to track activities on the target device. Here are some of the main capabilities: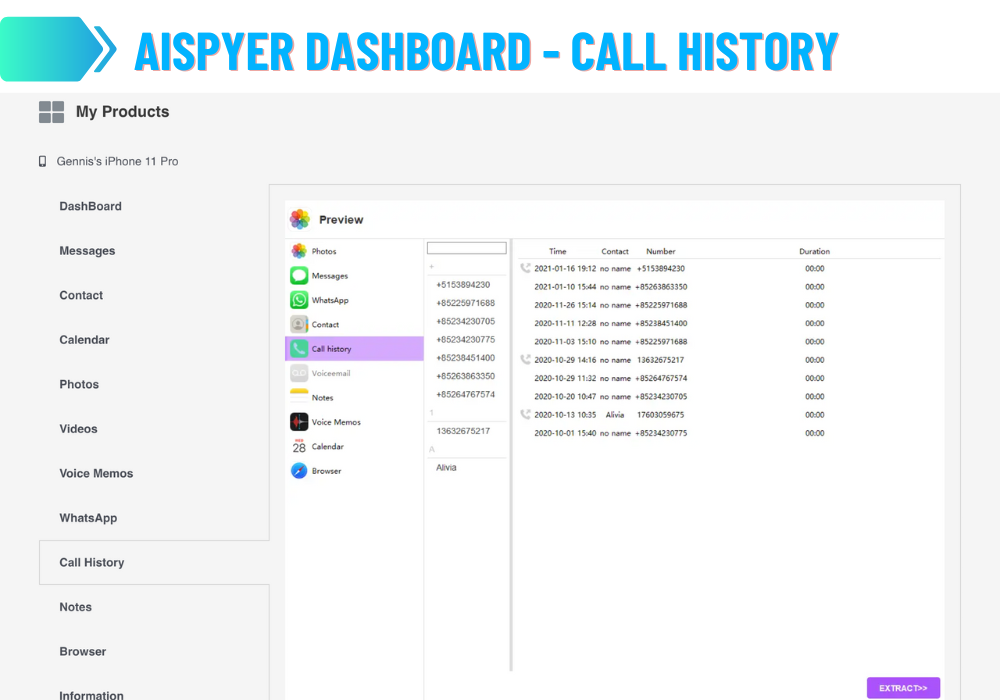 1. Calls: Suspecting infidelity typically directs one's attention towards call logs. A spy application that fails in tracking calls loses its essence. However, Aispyer excels in this domain. The app keeps a vigilant record of every incoming and outgoing call. Details such as the contact's name, number, call duration, type, and date are meticulously documented. Moreover, Aispyer offers a search function, although it's case-sensitive, necessitating careful input.
2. Messages: In the realm of messaging, Aispyer presents a seamless interface wherein conversations are cataloged with date and time stamps. This precision bolsters the app's reliability. While a search function exists, it inherits the aforementioned case-sensitive limitation.
3. Location: For concerned parents wary of their teens' whereabouts, the app's real-time location tracker can be a blessing. Aispyer not only pinpoints the current location but also logs the location history. The addition of Satellite mode and Pegman feature offers detailed insights into specific locales.
4. Social Apps: The proliferation of social media has revolutionized communication. However, it poses threats too. Aispyer's monitoring covers an array of platforms including WhatsApp, Instagram, Snapchat, Facebook, Messenger, Tinder, Telegram, Kik, WeChat, LINE, and Hangouts.
WhatsApp Monitoring: Aispyer's uniqueness lies in its approach. Instead of mere text logs, it captures screenshots, allowing a comprehensive view of interactions. While it excels in data acquisition, the lag in uploading screenshots can be a downside.
Other Social Media Monitoring: The app's mechanism of capturing on-screen activity extends to other platforms, ensuring comprehensive surveillance.
5. Contact: Delving deeper into the contact directory can sometimes reveal suspicious entries. Aispyer provides a holistic view of saved contacts. However, post-installation additions might not be tracked.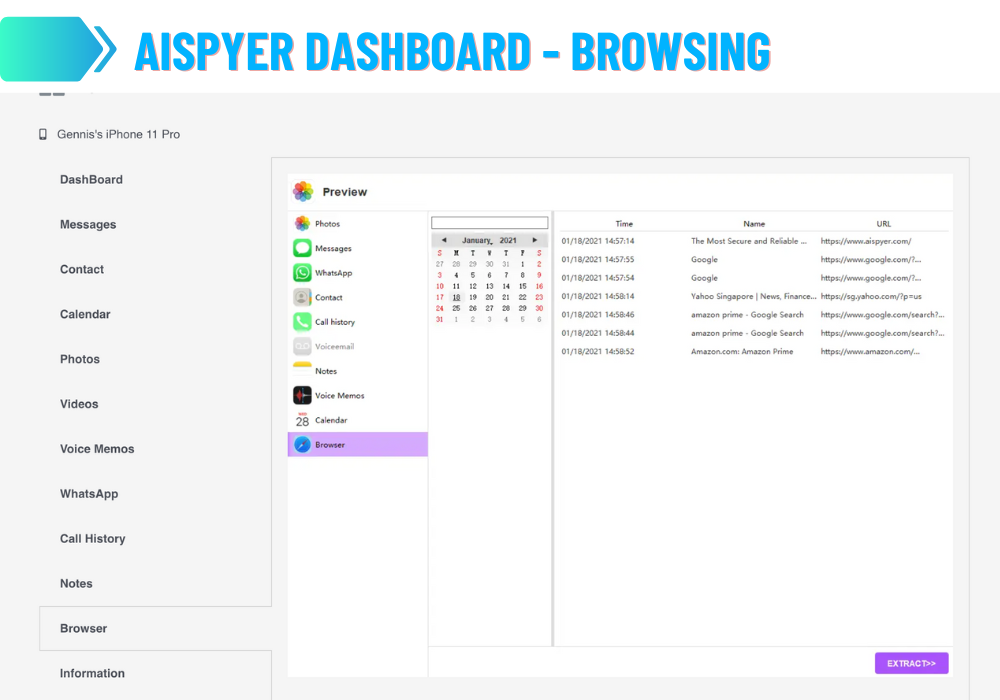 6. Browsing: Shielding young minds from inappropriate content is crucial. Aispyer promises a detailed web activity log, although during our tests, this feature underperformed.
7. Emails: Monitoring emails can provide insights into preferences and interests. Aispyer allows access to email content, senders, recipients, subjects, and timings. Multi-account switching further enhances user experience.
8. Photos: A visual trail can often be incriminating. Aispyer's rapid sync ensures that new photos appear promptly on its portal, offering multiple viewing and downloading options.
9. Calendars: Marked dates can hint at clandestine plans. With Aispyer, one can keep tabs on marked events, aiding in preempting unwelcome surprises.
10. Clipboard: Though tracking copied text might seem inconsequential, it can occasionally offer insights. Sadly, Aispyer's clipboard feature was non-functional in our tests.
11. Keylogger: The crown jewel of spy apps, a keylogger can unearth concealed truths. Aispyer's keylogger stands out, successfully recording keystrokes across applications. This feature promises a comprehensive insight into the target's digital activity.
The most robust features are call, text, location and social media monitoring. Keylogger also provides useful insights. Areas needing improvement are web history, app lists and calendar syncing.
In conclusion, Aispyer presents a well-rounded feature set. While certain functionalities need polishing, the majority of them stand tall, making it a formidable contender in the spy app arena.
Aispyer Pricing and Plans
So, you've taken a look at Aispyer's features and are intrigued by its capabilities? Considering making a purchase? Let's delve into the various plans they offer to help you decide which might be best for you. Aispyer offers monthly, 3 month and 12 month subscription plans.
Aispyer offers a range of pricing plans tailored to different devices. Regardless of the plan you choose, it's worth noting that each subscription can only monitor a single device. Here are the pricing options:
Aispyer For Standard Android:
1 month: $17.99
3 months: $39.99
12 months: $59.99
Aispyer For iPhone (Jailbreak Version):
1 month: $49.95
3 months: $119.95
12 months: $209.95
Aispyer For iPhone (Non-Jailbreak):
1 month: $29.99
3 months: $69.99
12 months: $129.99
Aispyer For Mac:
1 month: $59.99
3 months: $99.99
12 months: $159.99
Aispyer For Windows:
1 month: $44.99
3 months: $99.99
12 months: $158.99
Aispyer For iPad:
1 month: $37.95
3 months: $77.95
12 months: $127.95
The longer 12 month plans offer the best value. Android monitoring is the most affordable, while iPhone jailbreak support comes at a premium. Overall the pricing is competitive for the level of monitoring provided across different device types.
From the above, it's evident that Aispyer offers flexibility in terms of duration and device compatibility. Whether you're an Android user, a Mac enthusiast, or an iPhone aficionado, there's a plan tailored for your needs. Consider the duration and platform to pick the most suitable option for you.
Conclusion: Aispyer is a Capable But Flawed Monitoring App
In my thorough testing and review, Aispyer showcased itself as a fairly powerful spying app in some areas but fell short in others.
On the positive side, Aispyer delivered robust call, text, location and social media tracking. I was impressed with the extensive social media monitoring via screenshots. The keylogger also captured meaningful insights into the target's activity.
However, shortcomings like limited web history tracking, buggy app lists, delayed screenshot syncing and case-sensitive search hampered the experience. Lack of iOS support without jailbreaking also limits the audience.
In summary, Aispyer has strengths in capturing communication logs, geo-location data and social interactions. But monitoring other activities had issues. The app shows potential but needs further development to iron out the kinks.
For parents and employers who prioritize tracking messages, calls, locations and social media, Aispyer warrants consideration. But the flaws make it hard to fully recommend over competitors. I suggest trying out Aispyer, especially if you need strong social monitoring. But have backup options in case it does not meet your needs.
There are more established and highly-rated competitors like mSpy and Eyezy that offer generally smoother and more well-rounded monitoring solutions for those not satisfied with Aispyer's limitations.
With refinement of the rougher edges, Aispyer could become a top-tier spying contender given its solid foundation. But in its current state, the limitations are hard to overlook. Use my detailed review to make an informed decision if Aispyer is a good match for your specific monitoring needs.
I suggest trying out Aispyer, especially if you need strong social monitoring. But have backup options like mSpy or Eyezy ready in case it does not fully meet your needs.
👉 Frequently Asked Questions
Let me know if you have any other questions! I'm happy to provide more details about Aispyer based on my extensive hands-on testing.