Mobile phones are one of the greatest inventions of this century. The very idea of having a device that makes you able to keep in touch with everything that is happening in the world, to communicate and share ideas is truly stunning. The internet became a huge part of our everyday lives, becoming a source of entertainment and education – but also while being a pretty dangerous place after all. Since in the modern age, even children have their smartphones, they are risking being exposed to some extremely unfit for children material, and every parent understands that. That is one of the main reasons why FlexiSPY was created – to protect the minds of sensitive youth, while also being useful in many workplaces, protecting company devices. FlexiSPY was the original inventor of the first commercial spy phone application way back in 2006, which says a lot: Choosing FlexiSPY software means choosing 15 years of experience and quality that stood the test of time.
What is FlexiSPY?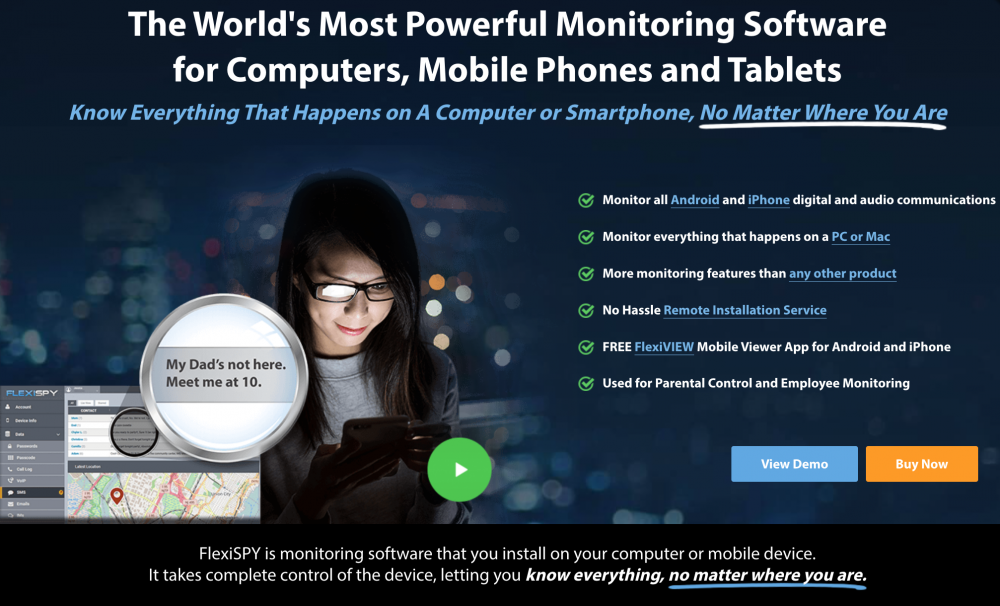 Ever wished you could have a superpower that allows you to know everything that happens on a computer or smartphone, no matter where you are? Well, now you can with FlexiSPY—the ultimate monitoring solution for today's digital world. With its cutting-edge technology, FlexiSPY empowers you to monitor all Android and iPhone digital and audio communications, as well as everything that happens on a PC or Mac. No other product on the market comes close to offering the extensive range of monitoring features that FlexiSPY provides.
✨ Some Of The Things You Can Do With FlexiSPY
FlexiSPY offers a treasure trove of features to help you stay informed and in control:
🎮 Monitor Installed Applications: Keep track of installed applications, their history, versions, and usage frequency.
📞 Record Phone Calls: Listen live and record both regular and VoIP calls, including popular apps like Skype and LINE.
💬 Monitor Social Media & IMs: Read messages and stickers sent and received on various chat apps like Facebook Messenger and LINE.
🌍 Track Device Locations: Keep a detailed record of all locations the device has been, and export coordinates for a bird's-eye view.
💌 Track Digital Communications: Read the contents of outgoing and incoming webmail and SMS messages.
📸 View Media: Access and download pictures and videos captured by the phone's camera.
🌐 Manage Internet Usage: Monitor visited websites, track bandwidth usage, and passwords.
🎤 Listen To Environment: Take control of the device's microphone and discreetly listen to the surrounding environment.
🚨 Alerts, Reports, Security: Access and download data with 2FA security, set alerts based on keywords and location, and download comprehensive reports to stay informed.
🔒 Unlock the power of monitoring with FlexiSPY and gain insights that can make a real difference. Experience the peace of mind that comes with being in control and harnessing the full potential of your monitoring capabilities.
Why Choose FlexiSPY? 🤔💡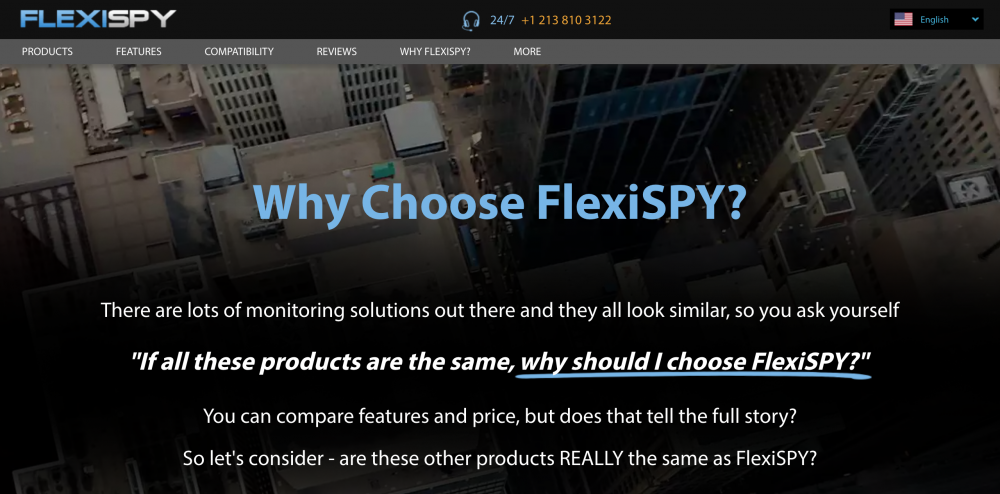 Navigating the crowded space of monitoring solutions can be overwhelming. You might find yourself asking, "If all these products look the same, why should I opt for FlexiSPY?" Well, while it's easy to compare features and prices, these factors alone don't paint the full picture.
Comparing FlexiSPY with other products could be likened to comparing a Ford to a Ferrari, a donkey to a racehorse, or a piano-playing kid to Beethoven — sure, they all might look similar on the surface, but are they truly equal?
👉 The Pioneers of Spy Applications. FlexiSPY is not just another name in the monitoring software industry. They're the pioneers. Having invented the world's first commercial Spy phone Application in 2006, they have led the pack ever since. By choosing FlexiSPY, you're opting for the innovation, reliability, and quality that comes with seventeen years of experience and millions of satisfied users worldwide.
👉 Unique Product with Unique Features. FlexiSPY shines through the crowd with its unique features and focus on areas where other products don't.
Priority on Instant Messaging: Acknowledging that the younger generation primarily uses social media and instant messengers, FlexiSPY is designed as a premier instant messaging monitoring application. It captures both sides of a conversation and even allows users to view stickers.
Monitor All Audio Streams: Unlike other applications, FlexiSPY allows users to listen to and record audio from various sources, including regular phone calls and IM calls made over platforms like Facebook Messenger.
Powerful Remote Control: FlexiSPY turns your phone into a remotely controlled camera and video recorder and opens the phone's microphone to listen to the surroundings.
Free FlexiVIEW Mobile App: With the intuitive mobile viewer app for Android and iPhone, you can access recent and critical data on the move.
Always Updated with App Screenshot: FlexiSPY's unique app screenshot feature ensures you never miss out on valuable chats even when instant messaging apps are updated.
👉 Unbeatable Value for Money. FlexiSPY offers a range of products that cater to different budgets and requirements. From the most affordable FlexiSPY LITE to the unique FlexiSPY EXTREME, there's something for everyone.
👉 Exceptional Customer Service. With a 24/7 help desk and real people on live chat, FlexiSPY ensures quick and efficient responses. This stands in stark contrast to other brands that use chat bots and provide incomplete responses days after a query has been submitted.
👉 Uncompromised Data Security. Data security is a paramount concern. FlexiSPY maintains a 100% perfect track record in safeguarding customers' data, something their competitors cannot claim.
👉 Trade-in Your Old Software. FlexiSPY stands by the superiority of its product. If you're unhappy with a competitor's product, you can simply trade it in for a discounted copy of FlexiSPY. This is a unique offer not seen elsewhere in the industry.
Choosing FlexiSPY means choosing innovation, security, and superior customer service. It's not just a monitoring solution; it's a trusted partner in safeguarding your loved ones and maintaining peace of mind.
FlexiSPY Comprehensive Feature Set 📝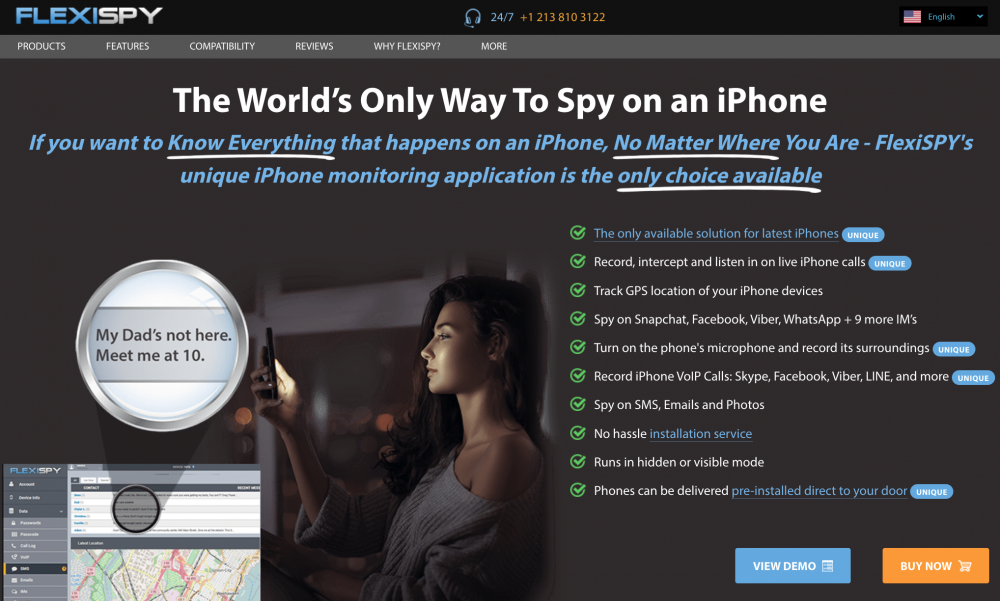 📱 For Mobile Devices
FlexiSPY is a powerhouse of features for both Android and iPhone, making it a comprehensive solution for your monitoring needs. Its capabilities range from phone call recording to instant messaging monitoring, and much more. Let's take a closer look:
Phone Call Recording: Allows you to record and store all incoming and outgoing phone calls for future reference.
Phone Call Interception:* This feature lets you listen in to live phone calls.
Spycall†: Enables you to listen in real-time to the environment around the target device.
Environment Recording: This feature lets you record the surrounding audio of the target device.
App Call Recording†: With FlexiSPY, you can record calls from various apps including Facebook, Hangout, LINE, Skype, Viber, and WhatsApp.
RemCam and RemVid: These features enable you to remotely activate the device's camera to take photos and record videos.
Spoof SMS:* Allows you to send undetectable SMS messages from the target device.
Call Notification Alert:* Receive alerts when calls to specific numbers are made from the target device.
SMS Keyword Deletion:* This feature lets you delete SMS messages containing certain keywords.
Social Media and Messaging Tracking: Monitor conversations across a wide range of platforms including Facebook Messenger, Snapchat, Hike Messenger, Kik Messenger, Instagram Direct Messages, LINE, Skype, Viber, WhatsApp, Google Messages, Hangout, QQ, Telegram, Tinder, and WeChat.
Social Media Activity Monitoring: Keep track of interactions on various social media platforms such as TikTok, YouTube, Snapchat, Facebook, Twitter, Discord, Tinder, OkCupid, Bumble, and Badoo.
Email Monitoring:* Keep tabs on sent and received emails on the target device.
Gmail Monitoring: Specifically monitor Gmail sent and received emails.
Application Screenshots: Capture screenshots of different applications on the device.
SIM Change Notification†: Receive alerts when the SIM card on the target device is changed.
Call Logs, Address Book, and Messages: Gain access to call history, contact information, SMS, and MMS messages on the device.
Location Tracking and Geo-Fencing: Track real-time location and set geographical boundaries with alerts when those boundaries are crossed.
Browsing Activity and Browser Bookmarks:* Monitor web browsing history and bookmarked pages.
Network Connections and Application Activity: Get an overview of the device's network connections and app usage.
Installed Applications and Keylogger: View all installed applications and capture every keystroke on the device.
Media and Calendar: Access photos, videos, audio files, wallpaper images, and calendar events on the device.
Remote Control and Management: FlexiSPY is easy to install, offers visibility options, dashboard alerts, and lets you send remote commands from the web or via SMS*. You can check the device's battery status, uninstall or deactivate the software remotely*, restart the device remotely*, change software features, and perform remote upgrades.
Stealth Mode and Protection: Run the software in hidden mode, prevent it from being uninstalled, and hide the rooting* process.
Automatic Remote Updates and Free Updates:* Enjoy automated updates and receive all future updates free of charge.
Renew Anytime: Opt for renewal of the software anytime as per your convenience.
* Advanced features that require additional device configuration (rooting or jailbreaking) before installing FlexiSPY on the device.
Disclaimer: Please note that it's crucial to comply with all applicable laws while using monitoring software like FlexiSPY. Always consult a legal professional to ensure you're not violating any laws.
🖥️ For Computers (PC and MAC)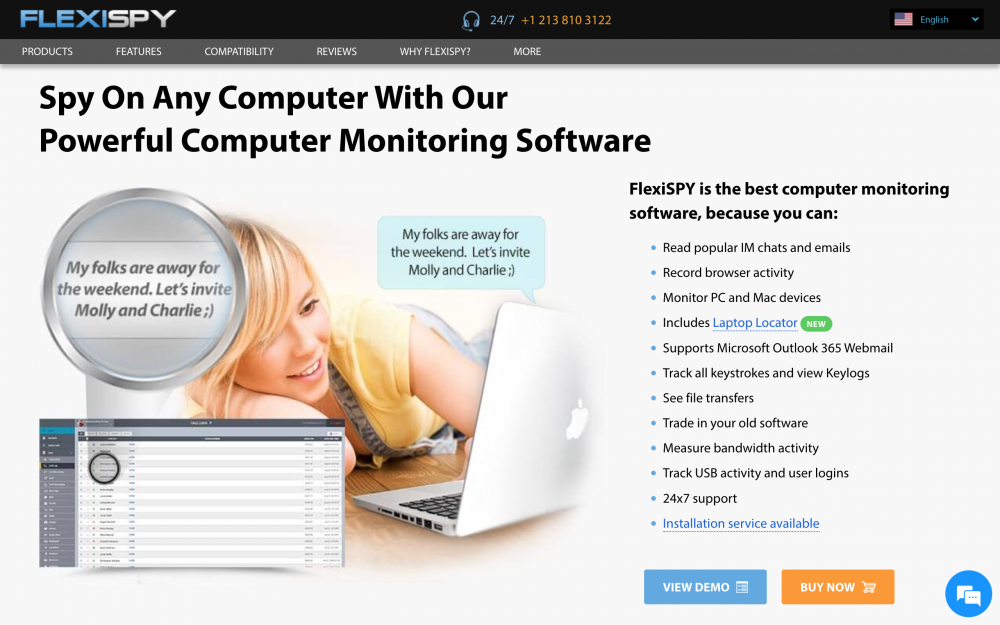 FlexiSPY also provides a comprehensive set of surveillance features for computers, supporting both PC and MAC systems. Let's delve into the specifics:
Webmail: Monitor incoming and outgoing emails through webmail services.
Application Screenshots: Capture screenshots of different applications in use.
Laptop Locator (Windows only): Track the location of your Windows laptop.
Keylogs: Records every keystroke made on the computer, even those deleted.
Social Media and Messaging Tracking: Monitor activities on various platforms such as Skype, Facebook Messenger, Telegram, WhatsApp, LINE, QQ, Hangouts, Trillian, Viber, iMessage, and WeChat.
Browsing Activity and Search Engine History: Keep track of all browsing activities and searches made on search engines.
Browser Videos: Monitor all the videos watched in the browser.
Application Activity and Installed Applications: Provides insights into application usage and lets you view all installed applications.
Monitor Network Connections: Gain an overview of all network connections of the device.
Monitor Print Jobs: Track the details of print jobs executed on the computer.
File Activity and Files Transferred: Monitor all file activities including files transferred via USB or online mediums.
USB Device Connections: Track when a USB device is connected to the computer.
Track User Activity: Monitor when users log on or off and when they lock the screen.
Remote Control and Management: Uninstall or deactivate the software remotely, change software features and run the software in hidden mode. Prevent the software from being uninstalled and access it via a secure key combination.
Dashboard Alerts and Remote Commands: Receive alerts through the dashboard and send remote commands from the web.
Automatic Remote Updates and Free Updates: Enjoy automated updates remotely and receive all future updates free of charge.
Renew Anytime: Opt for the renewal of the software anytime as per your convenience.
These features allow a comprehensive understanding of the computer usage patterns and activities of the monitored user.
Disclaimer: Please ensure to use monitoring software like FlexiSPY in compliance with all applicable laws. Consult a legal professional if needed to ensure you're not infringing on any laws.
💵 FlexiSPY Pricing
FlexiSPY offers a variety of pricing tiers to meet different monitoring needs, whether for Android, iPhone, iPad, PC, or Mac. Here's a breakdown of the pricing structures:
👉 For Android and iPhone
LITE offers an essential set of monitoring features at an unbeatable price. Perfect for those who are on a budget.
Choose PREMIUM for all-around monitoring of mobile activities. Gives you more features than any of competitors.
$79

/mo
$119

/3 mo
$179

/12 mo
Only for the most demanding detectives, EXTREME adds monitoring and recording of all audio streams and other amazing discovery tools.
$119

/mo
$239

/3 mo
$419

/12 mo
The LITE package offers essential monitoring features at an unbeatable price. It's an ideal choice for those on a tight budget and requires a monthly subscription.
The PREMIUM package offers comprehensive monitoring of mobile activities. It includes more features than any other competitor, providing all-around monitoring solutions.
The EXTREME package is designed for the most demanding detectives. It adds monitoring and recording of all audio streams along with other amazing discovery tools.
👉 For iPad, PC and Mac
Choose the package that best suits your needs and budget, whether you are monitoring on a mobile device or a computer. FlexiSPY's pricing structure ensures there's an option for everyone.
💡 For more detailed information about FlexiSPY's pricing, check out our comprehensive Pricing Guide.
🤔 Understanding FlexiSPY's Functionality
FlexiSPY utilizes an innovative algorithm that discreetly works on the target device. Upon installation, it efficiently monitors all activities, particularly on applications like Facebook Messenger. This potent tool captures all message forms including text, multimedia, stickers, and emoticons. Crucial details such as sender/receiver info, timestamps, and profile details are also recorded, ensuring you miss no important information.
This collected data is securely transferred to your online FlexiSPY account, forming a comprehensive private database accessible only by you. The advantage of this is that it allows you to log in and review the collected data at any time and from anywhere, offering an unparalleled level of convenience.
Using FlexiSPY: A Step-By-Step Guide
Now that we've grasped the mechanics of FlexiSPY, let's dive into how you can utilize it to monitor Facebook chats:
🟢 Step 1: Buying a FlexiSPY License The first thing to do is to purchase an appropriate FlexiSPY license for your target device. Carefully choose the right plan that aligns with your specific requirements and desired features.
🟢 Step 2: Installation and Activation of FlexiSPY After acquiring the license, you'll need to install FlexiSPY on your chosen device. Follow the provided guidelines to activate the software. Bear in mind, FlexiSPY operates stealthily to keep your monitoring activities discreet.
🟢 Step 3: Setting Up and Patience If this is your maiden attempt at monitoring Facebook Messenger with FlexiSPY, allow roughly an hour after installation. This period permits FlexiSPY to amass all Facebook chats and upload them to your online dashboard.
🟢 Step 4: Accessing Your FlexiSPY Dashboard To peruse through the captured information, simply log in to your FlexiSPY dashboard from any computer. The data is arranged neatly for your ease of understanding.
🟢 Step 5: Directing to Facebook Messages To check the monitored Facebook chats, go to the 'Messages' tab on your dashboard, select 'IM', and finally click on 'Facebook'. You'll then be presented with all the recorded Facebook conversations.
🟢 Step 6: Analyzing the Data Now, you can sift through the listed Facebook chats, inspect timestamps, and extract the information you need.
With a clear understanding of FlexiSPY's functionality and usability, you're fully equipped to maintain a close watch on Facebook Messenger activities. Regardless of whether you're a parent, an employer, or an individual, FlexiSPY offers an all-encompassing solution to fulfill your monitoring needs.
How to Install FlexiSPY
Embarking on the FlexiSPY journey is straightforward, and we are here to guide you through every step. Whether you're an Android user or an iOS devotee, the FlexiSPY installation process is designed to be user-friendly, even for those less technologically inclined. Let's dive in!
💡 Key Points to Note Before Installation
FlexiSPY is world-renowned not only for its advanced monitoring capabilities but also for its simplicity in installation.
For those who prefer a hands-off approach, FlexiSPY offers a Worry-free Installation Service. With this service, the FlexiSPY team takes care of everything, from rooting an Android device to jailbreaking an iOS device. All you need is the target device and an internet-connected computer.
Before you get started, remember that installing FlexiSPY on an iOS device requires a "Jailbreak." Despite the intimidating name, this process simply allows the iPhone to run applications outside the conventional iPhone store.
If your device runs Android, FlexiSPY can be installed directly, offering a range of features. However, for a complete feature set, you would need to 'root' the phone, which is called 'Advanced Installation.' Rooting ensures FlexiSPY's complete invisibility and allows remote software updates.
❗ It is important to check whether your device is compatible with FlexiSPY. You can do this by clicking the button below.
✅ Installing FlexiSPY on Android 📱
Let's make your Android device a robust monitoring tool with these simple steps:
Select and Purchase FlexiSPY Package: Choose the FlexiSPY Extreme or FlexiSPY Premium package that suits your needs and make the purchase.
Log in to Your Dashboard: Use the details sent to your email to log in to your online dashboard. A step-by-step installation wizard will guide you through the entire process.
Prepare Your Phone: Follow the wizard to enable unknown sources and disable Play Protect.
Install the Software: Enter the download link provided by the wizard into the target phone's browser and download FlexiSPY.
Activate FlexiSPY: After installation, enter your activation code to activate FlexiSPY. You can choose whether you want to hide the app or not.
Complete the Setup: Now, head back to your online dashboard to see the details of the target phone.
✅ Installing FlexiSPY on iPhone 🍏
Ready to transform your iOS device into a surveillance powerhouse? Follow these steps:
Preparation: Ensure your iPhone is Jailbroken. Choose the right FlexiSPY package and ensure your device's compatibility. Also, make sure to go through all the installation instructions beforehand.
Login and Start Setup: Use the details sent to your email to log in to your online dashboard. Follow the on-screen instructions presented by the installation wizard.
Download and Install: Enter the download link provided by the wizard into your iPhone's browser to download and install FlexiSPY.
Activate and Decide Visibility: After installation, activate FlexiSPY by entering the activation code. You can choose to hide the app from the device user.
Complete the Setup: Now, go back to your online dashboard to see the details of the target iPhone.
Remember, FlexiSPY's strength lies not just in its advanced features, but also in its user-friendly setup. So, sit back, follow these steps, and begin your journey towardstoward comprehensive monitoring with FlexiSPY!
How to detect FlexiSPY on Android?
If you are afraid that someone is already using FlexiSPY to spy on you – there is an easy way to know it for sure. All you need to do is to go in your Settings, then select Apps. You will see a list of all the applications installed on the device. FlexiSPY disguises itself under the name SyncManager. Delete it and restart the phone.
🚀 How to Login to FlexiSPY?
Logging into your FlexiSPY account is as easy as pie. 🥧 Here's your step-by-step guide:
1️⃣ Accessing the Login Page. Start by visiting the FlexiSPY website. Locate the 'Login' button at the top right corner of the webpage and click on it.
2️⃣ Entering Your Credentials. The 'Login' button will take you to the login page. You will be asked to enter your FlexiSPY username and password here. Make sure you input these details accurately to avoid any login issues.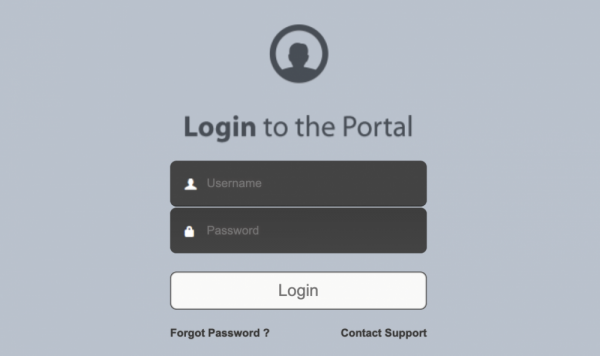 3️⃣ Dashboard Navigation. Upon a successful login, you'll land on your personal FlexiSPY dashboard, your command center for all things FlexiSPY. Navigate through various tabs and sections to monitor device activity, view reports, change settings, and more.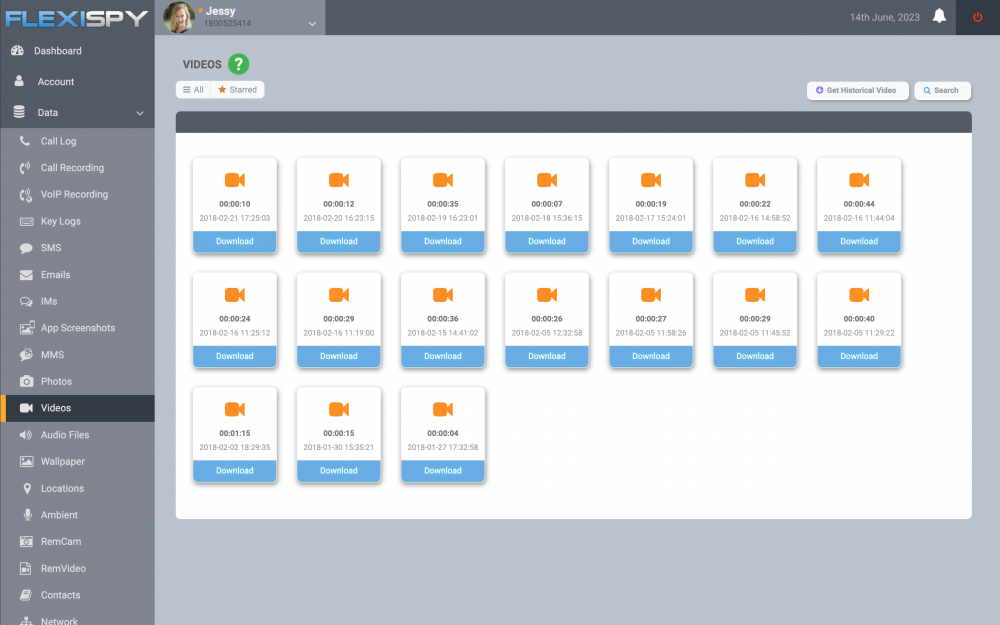 4️⃣ Troubleshooting Login Issues. If you stumble upon any issues during the login process, FlexiSPY's dedicated support team is always ready to lend a hand. Whether you've forgotten your password or are facing technical difficulties, help is just a click away.
Remember, your FlexiSPY login is the gateway to comprehensive monitoring and peace of mind. So, get started today and take control of your digital spaces with FlexiSPY.
🗺️ Navigating the FlexiSPY Dashboard
Welcome to your command center! Here's a brief tour to help you navigate the comprehensive FlexiSPY dashboard effectively:
👀 Overview Section: This is your snapshot of recent activities, highlighting the most recent calls, messages, locations, and application usage from the monitored device.
🗄️ Data Tab: This is your go-to for specific categories of data like calls, messages, locations, browsing history, applications, and more. Dive into detailed data and monitor the device's activities thoroughly.
⏰ Alerts: Set specific notifications for certain activities, like alerts for when a specific keyword is used or when the device enters or leaves a particular location.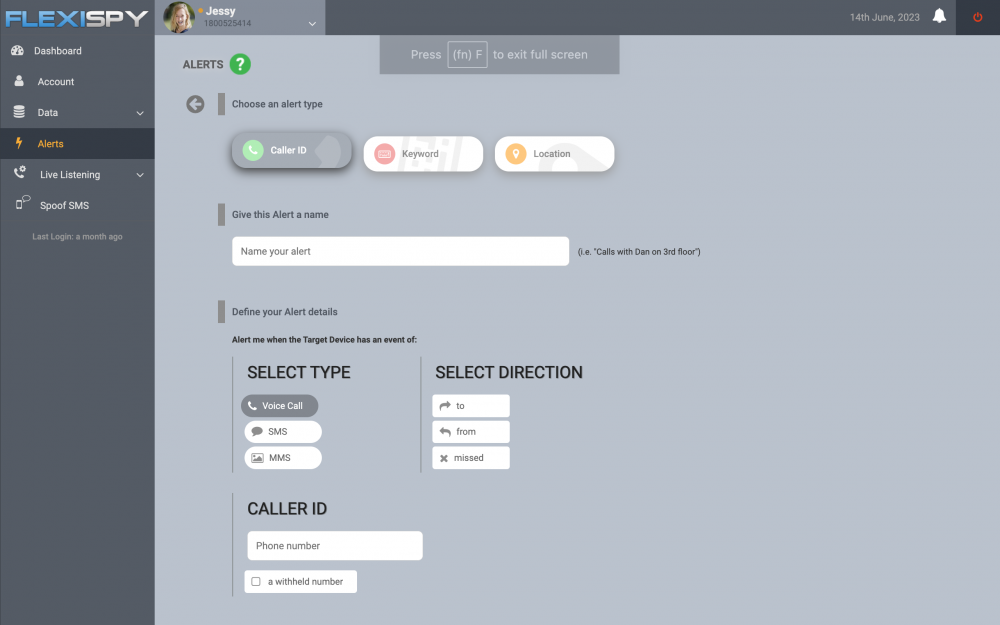 ⚙️ Settings: Adjust your FlexiSPY settings right from the dashboard. Choose what data you want to monitor, set the frequency of updates, and control the software's visibility on the monitored device.
📈 Reports: Generate detailed reports based on the monitored data. Customize these reports based on date ranges and specific data types, and download them for offline analysis.
👥 Support: Have a question? The Support section provides easy access to FlexiSPY's customer service, guides, FAQs, and troubleshooting advice.
By understanding and navigating the FlexiSPY dashboard, you leverage the full potential of the software. With all this data and control at your fingertips, it's a powerful tool for your digital surveillance needs.
💡 For a more comprehensive guide on the login process, check out this complete FlexiSPY login guide.
🔄 Alternatives to FlexiSPY: A Comparative Glance
Stepping into the world of monitoring applications, we encounter a myriad of choices. While FlexiSPY certainly stands tall, let's illuminate the stage for some other notable performers, namely mSpy and Eyezy. We'll also throw a spotlight on an additional player, ClevGuard.
Each of these applications unfolds a distinct spectrum of offerings. Let's unfurl the features of each to help you make an informed decision.
🎯 Eyezy. Brimming with functionalities, Eyezy serves as a full-fledged monitoring solution, compatible with all Android and iOS devices. It encompasses everything from call and message tracking (including those stealthily deleted), to multimedia file access and contact list tracking. Notably, Eyezy raises the bar with features like geo-fencing, keyword alerts, and the provision to block unwanted contacts. Take a deep-dive into our comprehensive review of Eyezy App right here.
🎯 mSpy. Standing strong in the arena is mSpy, a versatile monitoring application supporting both Android and iOS devices, inclusive of jailbroken and non-jailbroken variants. Echoing Eyezy's offerings, mSpy brings to the table call recording, message tracking, multimedia file access, keyword alerts, and geo-fencing. Plus, it allows the convenience of blocking unwanted contacts. Curious about WhatsApp monitoring with mSpy? Our in-depth review is just a click away here.
🎯 FlexiSPY. FlexiSPY flaunts an edge with its call recording feature and broad compatibility spanning across Android and iOS devices (jailbroken and non-jailbroken). The feature suite is rich, encompassing call monitoring, message tracking, multimedia file access, contact list tracking, and geo-fencing. However, it takes a backseat when it comes to blocking unwanted contacts.
🎯 ClevGuard. Making its presence felt, ClevGuard is a comprehensive monitoring solution compatible with Android and iOS devices, both jailbroken and non-jailbroken. It scores high with most features on par with the other three contenders, albeit falls short on offering keyword alerts and call recording.
Take a look at the comparison table below for a simple, overall comparison of the features of these applications.
---
Each application caters to a unique user base, with the best choice riding on the specific needs of the user. The perfect fit is born out of matching your requirements with the apt set of features. So, gear up to make your pick and take control of your digital realms!
👉 FAQ
Conclusion
What's our opinion about this app? We already told what we think in the last question of the FAQ section. However, there are still some points that we can add.
Overall, FlexiSPY is a one-of-a-kind spy application, providing users with lots and lots of great features and functions, delivering quality software, and great support for its product. The number of possibilities it can open for anyone is truly impressive. Parents will love the scale at which it allows them to monitor their children's activities, business owners will appreciate the bare functionality of the app and the degree of control it provides over the targeted devices. Even the common people will find something useful for themselves while using FlexiSPY.
FlexiSPY is one of the greatest spy applications on the market at this moment, if not the best. It is reliable, it's doing a great job being hidden and it also packs a lot of useful features and functions. If you are looking for quality spyware – FlexiSPY is easily an answer.
P.S. Summarizing the information, pros, and cons, and other nuances, we want to make you pay attention to the problem of protection in the cyber/virtual world. Especially when it comes to kids who don't know yet how to play safe and avoid dangers. As a parent, you have to be responsible for your kid. That's why it's reasonable – not to try to save money on such an important life aspect and purchase only high-quality products. FlexiSPY is a good solution for safety purposes.
Tags: #flexispy reviews, #flexispy portal, #flexispy login, #flexispy free trial, #flexispy promo code, #spy software, #spy app, #phone tracker, #mobile spy app, #android, #iphone