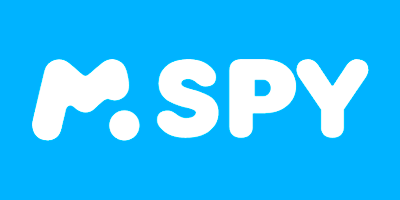 Looking for a good solution to monitor your child's smartphone activity to feel safe, no matter how far they are? Read about mSpy – one of the best spy phone apps on the market. More than 1.5 million parents all over the world trust mSpy for the online safety of their children. mSpy helps to keep children away from cyberbullying and harmful online content in more than 180 countries. Keep reading to get to know how it works!
---
mSpy — #1 Cell Phone Tracker
The idea of creating a unique monitoring tool to help parents protect their kids was born in 2010. The mobile internet had­­­­ become too popular by that time, and the number of potential dangers that people might face was the main reason for the creation of mSpy. Thus, more than 10 years ago, a team of specialists from London developed a dedicated app that allowed people to access phone books, calendar events, call logs, SMS, and track the device by GPS. Now, it's a worldwide leading brand that is known in more than 100 countries, has an average rating of 4.5, and has almost half a million satisfied users. Today, 70 qualified employers work in 3 different offices to keep mSpy the best monitoring app. A committed crew and 24/7 customer support service in combination with innovative technologies make this brand a leading one.
mSpy Features (Mobile & Tablet)
To save time and make this review more informative, let's gather all features without a long history of their development and list them to figure out what this app can do. First of all, it is necessary to realize that it's a tool for remote monitoring, which means that you can access a device at a distance. So, What exactly does mSpy offer us?
Manage calls
Track SMS messages
Read Messaging Apps
Track Location
Control Apps and Programs
Installed Applications
Application Blocking
Screen-recorder
View Multimedia Files
Monitor Internet Activity
Browsing History
Website Bookmarks
Blocking Websites
Wi-Fi Networks
Read E-mails
Incoming / Outgoing Emails
Access Contacts / Calendar
Calendar Activities
Contacts
Remote Control
Additional Device Info
Control Panel
Analyze It
Feel Supported
Support Options
Uninstall Alert
All mSPY Features
Manage calls
Monitor calls – this feature allows you to view incoming and outgoing calls, call duration, time stamps, and chronology. You can also learn information about a caller if there is his or her contact in the phone book. There are two options: the target and time filter. Choose what you want to view and get all the necessary information right down below.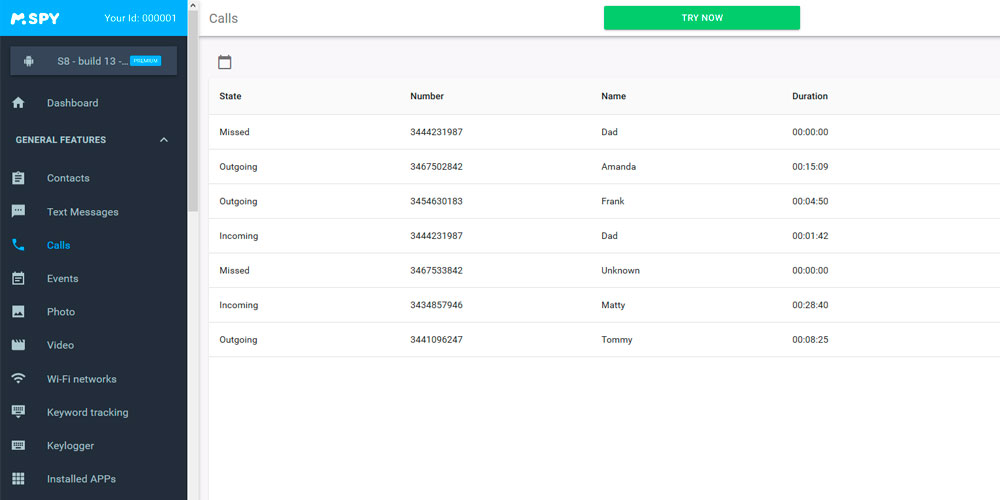 SMS Tracker

SMS Tracking (Sent / Received SMS) – since texting is much more popular today than calling, it's essential to know what your child may hide from you not to let him get into trouble. So, an SMS tracker allows you to view received, sent, and deleted messages.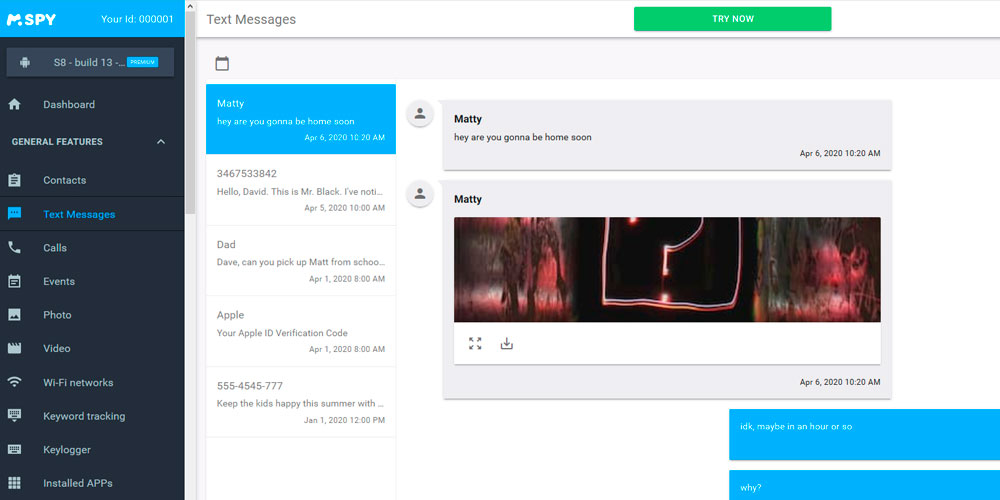 Read Messaging Apps
(WhatsApp, Snapchat, Facebook Messenger, iMessage, Skype, Telegram, Hangouts, Tinder, Line, Viber, Kik, Instagram)
You can also install trackers for Skype, WhatsApp, iMessage, Facebook Messenger, Viber, Snapchat, LINE, Telegram, Tinder, KiK, and Instagram to view incoming/outgoing messages/calls, media files, group chats, hidden chats, and so on.
WhatsApp
Want to know what your child is doing on WhatsApp? mSpy will tell you everything you want.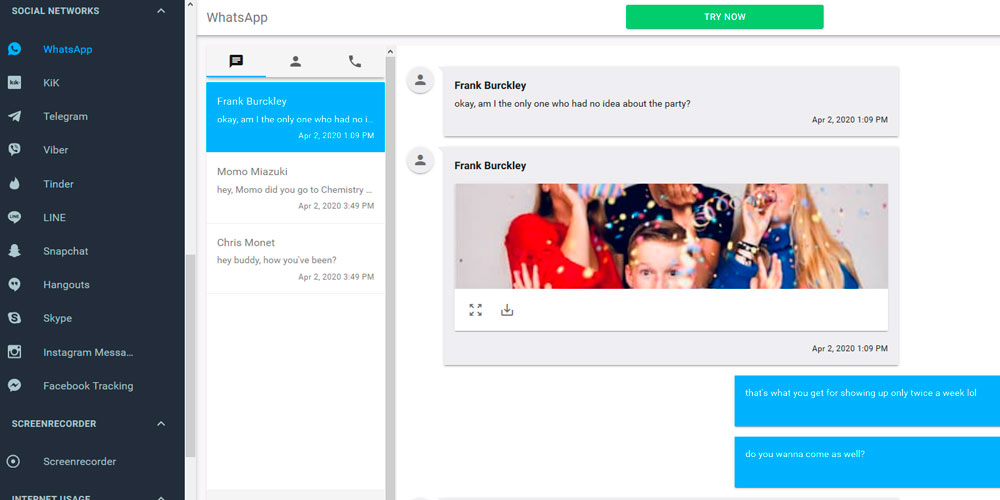 Snapchat
Read all messages and even deleted ones with the help of this tracker.
Facebook Messenger
Facebook is a place where a lot of dangers may occur. This is one of the most dangerous social webs for kids because they have no idea about how to deal with online predators and scammers.
Browse through all Facebook Messages – Monitor all incoming/outgoing chats to act immediately if something goes wrong
View group chats – Read with whom your kid is texting via group chats to prevent unwanted exposure
Look through timestamps – View the date and time of each sent and received text on Facebook with mSpy
Look through people behind contacts – Know who your kid communicates with on Facebook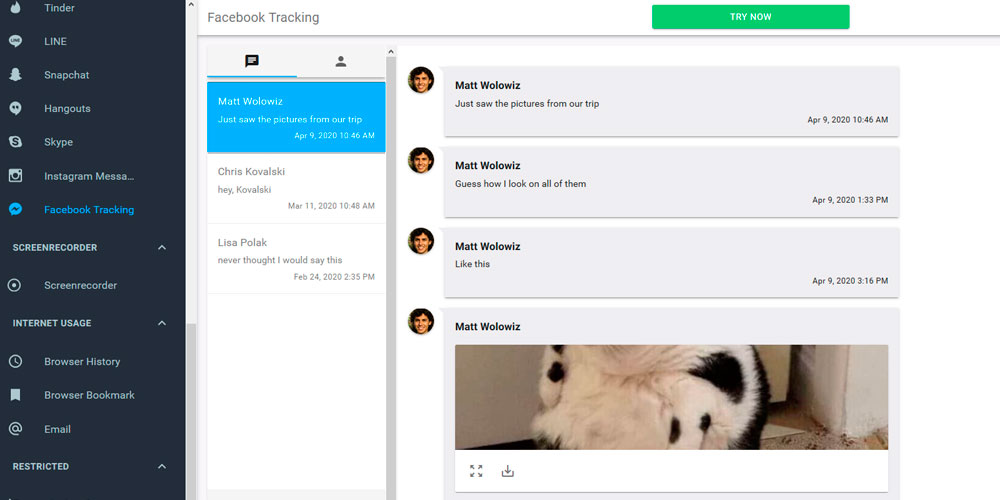 iMessage
Ensure you know what your kid is talking about using one of the most popular messengers.
Read all iMessage chats on your child's mobile device
See whether the message was incoming or outgoing
View the time and date of every message
Access all iMessage chats directly from your Control Panel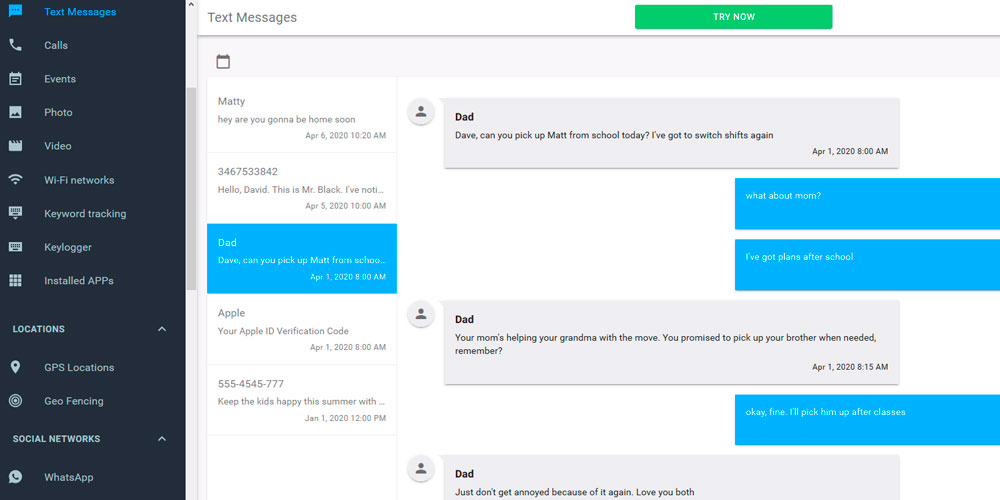 Skype
This app allows you to communicate in many different ways. You can make audio or video calls, share media files, and send text messages, which makes Skype potentially dangerous for kids. That's why you should keep an eye on this program.
Monitor text messages – Supervise all your kids' sent and received Skype messages. Even if the message is deleted, you still would be able to see it from your Control Panel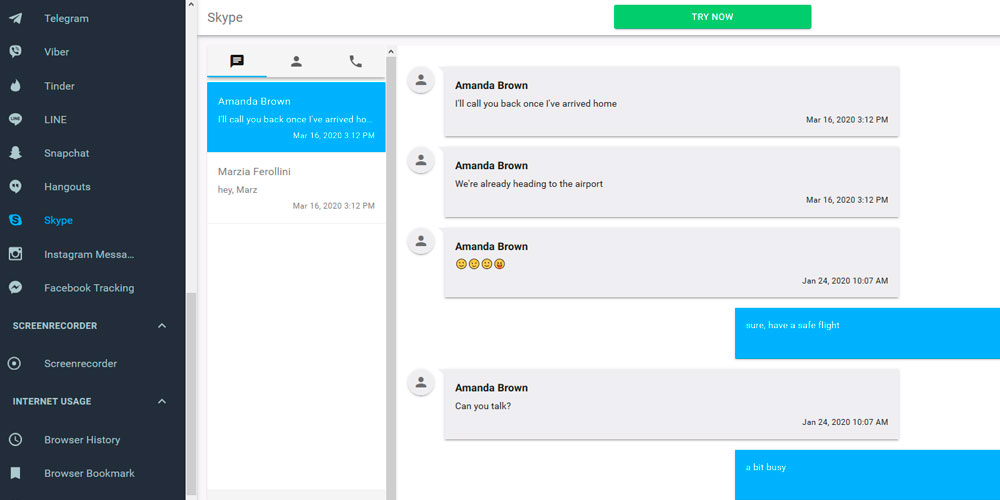 Telegram
Today, this messenger is popular in many countries. Secure chats and channels can hide a lot of secrets you would like to know.
Monitor all text messages – Supervise all sent and received Telegram text messages as well as the timestamps
View secret chats – Keep track of your kid`s Telegram secret chats to prevent unwanted activities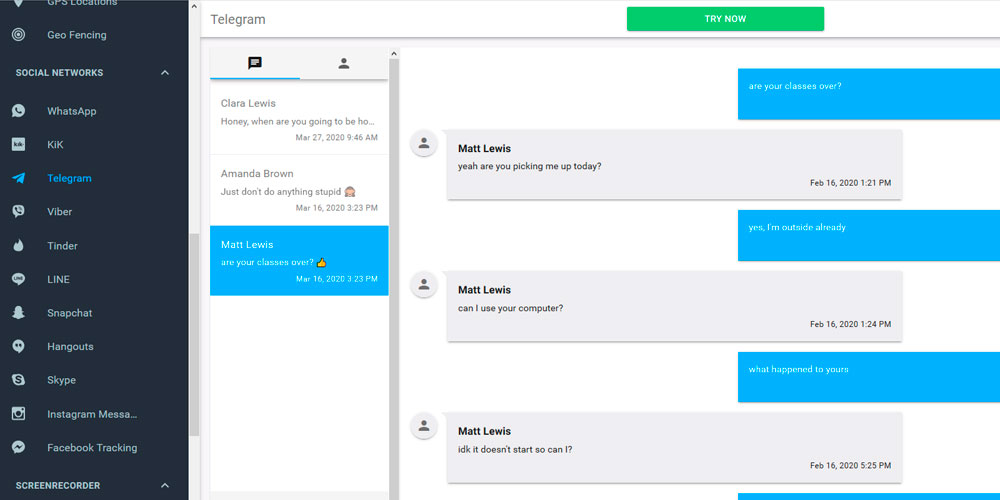 Hangouts
Although this program is not used that often, compared to other apps, it's still a well-known tool for communication. And you should know what's happening there. Note: Android rooting is required.
Check Google Hangouts text messages – View the content of every text message on your child's phone. Even if the text is deleted, you'll still have access to it on your personalized Control Panel
Browse all conversations – Take a closer look at your kid's sent and received Hangout messages, including contacts, maps, photos, etc. With mSpy you can protect your children from interaction with online strangers, predators, and bullies
Stay in the know – You will be able to view the contact list and Hangouts conversations including content, text, and time stamps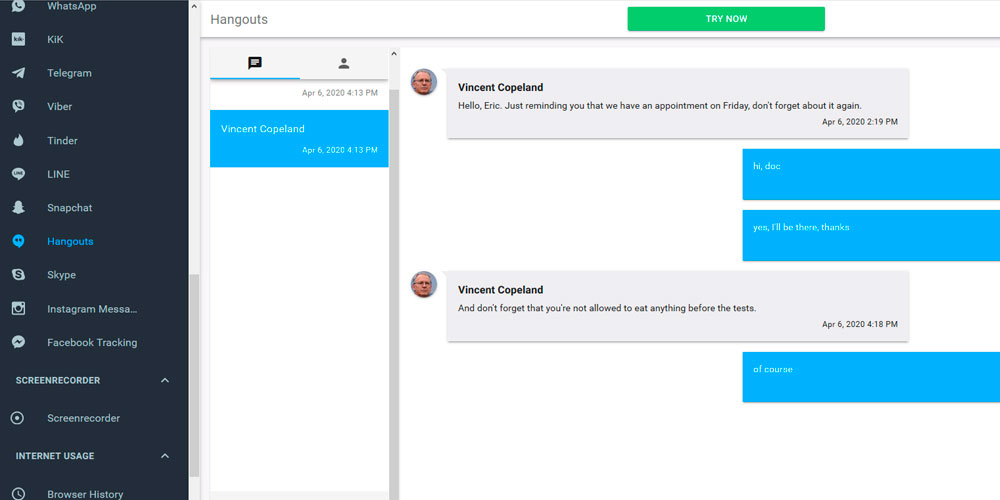 Tinder
Dating apps should always be checked to make sure no one wants to trick your kid. Since Tinder is one of the largest dating apps, you have to be able to monitor it.
Monitor kid's account activity – Supervise all activities on your kid's Tinder account. Make sure they are not falling a victim to online predators, scammers, or cyberbullies
View all matches – Monitor all your teen's matches and any interaction with them. View the search parameters they set on Tinder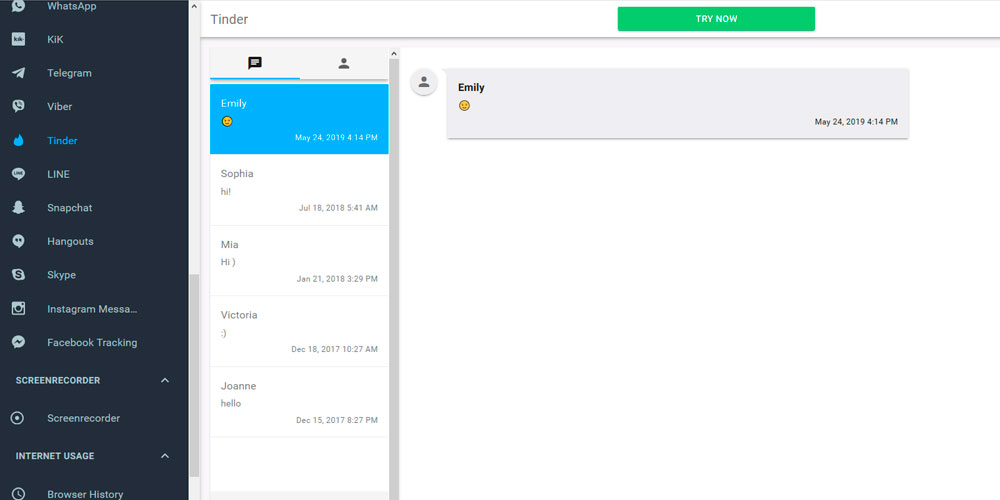 Line
Another free app for calling that needs to be monitored. It includes many different activities, such as games and text messaging.
View text messages – Read any sent and received text message directly from your Control Panel
View any contact details – Ensure your children don't communicate with strangers or inappropriate people
Track Hidden chats – View the hidden communications and always know what your kid is up to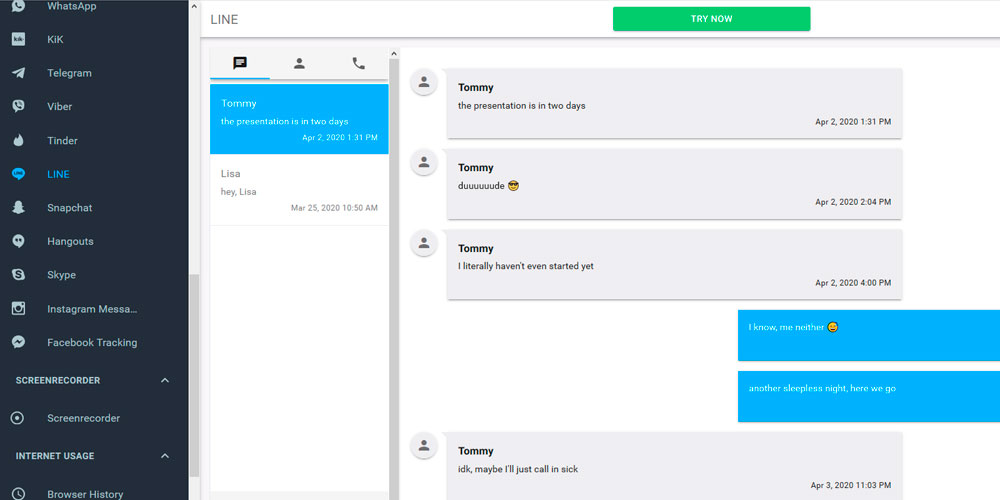 Viber
Unfortunately, Viber is a favorite app of scammers, which makes this app number 1 priority in the question of monitoring. Note: Some mSpy features require you to root your Android or jailbreak your iOS device.
Monitor Viber texts – Read all sent and received messages on Viber. Even if a message is deleted, you will still have access to it on your personalized Control Panel
View Viber calls details – You can easily track the date, time, and duration of every call sent or received on Viber. Also, there is a blocking feature for restricting unwanted phone numbers
View group messaging session logs – Get access to group conversations and prevent troublesome behavior before it starts
Access-tracked data – Track the target device data remotely at any convenient time. Just log in to your Control Panel to have access to everything you want to check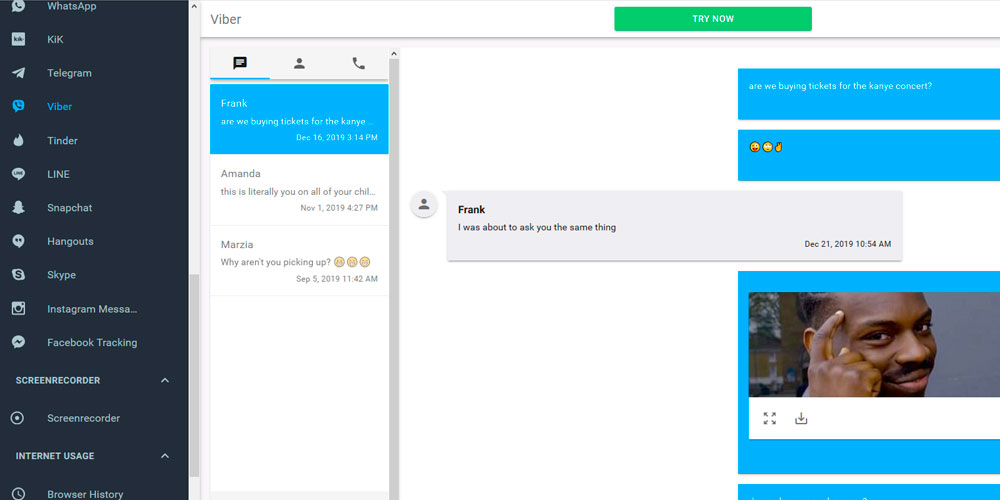 Kik
View sent and received messages to protect your child.
Look through all messages – Remotely monitor all incoming and outgoing texts in Kik messenger
Monitor timestamps – View the time and date of every Kik message, as well as whether the message was sent or received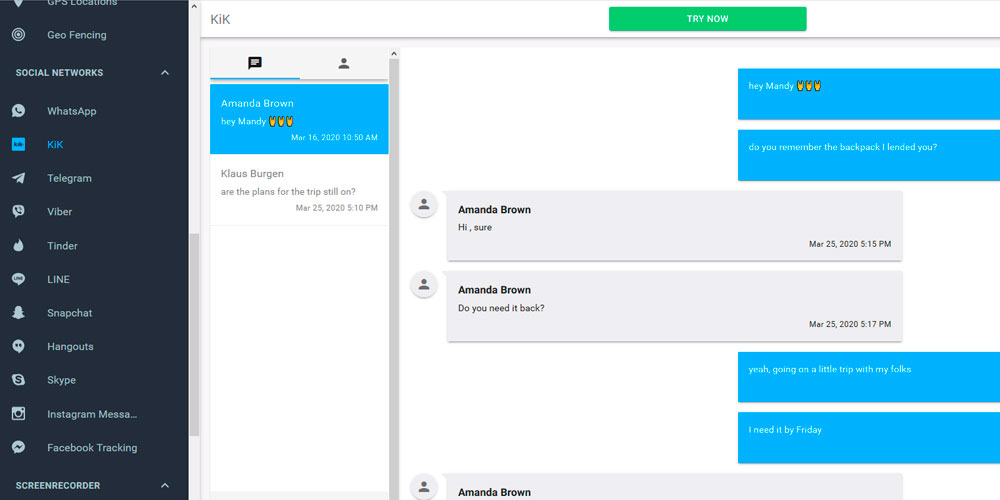 Instagram
Do not think that Instagram is only about photos, videos, and stories. This app has a direct messages feature that allows you to communicate with other users. A lot of people use this app to exchange messages.
View all text messages (sent/received) – Read all sent and received text messages sent in Instagram Direct
Look through shared links and texts – View all links shared in Instagram direct messages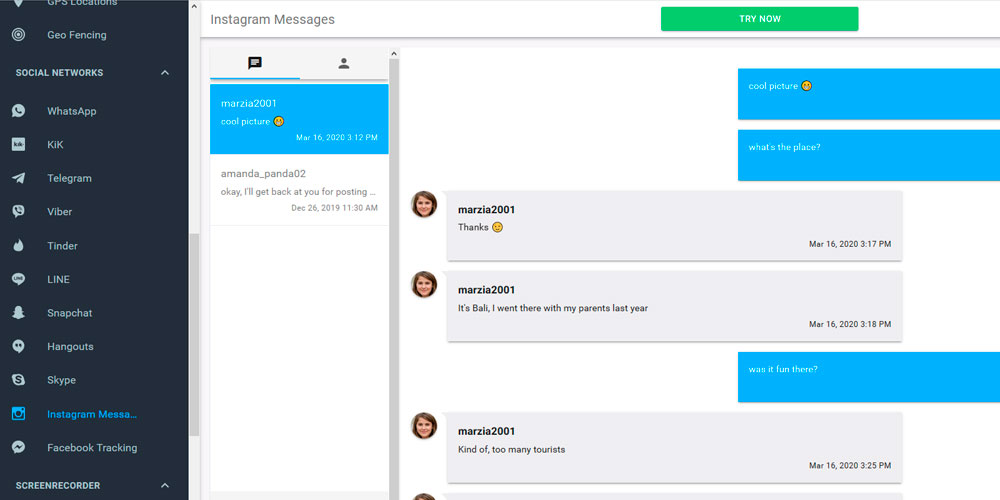 Track Location
This is one of the most favorite functions of all parents. With the help of the app, you can monitor the location of your kids, set safe and forbidden zones, view when they visit any of these zones, and set email notifications for extra peace of mind. An extremely convenient layout with allowed/forbidden zones on the left and a map on the right with an activity log below makes it straightforward to get to know where your kid is.
Current GPS Location
See your kid's current whereabouts on the detailed map
Check their route history over a specific interval of time
View location list details (coordinates, location time, address, and accuracy)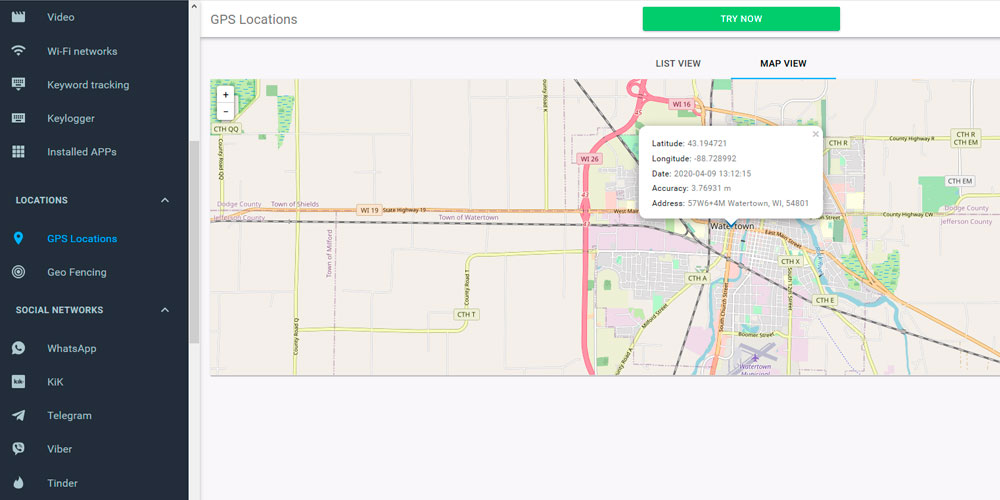 Geo-Fencing
Set an unlimited number of safe and forbidden zones
Monitor when and how often each zone is visited
Receive email notifications about each zone entrance and exit
View the history of device movements on a convenient ma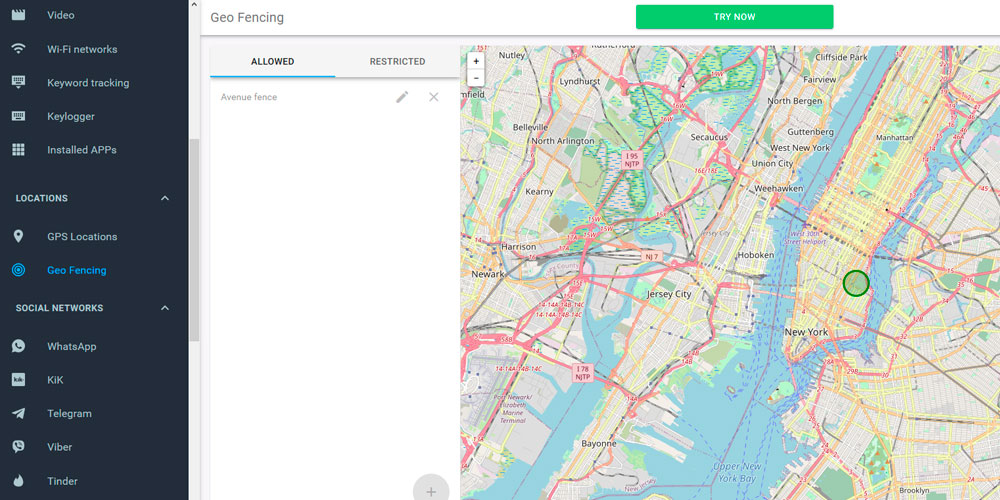 Control Apps and Programs
Installed Applications / Application blocking – not all the applications are safe to use, and not all of them are for minors. So it's the parents' task to monitor what their kids use every day. Access the full list of installed apps, read information about them, and block unwanted programs.
Keylogger / Screen Recorder – these two functions offer a similar result using different methods. Key logger accurately captures all the entered keystrokes on devices, allowing you to see every move, meanwhile, the screen recorder shows you a full picture of what's going on on your kid's smartphone.
Installed Applications
See the list of all installed and available apps on your kid's device
View the details of each app (name, version)
Restrict the usage of unwanted apps with the Block App button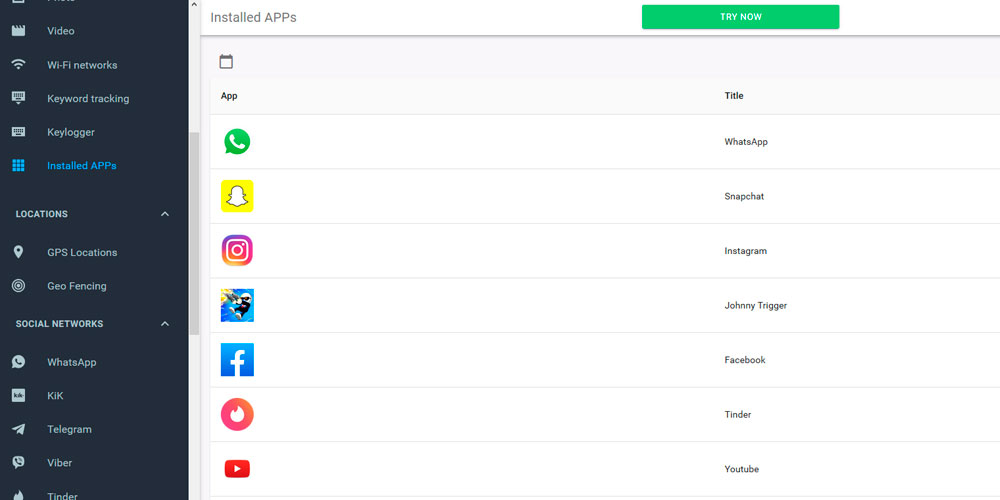 Application Blocking
View the list of apps installed on your kid's device
Block apps that encourage destructive behavior
Protect your kid from interaction with strangers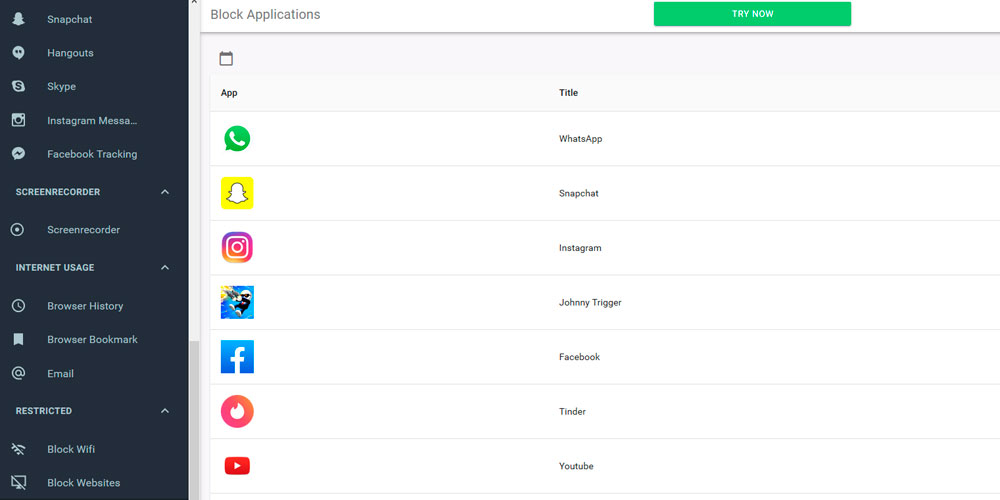 Keylogger
Parents can monitor their kid's smartphone activities and capture all the entered keystrokes on their device
Law enforcement may use it to analyze and track incidents linked to personal computer use
Record all the pressed keystrokes on a target device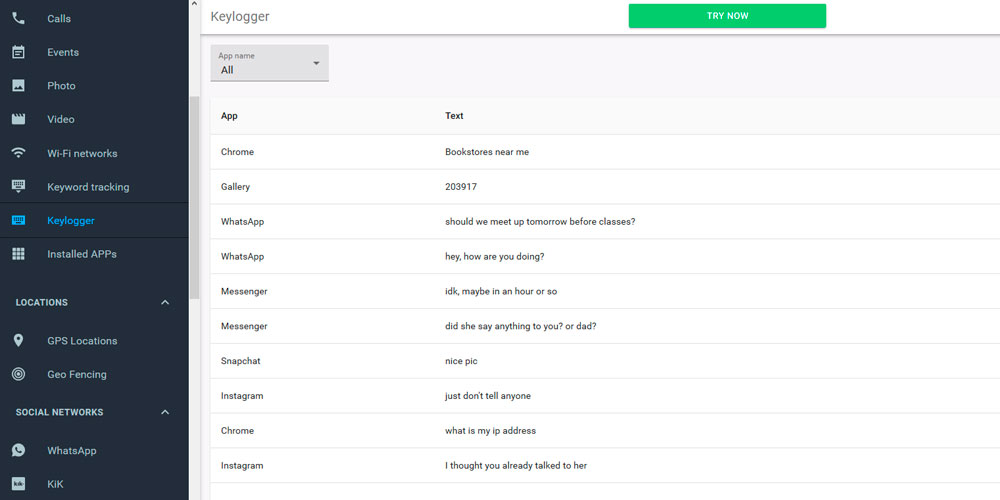 Screen-Recorder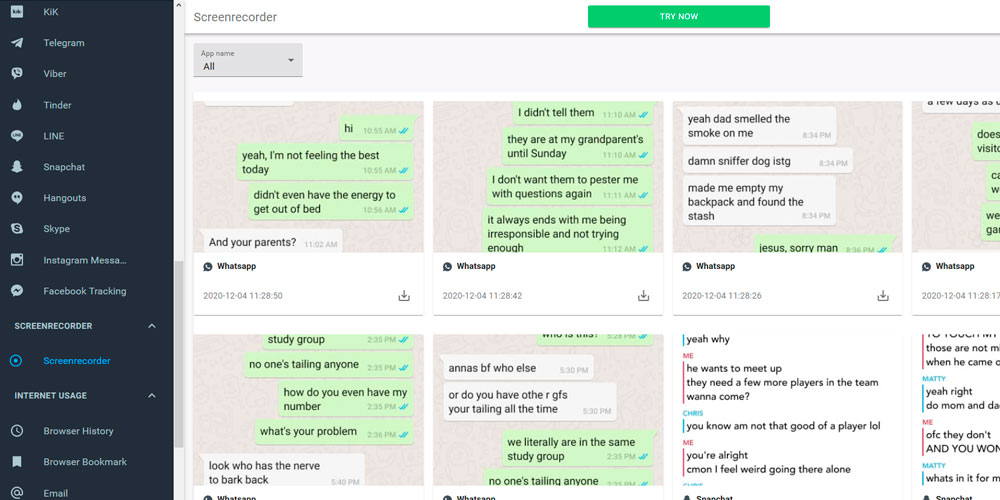 View Photos / Videos

Photos / Videos – view all photos and videos taken by your child. This is a great way to keep in touch with loved ones without bothering them. Every photo and video saved on a device will be uploaded to mSpy.
Photos
Browse all pictures downloaded on your kid's phone
Get time and date stamps for each photo
Access photo logs straight from your Control Panel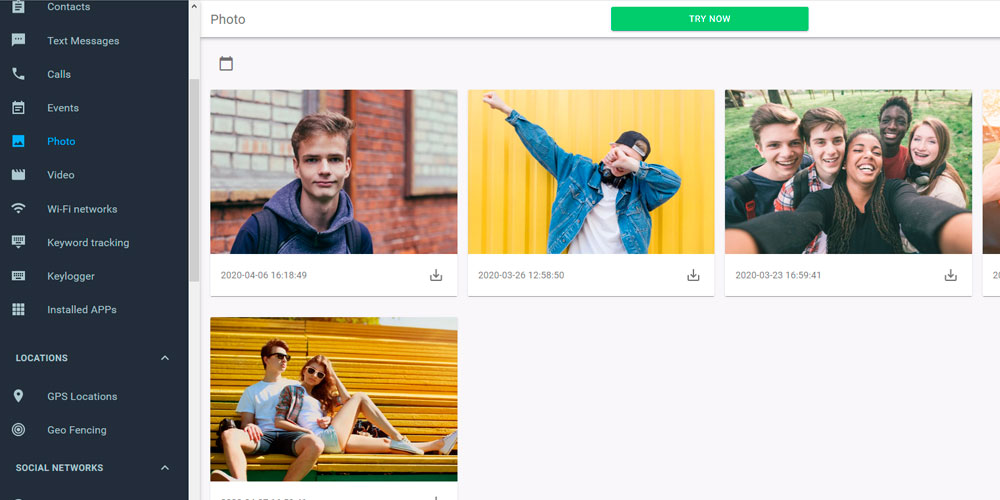 Videos
Browse any video on your kid's phone
View date and time stamps on all videos
Access video log history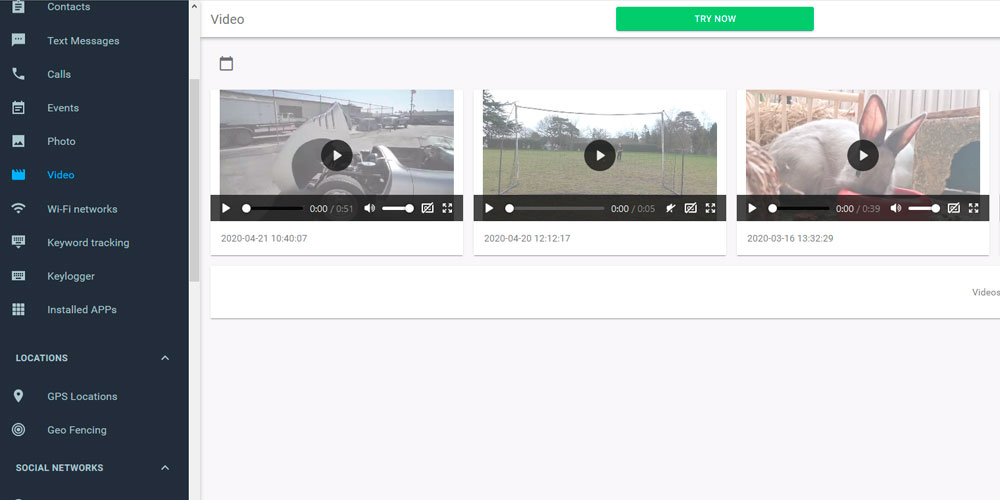 Monitor Internet Activity
How many dangerous websites are there on the internet? The amount of information that people can find today is too large, which means children often get to know about things they should not know yet. Control the ­g history, block unwanted sites, and receive alerts whenever your kid is searching for something bad.
Browsing History
Monitor online activity
Filter Web content
Check time and date stamps
View browsing history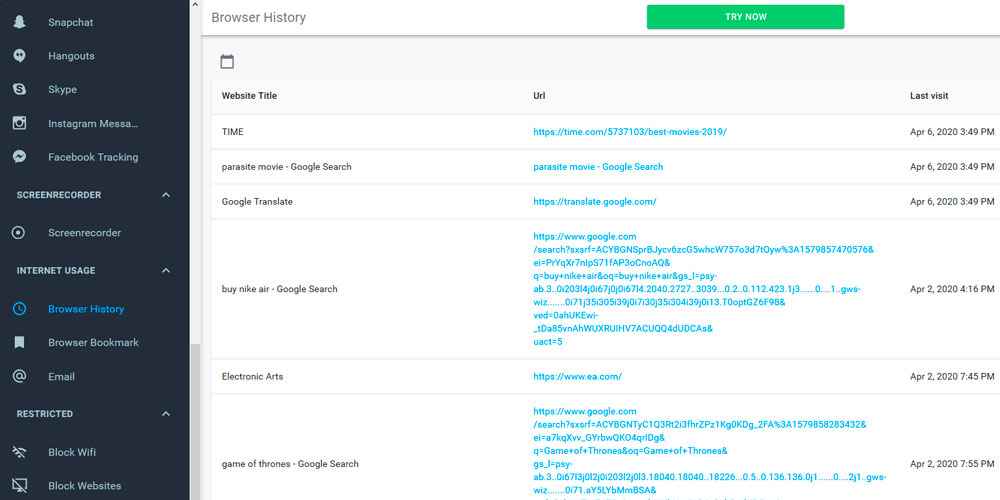 Website Bookmarks
See a complete log of all bookmarked websites
Monitor time stamps for favorite sites
Analyze all bookmark activity directly from your Control Panel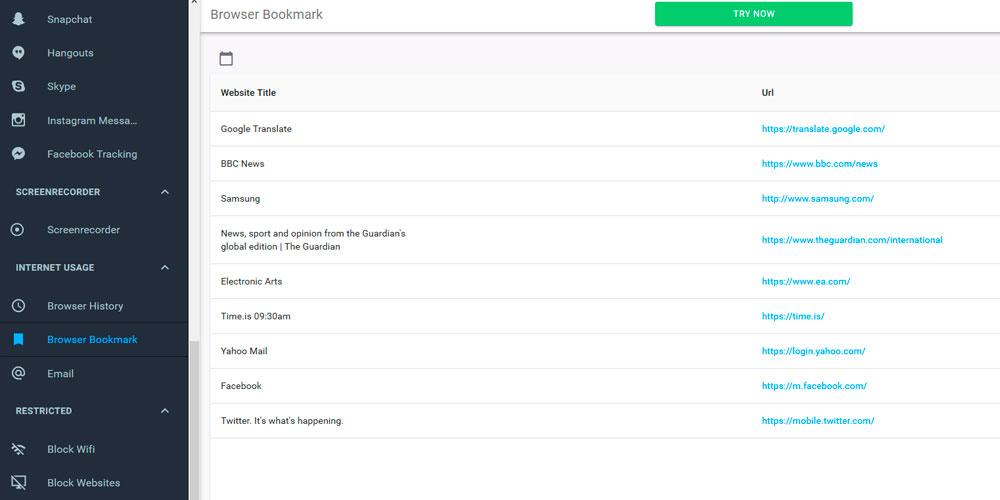 Blocking Websites
Filter online content
Block inappropriate websites
Establish smart screen time rules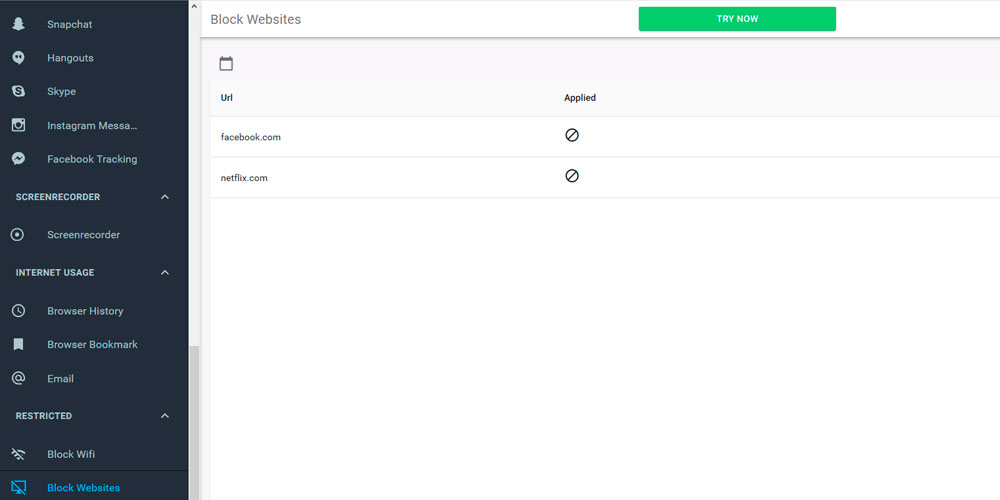 Wi-Fi Networks
Identify the most visited places
Track all visited Wi-Fi hotspots
View full connection details (name, time, duration, type)
Look through the Wi-Fi networks list
Prevent suspicious hotspot connection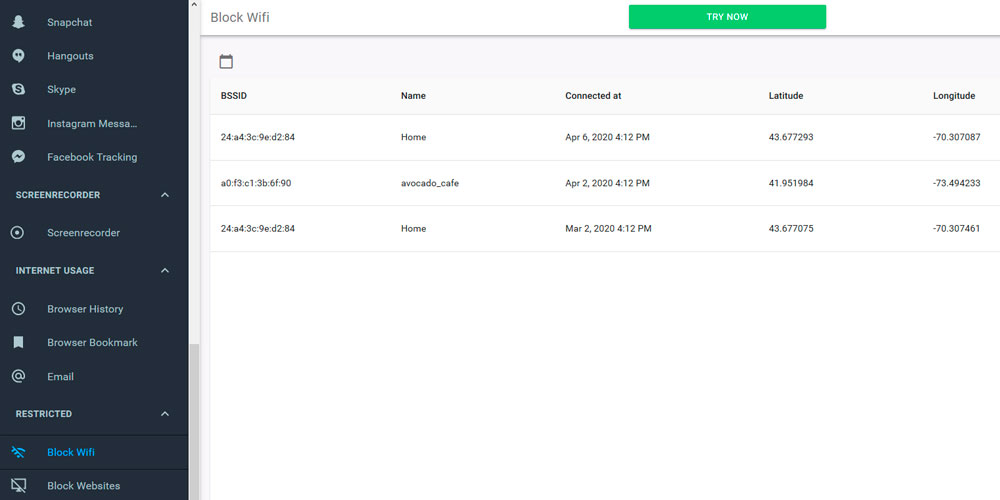 Keyword alerts
Get immediate alerts on the specified keywords/phrases
See all the content that includes dangerous words or phrases
Access the full device info from your mSpy Control Panel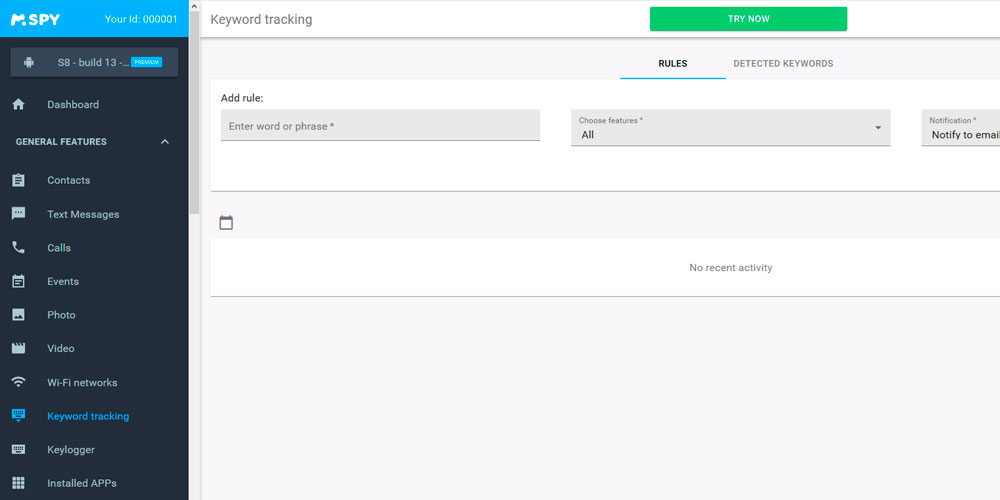 Read E-mails
Incoming / Outgoing Emails – email is not as popular as instant messengers nowadays, and this is the reason why it's necessary to check it too. We usually forget that it's a place where much evidence of incoming danger can be.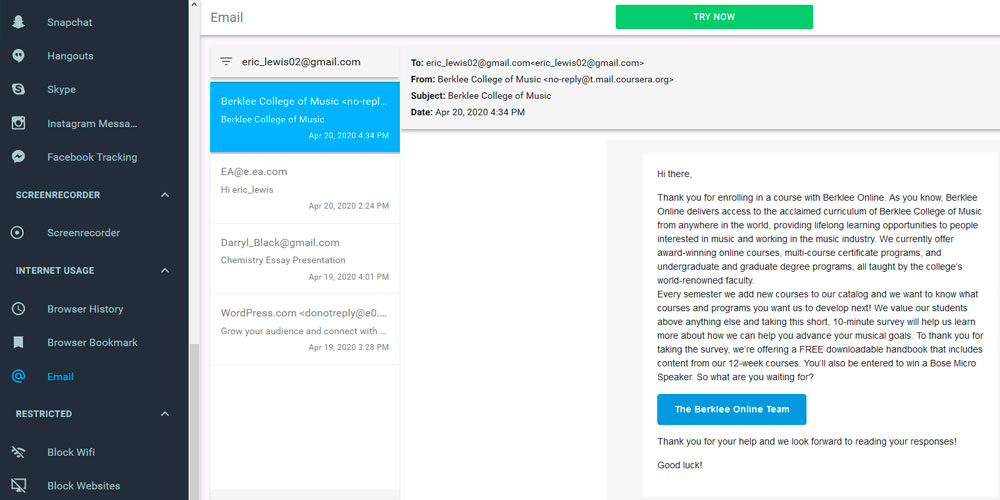 Access Contacts / Calendar
Don't forget to know about your child's plans. View the numbers of his or her friends to call them if you can't reach your kid or you need help.
Calendar Activities
Supervise all your kid's calendar activities
Browse scheduled meetings and view meeting details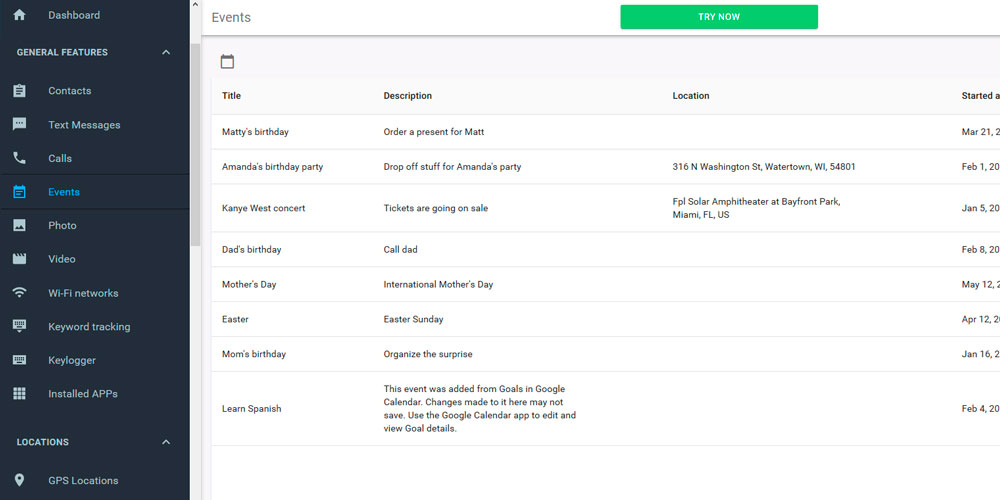 Contacts
View all names and numbers stored in the address book
Browse other contact details, such as business/home addresses, emails
View if the contact is saved in the address book or not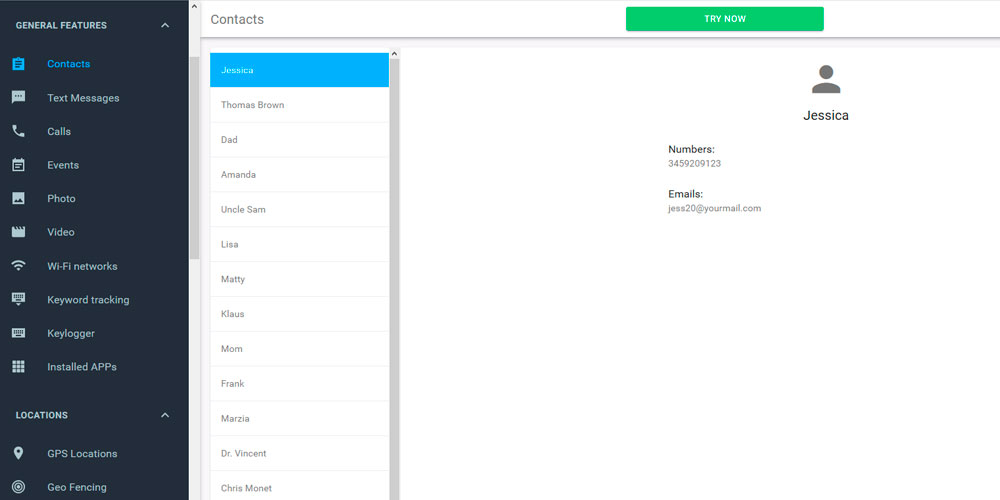 Remote Control
Ever wanted to reach your child, but couldn't and wondered why? Perhaps the battery is dead or they are out of an Internet coverage area. Everything you need to know is at your fingertips with the remote control function.
Additional Device Info
This function allows you to see more information about the target phone. To be more specific, you can see whether the phone is connected to the internet (Wi-Fi or Cellular), its battery status, and the mobile operator. It could be pretty helpful in some situations.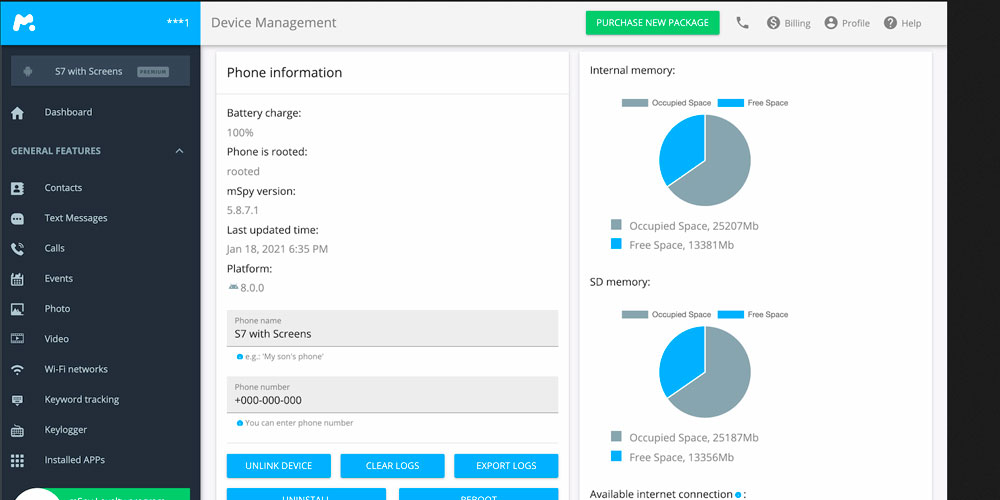 Control Panel
Control panel is a perfectly organized place where all monitored data is located. This is the best way to keep yourself aware of your child's life. Besides, you can add more devices here and export data into XLS and CSV files for better convenience. This function allows you to see more information about the target phone. To be more specific, you can see whether the phone is connected to the internet (Wi-Fi or Cellular), its battery status, and the mobile operator. It could be pretty helpful in some situations.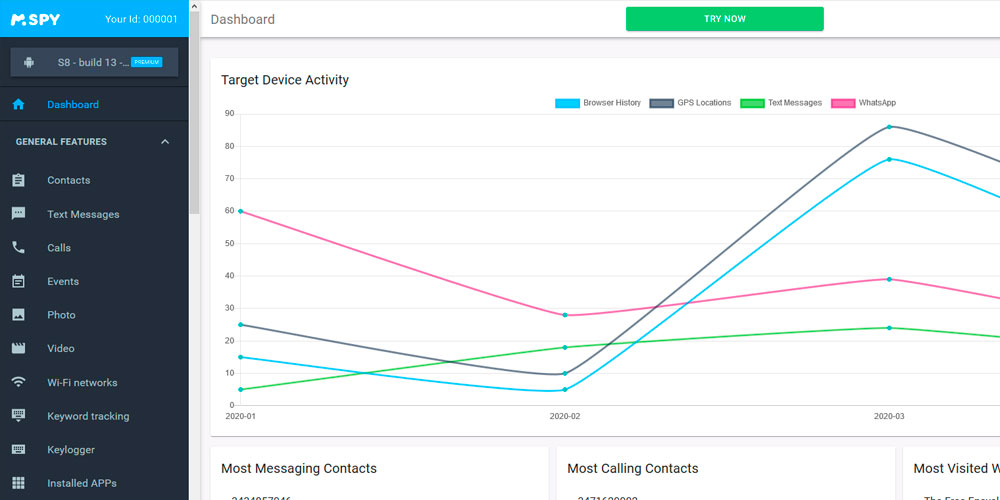 Analyze It
Comprehensive Reports – it's impossible to remember everything, especially when you have to take care not only of your life but also of your family members. Statistics are an important part of monitoring because it allows you to analyze data and decide what to do next. With the help of these reports, you can get to know detailed information about any monitoring aspect. Moreover, this function works with any type of device, and you can generate reports about one user or a group of users.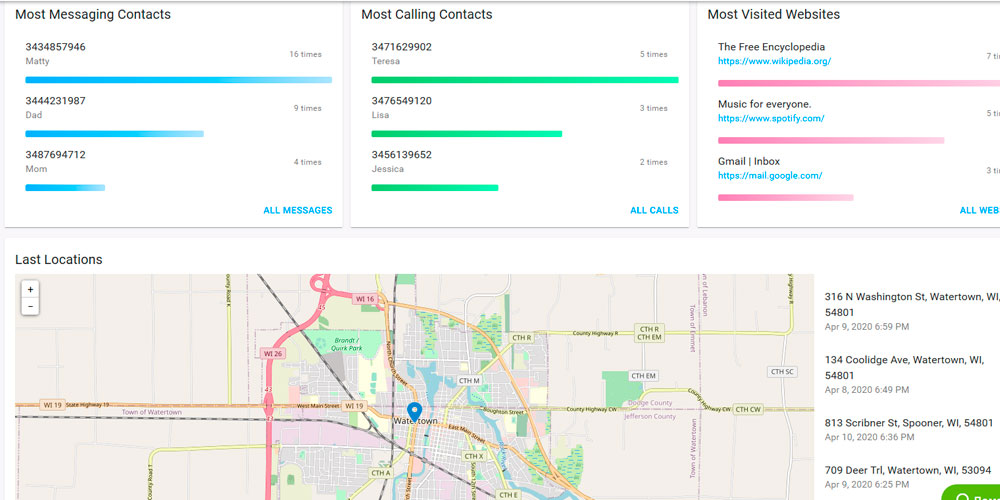 Feel Supported
Support Options
Depending on your tariff plan, you can get the most dedicated support from a team of specialists. Support options are divided into 3 different levels:
1st level — Basic and Premium plans. Self-service HELP section, email/tickets support, live assistance in chat
2nd level — $12.99. You will be guided step by step through any process by a specialist
3rd level — $53.99. Advanced mAssistance package. Special guidance through rooting or jailbreaking and through the installation of mSpy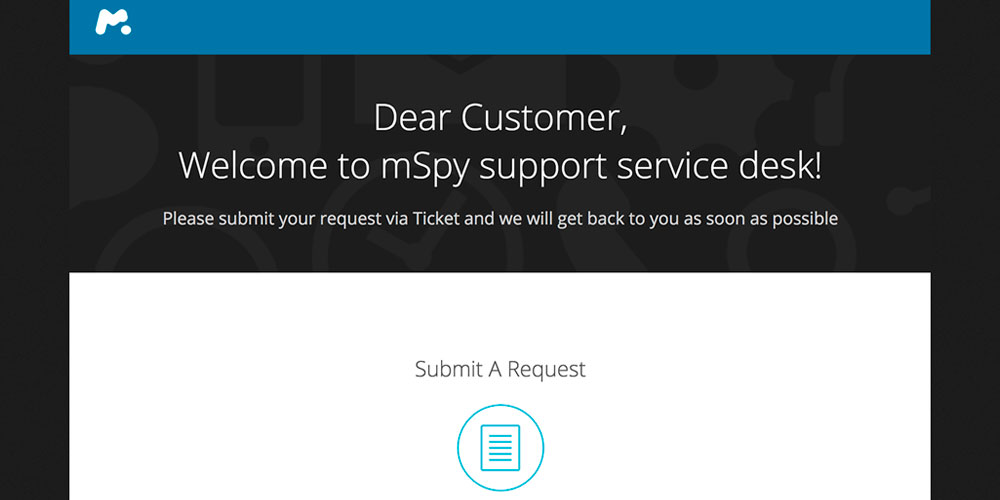 Uninstall Alert
If something happens to the mSpy app, you will be immediately notified. You can see if the app was damaged or deleted on purpose, the time when it happened, and why mSpy was deleted.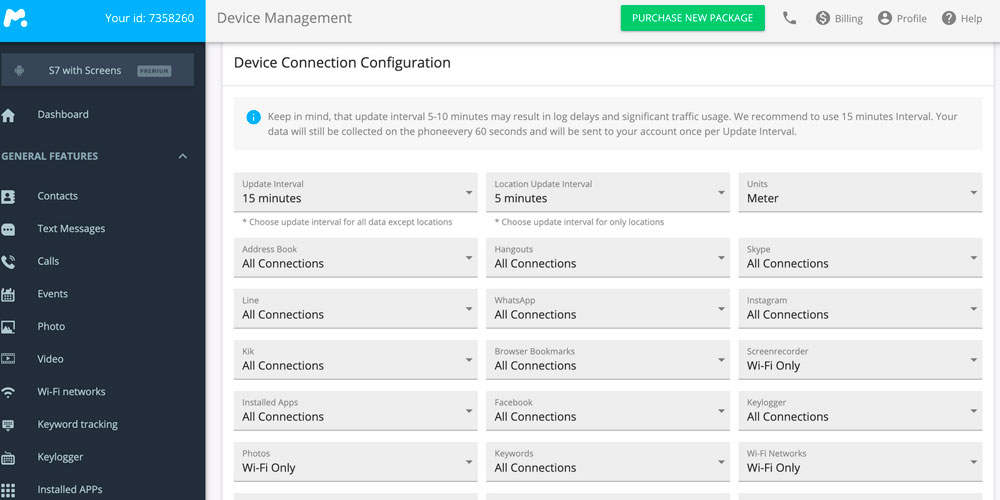 The Reality of mSpy Free Trial
Now, let's talk about something many potential users wonder about mSpy free trial. Does it exist? If not, what are the alternatives?
While mSpy is indeed a powerful tool, it's crucial to note that as of now, the company does not officially offer a free trial. This might seem like a setback, but there's more to the story. It's not uncommon for software that deals with sensitive data, like a parental control app, to refrain from free trials for reasons related to privacy and security.
Navigating the Alternatives: Demo and Money-Back Guarantee
While an official mSpy free trial might not exist, there's a silver lining. For users who want to familiarize themselves with the mSpy interface and its functionalities, mSpy offers a free demo on its website. This interactive demo provides a hands-on experience of the app, allowing potential users to understand how the app works before purchasing a subscription.
Moreover, mSpy offers a 14-day money-back guarantee. This means you can use the complete version of the app for two weeks, and if you're not satisfied, you can claim a refund. Essentially, this acts as a risk-free period for you to test the software.
Seeking Extra Value: Discounts and Offers
Additionally, mSpy frequently offers discounts and promotions. While these aren't free trials per se, they can reduce the financial investment required to use the app. Before purchasing, it's worth checking the official website or subscribing to the mSpy newsletter to stay informed about any ongoing offers.
If you need more info on how to make cost-effective mSpy purchases or need assistance navigating the mSpy demo, don't hesitate to check out our dedicated page mSpy Free Trial.
Installation and operation
To start using mSpy, you need no special skills or additional software.
First of all, you have to purchase the app by filling in a billing form on the official site. You can choose one of three packages: basic, premium, and no-jailbreak (1, 6, or 12 months).
After your payment is confirmed, you will get a download link on the email you have provided. All you have to do is to download the app and follow the instructions on your screen. The entire procedure takes no more than 5 minutes.
Note: premium features require a jailbreak.
The app has an intuitive, user-friendly interface, so you will not face complications using it. Navigation is simple, the design is colorful and enjoyable. Everything is done in a minimalistic way. This keeps you relaxed but focused and allows you to use the app for as long as you need.
As you already know, parents use mSpy to ensure the protection of their kids. They buy this app, download it, and install it on the device they want to monitor. Kids are not always educated and experienced enough to avoid problems, so they may become victims of various crimes and accidents, such as cyberbullying, harassment, blackmail, inappropriate content, and so on. That's why adults have to take measures against possible dangers.
How to use mSpy?
To start using mSpy, you need no special skills or additional software. Just purchase and install the mSpy app on the target phone:
How to Install mSpy on Android
This video will help you figure out how to install the software on any Android device.
How to Install mSpy on iOS (iPhone / iPad)

WITH Jailbreak

These video tutorials will help you install the application on your jailbroken iPhone easily and simply.
How to Install mSpy on iOS (iPhone / iPad)

WITHOUT

Jailbreak
Watch this video to learn how to install the app on your phone without jailbreak.
mSpy Requirements
FAQ
Conclusion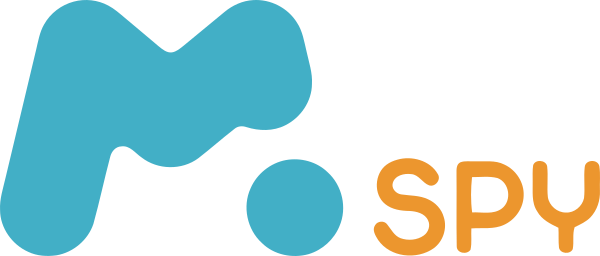 What can we say after taking a closer look at this app and testing it for a while? It's a really efficient, easy-to-use, and enjoyable app that can help you a lot in making your family's life safer. Do not get confused by the name that has a part «spy», the real purpose is not spying but protecting. Remember that it's illegal to spy on people. But if you think your kid may be in danger or you suspect your kid in something bad, it's a great solution to prevent horrible accidents and feel safe. Be smart and use technology to make your life better!
Tags: #mSpy review – cell phone spy software / #mSpy review – monitoring software
#software #app #tool #monitoring #tracking #spy #phone #mobile #tracker #free #best #hidden #monitor #remotely
#mobile tracker / #phone tracker / #cell phone tracker / #spy app / #spyware tool / #spy phone app / #mspy reviews / #without knowing
#child monitor app, #parental control app, #track my kids, #employee tracking app / #android, #ios, #iphone, #ipad, #samsung