As a concerned parent, I'm always looking for ways to keep my kids safe online. I know the digital world poses many risks that make monitoring their activities essential.
To find the right parental control solution for my family, I decided to test out FamiSafe, a leading app for managing kids' screen time and filtering inappropriate content.
In this article, I'll specifically be reviewing the free 3-day trial of FamiSafe to give you a sense of what the app offers before committing to a paid plan. I'll share my experience setting it up, testing the key features, and evaluating whether the free trial is enough to determine if FamiSafe is the right fit.
For a more comprehensive, in-depth review of FamiSafe including its full suite of features and long-term use, check out our complete review here.
But if you just want the scoop on the FamiSafe free trial and what you can expect, keep reading! I'll outline what you can access, how easy sign-up is, and what I liked and didn't like about the trial. Let's get started!
Quick Summary
What is it:
What's great:
✅ No credit card is needed for a 3-day free trial
✅ Full access to all features
✅ Easy setup and intuitive interface
✅ Robust location tracking and time management
✅ Alerts for concerning activity
What's not:
The verdict:
The FamiSafe free trial gives you adequate time to evaluate the key features and see first-hand how this parental control app works for your family's needs. Take advantage of testing it out before deciding on a paid subscription!
Why I Tried FamiSafe?
I have a teenage son and daughter who are constantly on their phones. I was looking for an app that could help me:
Monitor their location 🌎
Limit screen time ⏱️
Block inappropriate content 🔞
View social media activity 📱
FamiSafe seemed to check all those boxes, plus it had great reviews. I decided to try the free 3-day trial to test it out.
What is FamiSafe?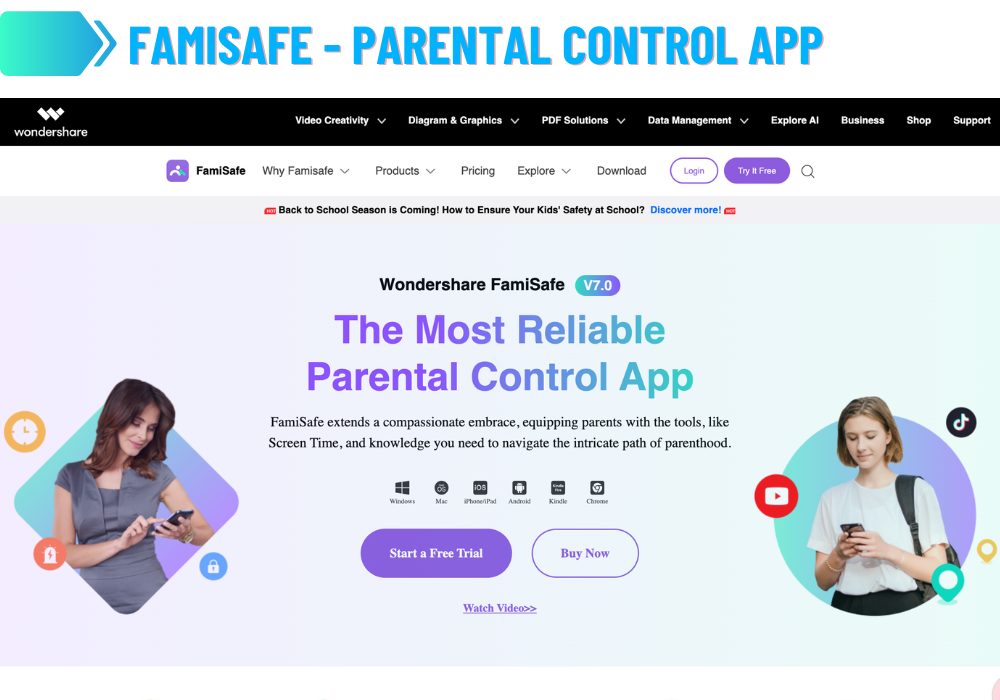 FamiSafe is a leading parental control app developed by Wondershare, a software company known for its suite of digital family safety products.
It is designed to help parents monitor and manage their kids' activities on smartphones, tablets, computers, and other smart devices. The goal of FamiSafe is to create a safer digital environment for children.
Some of the key features FamiSafe offers include:
📍 Location tracking – View the real-time location of your child's device and location history.
⏲️ Screen time management – Set time limits, block apps, and suspend device usage remotely.
🌐 Web filtering – Block access to inappropriate websites and get alerts about concerning searches.
💬 Social media monitoring – Keep tabs on SMS messages, YouTube, and messaging apps like WhatsApp.
📱 Multidevice support – Monitor Android, iOS, Windows, MacOS, and Kindle devices from one parent dashboard.
📸 Photo alerts – Get notified about inappropriate photos on your child's device.
FamiSafe uses a combination of app blocking, internet filters, activity monitoring and screen time limits to promote safer and more educational usage of devices.
It aims to give parents visibility into their kids' digital behaviors and interactions while also fostering open conversations around online safety. With robust parental controls, FamiSafe provides a toolset tailored to the modern digital parenting landscape.
Key Features I Tested
During the 3-day free trial period, I really put FamiSafe through its paces to evaluate the core features and see how useful they could be for my family. Here's an in-depth look at what I tested out:
Comprehensive Location Tracking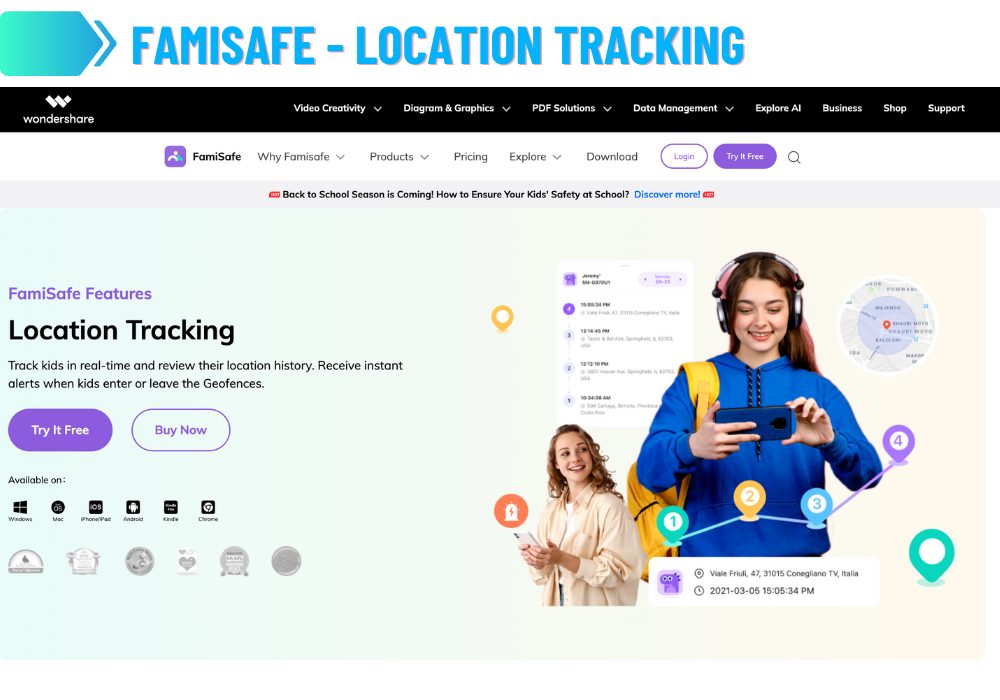 The location tracking was very accurate and gave me real-time updates about where my kids were throughout the day. I could see their location on a map, set up geofences to get alerts when they arrived at or left specific places, and view detailed location history going back weeks. This gave me peace of mind that my teens weren't sneaking off somewhere they shouldn't be.
Screen Time Limits and Schedules
I tested out setting daily time limits for overall phone use as well as limits for individual apps like TikTok or Instagram. I could customize the limits based on each child and also set specific schedules when device usage was allowed or blocked. The app suspension feature lets you instantly pause device use which came in handy when my son was on his phone past bedtime!
Web Filtering and Alerts
The web filtering tools were robust, with pre-set filters for adult content as well as the ability to block sites by keyword. I ran some searches that raised red flags and got alerted in real-time about concerning activity. You can also block certain web browsers and incognito mode.
Social Media Monitoring
I was able to view the content of messages sent and received over SMS, WhatsApp, Facebook Messenger, and other messaging apps. This allowed me to watch for any cyberbullying or inappropriate conversations. FamiSafe also tracks calls, YouTube history, and installed apps to get a fuller picture of social media activity.
Photo Screenshots
One feature I found especially useful was the ability to get periodic screenshots of my kids' device usage. I could see a snapshot of apps and websites they were accessing, giving me insight into how they spend time on their devices.
Driving Alerts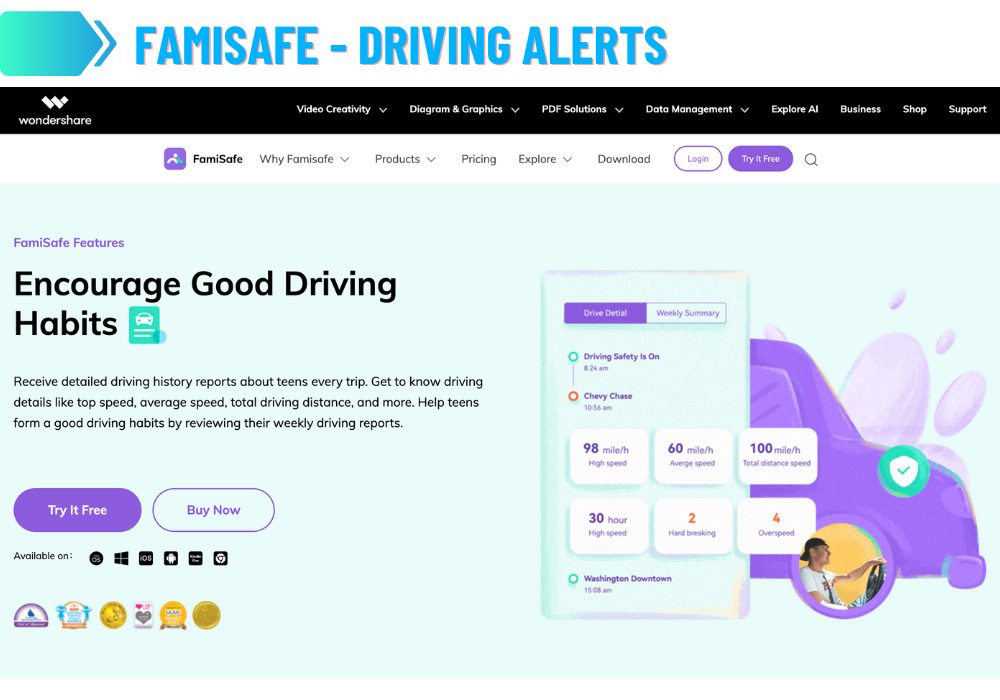 For my teen who recently started driving, I loved the distracted driving alerts, speeding alerts, and dangerous driving notifications that come with the FamiSafe app. It definitely motivates my son to drive carefully knowing I'll be notified if he doesn't!
With all of these powerful parental control tools at my fingertips, I felt fully equipped to clamp down on distracting and risky phone use and have much greater visibility into my children's digital lives. The free trial convinced me that a FamiSafe subscription would be well worth the investment.
Other Spy Apps With Free Trials
FamiSafe isn't the only parental control app that offers a free trial. Many of the top spy apps on the market today come with free trials ranging from a few days to a week.
One app I looked at alongside FamiSafe was FlexySpy, which has a 7-day free trial of its full range of monitoring features. I found FlexySpy provided more comprehensive social media monitoring and screen recording capabilities compared to FamiSafe.
However, FamiSafe edged out when it came to ease of use and device support. Overall, testing out the free trials of multiple apps can help you determine which solution best fits your family's needs.
For a full comparison of the top spy apps offering free trials, check out our detailed guide here: 6 Best Spy Apps With Free Trial.
The free trial periods allow you to evaluate factors like features, reliability, and user experience across the different apps before paying for a subscription. Make sure to test drive more than one program to decide which one you and your family are most comfortable with.
Taking advantage of these free trials is the best way to get hands-on with parental control apps before making any long-term commitments. Whether you choose FamiSafe, FlexySpy, or another program, the free trial is a great opportunity to experience its benefits first-hand.
Final Verdict on FamiSafe Free Trial
After thoroughly testing out FamiSafe's free 3-day trial, I'm confident this is a parental control app worth investing in.
The initial setup was quick and easy, with no credit card required to access all features during the trial period. I found location tracking, screen time management, web filters, and photo alerts extremely useful for monitoring my kids' activities.
While I wished the social media monitoring was more extensive, FamiSafe still offered plenty of visibility into my children's digital behaviors and habits. I appreciated the bonus driving safety features as well since my teenage son is a new driver.
Overall, the FamiSafe free trial removed any hesitations I had about paying for the full service. Thanks to the comprehensive controls and intuitive interface, I can finally have peace of mind about my kids' online safety.
If you're on the fence about FamiSafe, I highly recommend taking advantage of the free trial offer. Being able to test it out in your own home on your family's devices will demonstrate first-hand how helpful this parental control app can be.
Have you tried out the FamiSafe free trial as a parent? I'd love to hear your experiences and if you ultimately decided to purchase the full subscription! Let me know in the comments your thoughts after seeing FamiSafe in action.
👉 FAQ
I hope these answers help explain what to expect from the FamiSafe free trial! Let me know if you have any other questions.