Parenting in the digital age can feel like navigating a minefield, with online hazards like cyberbullying, adult content, and digital addiction threatening your child's safety. Amid these concerns, FamiSafe, the ultimate child safety app by Wondershare, emerges as a beacon of relief. Recognized as one of the top parental control apps, it supports both iOS and Android devices, offering comprehensive monitoring solutions.
FamiSafe is built on transparency and open communication between parents and kids, rather than covert spying. It's important to discuss its use with your children, as the app is not hidden and can be uninstalled. This review'll explore FamiSafe's key features, usability, and effectiveness in fostering a safer digital environment for your kids.
Quick Summary
FamiSafe is a parental control app with features such as location tracking, content blocking, and screen time management. It fosters a safe digital environment for children and is compatible across platforms. Its features come at a subscription cost with some potential areas of improvement.
✅ FamiSafe is a comprehensive parental control app featuring location tracking, content blocking, and screen time management to protect children from online threats. 🚀
✅ It goes beyond control by encouraging clear rules, engagement with educational apps, protection against cyberbullying, and helping children develop a sense of right and wrong online. 🧠
✅ Key benefits include an extensive feature set, promoting open communication between parents and children, cross-platform compatibility, a user-friendly interface, real-time alerts, and an educational approach. 🌐
✅ Potential drawbacks are limited stealth mode, subscription-based model, and limited social media monitoring. 📱
✅ FamiSafe is compatible with a wide range of mobile and desktop devices, with the ability to connect and monitor up to 5 devices for the monthly plan, and 10 devices for the quarterly and annual plans. 💻
✅ FamiSafe monitors location, web browsing history, app usage, content safety, device activity, geofencing, driving safety (for older kids), and YouTube content. 🔎
✅ It operates on a subscription basis with monthly, quarterly, and annual plans, offering features like a 7-day money-back guarantee, 24/7 customer support, and free lifetime updates. 💼
What is FamiSafe? 🌐👪

FamiSafe is a comprehensive parental control app designed to ensure your child's safety in the digital realm. With a suite of kid-centric features, such as driver safety, adult content block, and screen time management, it's your go-to solution for protecting your child from online threats. Here's a snapshot of some of the essential features FamiSafe offers:
Location Tracking & Location History📍: Stay updated about your child's current and past locations. This feature helps you ensure your child's safety without constant contact.
Browser History🌐: FamiSafe's browser history feature allows you to remotely monitor the websites your child frequents, keeping you informed about their online interests and potential risks.
App Blocker🚫: The app blocker feature lets you restrict access to unwanted or harmful apps on your child's device, promoting safe and educational screen time.
FamiSafe goes beyond just control; it's a platform aimed at nurturing a healthy digital environment for your children. You can:
📝 Create clear rules and use time-limit controls to establish a routine.
🎓 Inspire engagement with educational apps by blocking distractions.
🛡️ Protect your child from cyberbullying with safe search features.
🧭 Develop your child's sense of right and wrong with smart web filtering.
⏲️ Create a family media plan by setting limits for screen time.
🚀 Empower your child with self-managed dashboard screen time allocation.
Moreover, FamiSafe's features like Device Activity allow you to monitor how your child uses their device, with the ability to remotely lock it for safe screen time management. The Content Safety feature, powered by AI, blocks inappropriate content, ensuring your child's online security. With Web Safety, you can block unsafe websites, providing secure browsing for your child. And finally, Location Service offers access to location history and real-time monitoring of your child's device.
Your journey through parenthood will be filled with challenges, and FamiSafe is here to guide you confidently through the complexities of digital parenting. As an experienced digital parenting assistant, FamiSafe is committed to maintaining open and honest communication based on in-depth reports. With FamiSafe, you can navigate the intricate path of parenthood armed with the tools and knowledge you need to provide a safe digital environment for your child.
What We Like About FamiSafe 🏆👍
Several standout features make FamiSafe a favorite among parental control apps:
Comprehensive Feature Set 📚: FamiSafe offers an extensive array of features that go beyond simple content blocking. From location tracking and web filtering to screen time management and app blocking, it provides a holistic approach to digital safety.
Transparent Use 👥: Unlike covert spying tools, FamiSafe promotes open communication between parents and children. It's an app that is visible and can be easily detected and uninstalled, encouraging conversations about safe digital behavior.
Cross-Platform Compatibility 🌐: Whether your child uses an iPhone or an Android device, FamiSafe has got you covered. This cross-platform compatibility extends its protective coverage, no matter the device preference.
User-Friendly Interface 👌: FamiSafe boasts an intuitive and user-friendly interface that makes it easy even for non-tech-savvy parents to navigate. Setting up and managing the app is straightforward and hassle-free.
Real-Time Notifications 🚨: FamiSafe's real-time alerts for suspicious activities or location changes offer parents peace of mind. You can respond promptly to potential threats and maintain your child's digital safety.
Educational Approach 🧠: Instead of merely limiting screen time, FamiSafe allows parents to direct kids towards educational apps, fostering a more positive digital experience.
In a nutshell, FamiSafe's blend of comprehensive features, user-friendly interface, and emphasis on transparent usage make it a reliable choice for parents seeking to safeguard their children in the digital world.
What We Didn't Like About FamiSafe ❌👎
While FamiSafe offers a plethora of valuable features, there are a few areas where it could improve:
Limited Stealth Mode 👁️: The app is visible on your child's device, and some parents might prefer a more discreet monitoring approach. While this encourages open dialogue about its use, it might not suit all family dynamics.
Subscription Model 💰: FamiSafe operates on a subscription basis, which might not appeal to everyone. Although the range of features offered is impressive, it can seem pricey compared to some other parental control apps.
Limited Social Media Monitoring 📱: As of now, FamiSafe does not support extensive social media monitoring. Considering the large part social media plays in a child's digital life, this is a feature that we hope to see in future updates.
These points aside, it's important to remember that no solution is perfect, and the benefits of FamiSafe often outweigh these drawbacks for many users. As a parental control app, it still offers a wide array of features and services that are highly valuable in today's digital landscape.
Compatible Devices with FamiSafe 💻📱
FamiSafe's versatility makes it compatible with a broad range of devices, ensuring your child's safety across different platforms.
Mobile Devices 📱:
FamiSafe works seamlessly with most mobile devices, including both phones and tablets. Whether it's Android (versions 4.4 – 10), iOS (versions 9 – iOS 15), or Kindle Fire OS, FamiSafe's got it covered, all without the need for rooting or jailbreaking. Downloading the FamiSafe app is a breeze – you can grab it from the Play Store for Android or the App Store for iOS. Alternatively, you can download it using the QR code on FamiSafe's official site, or provide your email on the download page to receive a direct download link.
Desktop Devices 💻:
FamiSafe extends its protective wing to desktop devices as well. It supports monitoring of devices running on Windows, Mac, and Chromebook. Unlike mobile devices, the software isn't directly downloadable. Instead, you need to use FamiSafe through its official site on these platforms.
Unfortunately, FamiSafe doesn't yet support parental controls on any video game console like XBOX, PlayStation, or Nintendo Switch.
Depending on your FamiSafe subscription plan, you can connect and monitor up to 5 devices for the monthly plan, and 10 devices for the quarterly and annual plans.
Please note, you will need physical access to your child's device to install FamiSafe and complete certain setups. Once installed, you can start tracking and managing your kid's device remotely, ensuring their digital safety, no matter where they are. 🌍👍
How To Use FamiSafe App? 📲🚀
Getting started with FamiSafe is quite straightforward, whether you're using Android, iOS, or a desktop device. Here's a step-by-step guide:
Install & Register FamiSafe on Parent's Device 💁‍♂️:
Download the FamiSafe App: Simply search for FamiSafe in the Google Play or App Store, or you can tap on the following download buttons for Android or iOS.
Review New Features: Go through the FamiSafe V6.0 new features for a comprehensive understanding of the app.
Register/Login: Register a Wondershare ID for FamiSafe or log in using your Apple, Google, or Facebook ID.
Parent Mode: Choose to continue as a parent and connect to your child's phone using the QR code or pairing code.
Final Setup: After pairing and authorization on the child's device, set up basic parental control with the startup wizard. You're good to go!
Setting Up on a Desktop Device 💻:
Open the FamiSafe site on your PC/Mac and click on the Login option.
If you're new to FamiSafe, click on Sign Up and Create an account, or Login if you already have one.
Installing FamiSafe on an Android Device 📱:
Log in to the child's device on the FamiSafe app.
Select Kid when prompted to choose between the parent's device or the kid's device.
Provide the child's name and age, then tap Next.
Activate accessibility for FamiSafe and grant usage access, notification access, and device administrator permission.
Allow FamiSafe to track the device's location and to access contacts, photos, media, and files.
Tap Done to complete the setup.
Installing FamiSafe on an iPhone 📱:
After installing the app and providing all the necessary permissions, tap Install iOS profile.
Download a configuration profile from the FamiSafe website by tapping Allow.
Go to iPhone settings > General > Profile.
Tap on FamiSafe under Profile, then tap Install at the top-right corner of the screen.
Tap Trust to allow remote management of the profile.
Enable all the content blockers on Safari by going to settings > Safari > Content Blockers.
Toggle on the button in front of FamiSafe.
Tap Complete to launch the app successfully on your iPhone.
Remember, communication is key when using a parental control app. Make sure your child understands why you're using FamiSafe – it's about their safety and not about spying on them. Enjoy your journey into digital parenting with FamiSafe! 🚀👨‍👩‍👧‍👦
What Does FamiSafe Monitor? 🕵️‍♀️📲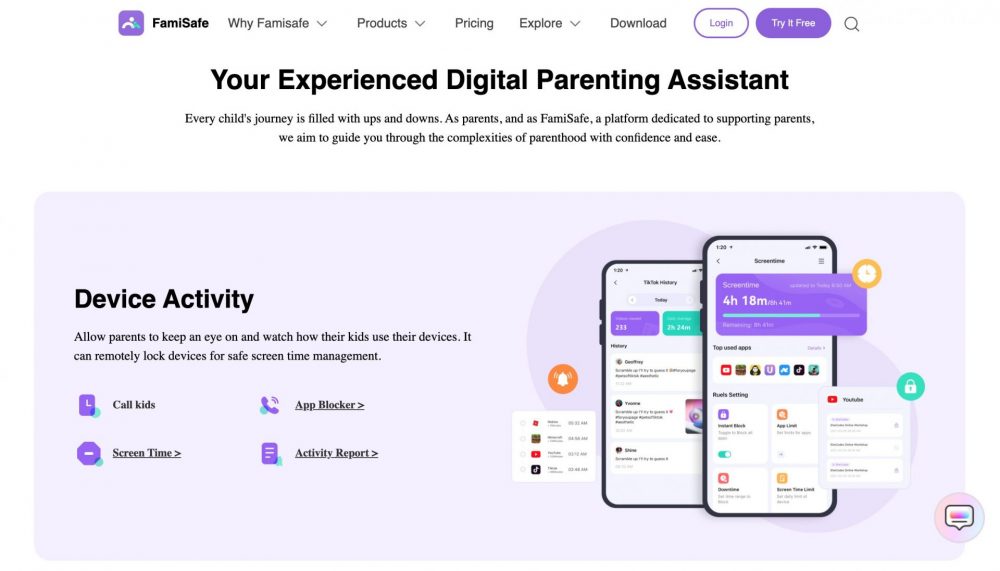 FamiSafe monitors a variety of activities to ensure children's safety in the digital world. It's designed to provide comprehensive monitoring without invading privacy. Here's a quick look at what FamiSafe monitors:
Location Tracking & History 🌍📍: FamiSafe monitors the real-time location of your child's device. It also keeps a log of previously visited places, so you can review the location history anytime.
Web Browsing History 🌐🔍: The app keeps track of what websites your child visits, helping you understand their online interests and identify any potentially harmful content they may be exposed to.
App Usage & Screen Time ⏳📱: FamiSafe monitors which apps your child uses and how much time they spend on each one. This helps you manage your screen time and promote a balanced digital diet.
Content Safety 🚫🖼️: Leveraging AI technology, FamiSafe blocks inappropriate content to keep your child safe online. It also scans the photo gallery for any inappropriate pictures.
Device Activity 📊👀: FamiSafe allows you to see how your child uses their device. It provides an activity report detailing app usage, browsing history, and more.
Geofencing 🏠🌳: You can set up virtual boundaries known as geofences. If your child enters or leaves these designated areas, FamiSafe sends you a notification.
Driving Safety 🚗🛑 (for older kids): If your teenager is driving, FamiSafe can monitor their driving habits to ensure they're staying safe on the road.
YouTube Content Detection 🎬⚠️: For those children who love watching videos online, FamiSafe also monitors YouTube activity, detecting any inappropriate content in the videos they watch or the comments they post.
With all these features, FamiSafe proves to be a comprehensive parental control app that covers almost every aspect of your child's digital life. 🎯🛡️
Alerts On Adult Content, Abuse, and More 🔞🚫🔔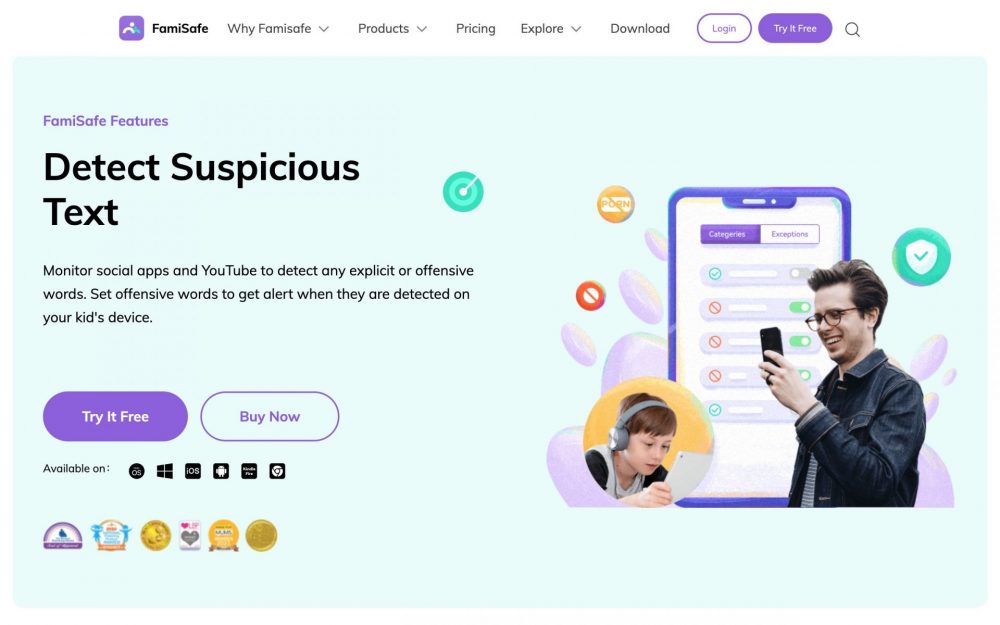 Navigating the online world safely is a complex task, especially for young minds. FamiSafe offers reliable solutions, including alerts on adult content and potential abuse, ensuring your child's digital wellbeing. This is executed through their feature of explicit content detection, which operates differently on Android and iOS devices.
Android
On Android devices, FamiSafe takes a proactive approach to protect your child from inappropriate content. It extensively monitors various platforms, including YouTube and similar apps, where adult content may be easily accessed.
The 'Explicit Content Detection' feature of FamiSafe on Android is diligent. If your child encounters any inappropriate material, an 'issues found' alert will be displayed in the explicit content detection section, and you will also receive a notification on the home screen.
Adding a personal touch to protection, FamiSafe allows you to customize inappropriate word detection through the 'Add Suspicious Word' tool. This feature works both ways, monitoring texts sent from your child's device and those received, assuring your child's comprehensive protection in the digital world. 🤖🔍🔞
iOS
For iOS users, explicit content detection is currently not available due to Apple's strict privacy policies. This limitation necessitates that parents with kids using iOS devices manually check these devices from time to time.
Nonetheless, FamiSafe does offer a broad spectrum of other monitoring features for iOS, ensuring your child's online activities are still supervised effectively. 🍎🔒🔍
While the explicit content detection feature varies between Android and iOS, FamiSafe is dedicated to offering tools that help parents navigate the challenges of digital parenting. By understanding these nuances, parents can effectively leverage FamiSafe's features to foster a safer and healthier digital environment for their kids.
🌍📍🛰️ Real-Time Location Tracking & History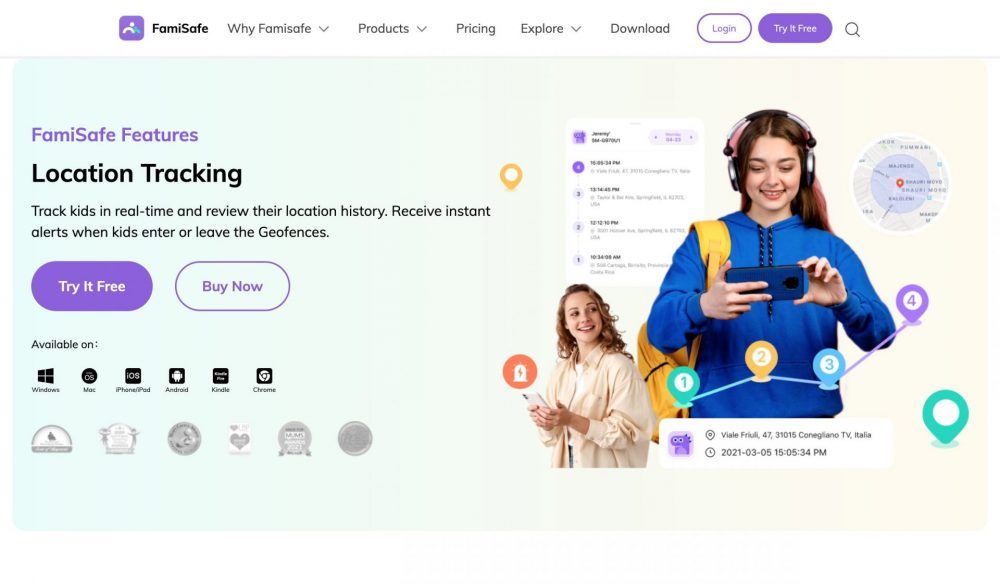 FamiSafe's advanced location tracking features offer unparalleled insights into your child's movements. A virtual safety net at your fingertips! Let's explore these features in more detail:
Real-Time Location Tracking 🕹️🗺️: This function is as close as it gets to a digital safety line to your child. Imagine your child, especially a young one, has ventured a little too far and is having trouble finding their way back. FamiSafe's real-time location tracking can lead you straight to them. It provides the exact coordinates of their whereabouts, a veritable lifesaver when every minute counts.📍🚸
But it doesn't end there. FamiSafe also lets you keep tabs on your child's device battery life. If it's running dangerously low, you can remind them to charge it or, if needed, make arrangements for them to return home safely. However, be aware that the real-time location function might drain the device's battery faster if it's left running for a long time, as it continually updates the location data.🔋⏳
Geofencing 🌐🚧: The geofencing feature is another powerful tool in the FamiSafe suite. It lets you set up virtual fences around geographical areas. If your child steps outside these designated safe zones, you receive an immediate notification. The fenced area can range from a radius of 100 meters to 1000 meters. This feature is perfect for defining boundaries and giving your child the freedom to explore safely. 🏞️🔔
Location History 📜👣: If you have an adventurous child who loves to explore, the Location History feature can be your new best friend. It provides a comprehensive record of the places your child has visited, along with the duration of their stay at each location. It's like having a digital travel log of your child's journeys, allowing you to spot any potentially worrying patterns. 🏃‍♂️🌍🕰️
FamiSafe continues to push boundaries in ensuring child safety with its innovative and intuitive features. Learn more about how FamiSafe can help you protect your child here.
🌐💻🔎 Browser History: A Comprehensive Look Into Your Child's Online Activities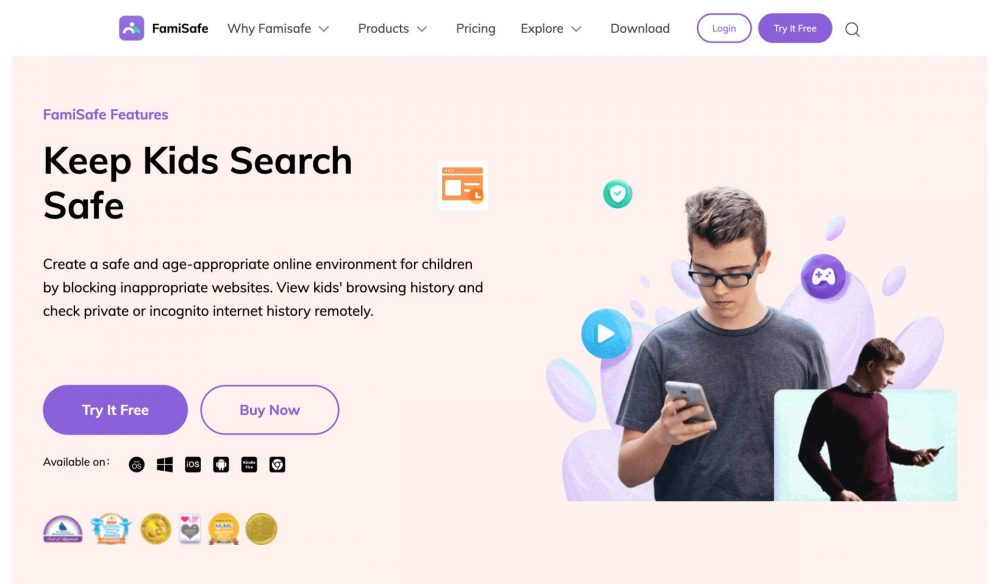 The combination of children, smartphones, and the internet can be a tricky one to navigate. 🤹‍♂️📱🌐 The vast expanse of the internet, while rich with educational and entertaining content, also harbors a myriad of adult content that is inappropriate for youngsters. It's only natural that curious minds might stray towards these corners of the web, which is why it's crucial to maintain vigilant oversight of their browsing activities.
Enter FamiSafe's Browser History feature. This tool transforms your concern into action by tracking your child's online activities diligently. 🕵️‍♂️🔎 It captures all their browsing history, keeping you in the loop about the content they're consuming online.
What truly sets this feature apart is its ability to track even Incognito or private browsing history. 🕶️🔍 That's right! Even if your child is searching for something in a private window, you'll still be privy to it. This comprehensive approach ensures no stone is left unturned in your mission to provide a safe, age-appropriate digital environment for your child.
With this wealth of data at your disposal, you can initiate meaningful conversations about responsible browsing and internet safety. Plus, it enables you to block access to any unsuitable sites, further bolstering their online safety. 🚫🖥️
🚗💨 Drive Safety: Keep Track of Your Teen's Driving Habits with FamiSafe 🛣️🔍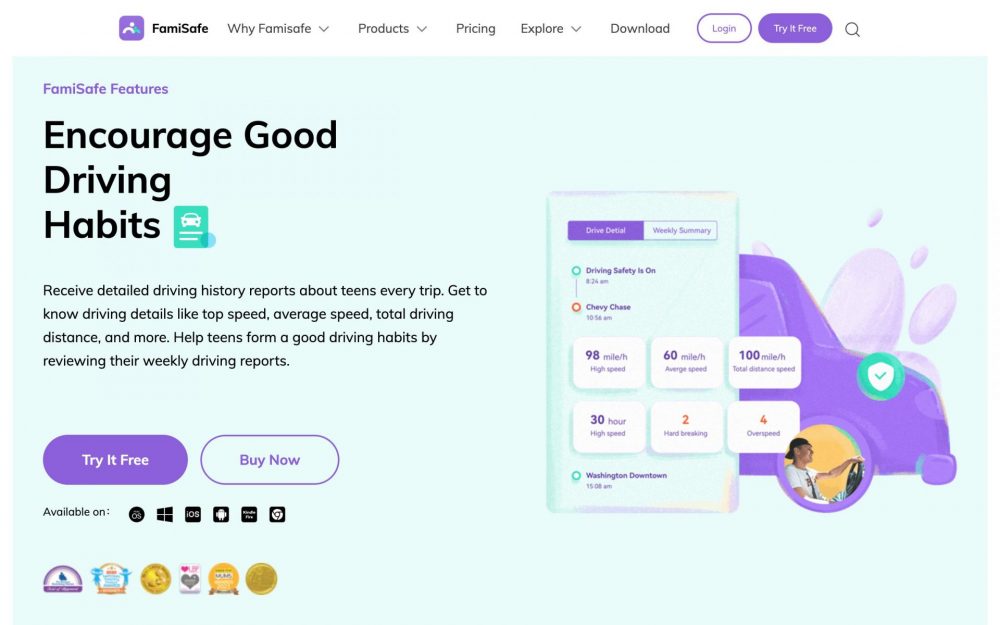 Whether your teen just got their driver's license or they've been behind the wheel for a while, worrying about their driving safety is natural. It's an exciting yet daunting step in their journey toward independence. While you can't always be there to guide them on the road, you can ensure their safety from a distance, thanks to FamiSafe's Driving Report feature.
The Driving Report is a newly released feature that offers comprehensive insights into your teen's driving habits. 📊🚘 From the highest and average speeds to total driving distance and time, hard braking incidents, and instances of overspeeding – it covers it all. This is how you track your child's driving without ever having to be in the passenger seat.
Operating this feature is a breeze. 🌬️🍃 You can access all their driving stats remotely from your FamiSafe account dashboard whenever they hit the road, with their phone tucked safely in their pocket.
One of the standout aspects of the Driving Report feature is the ability to set a speed limit. 🏁⚠️ Whenever your child crosses the set speed limit in their car or bike, you'll receive a notification. This proactivity helps you intervene in a timely, promoting safe driving practices.
The Drive Safety feature's accuracy stood out in tests. You can trust it to provide accurate information to help you monitor and manage your child's driving behavior. 🎯📲
Navigating the roadways is a big responsibility, and with FamiSafe's Driving Report feature, you can ensure your teen is adhering to safe and responsible driving habits. It's not just about tracking their driving; it's about imparting safe driving practices and ensuring their journey towards independence is secure and responsible.
🚫📱 App Blocker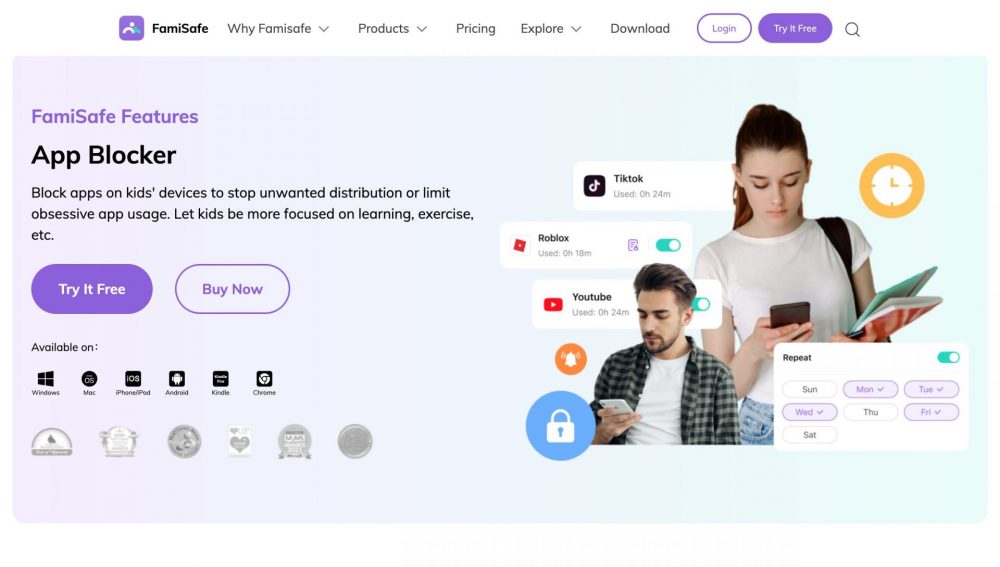 With the explosion of apps in the Google Play Store and iOS App Store, your children now have access to a world of information, entertainment, and social interaction at their fingertips. However, not all apps are appropriate or safe for children. That's where FamiSafe's App Blocker function steps in to ensure your child's digital environment remains safe and age-appropriate.
Android: Precision Control over App Access 📲🔒
With FamiSafe, you can easily block any apps that you deem inappropriate for your child. If your child attempts to open a blocked app, they'll be met with a message: "Your Parents do not want you to use this app." They can submit an access request, which you can view in the app's notification center, but the final decision is always yours.
What's impressive about FamiSafe's app blocking mechanism on Android is its efficiency. 🚀⏱️ It takes mere minutes to block a restricted app. However, please note that an app currently in use will only be blocked once your child closes it.
iOS: Categorizing Apps by Age Ratings 🍎🔞
On iOS devices, FamiSafe brings an extra layer of convenience with its age-based app blockingapp-blocking feature. You'll find options like "Block 17+", "Block 12+", etc., choosing any of which makes corresponding age-inappropriate apps disappear from the device.
Moreover, you can also set time limits on app usage with the 'Schedule' option. So, not only can you control which apps your child has access to, but also when and for how long they can use them. 🕓🔐
Through the App Blocker, FamiSafe empowers you to customize the list of blocked apps for specific schedules, restrict the use of chosen apps for different occasions, and decide how long an app will be restricted. You can also check your kids' device app usage and block entertainment apps during study time or bedtime. 📚🌛
🧾🔍 Activity Monitor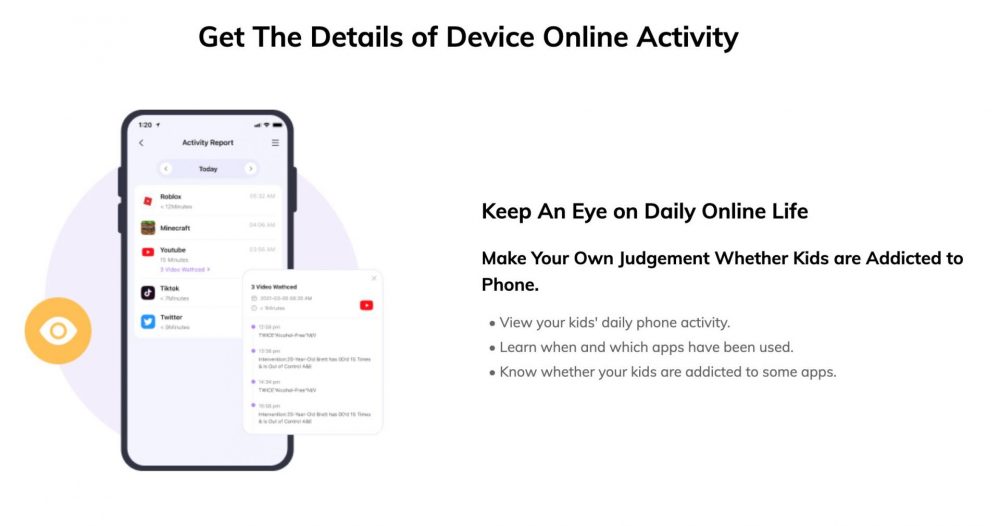 Being informed about which apps your child is spending the most time on can be crucial to understanding their digital habits. FamiSafe's Activity Monitor feature serves as your private detective, providing you with a comprehensive report of your child's app usage. Unfortunately, as of now, this feature is not available for FamiSafe on iOS devices.
Android: App Usage Mystery 📱⏳
The Activity Monitor is an effective tool that lays bare the specifics of app usage on your child's device. Once you open the Activity Report, you'll see a list of all the apps your child has interacted with, coupled with the duration of usage for each.
If an app is in use at the time you check, it'll be displayed at the top of the list, with an 'in use' tag against it.
Fancy taking a trip down memory lane? You can easily access records by choosing the desired date from the in-built calendar at the top. This allows you to observe patterns over time, enabling you to take more informed decisions for your child's digital well-being.
iOS: Feature Unavailability 😕🚫
Regrettably, the Activity Monitor feature is not currently supported on FamiSafe for iOS devices. We hope to see this feature implemented in future updates to ensure uniform functionality across both platforms.
FamiSafe's Activity Monitor is a robust tool that provides valuable insights into your child's app usage, helping you guide their digital behavior in a more informed manner. 🧑‍👦🎯
🌐🔒 Web Content Filtering: A Digital Guardian
Navigating the digital world can be a minefield for young ones. Luckily, FamiSafe's Web Content Filtering is an advanced tool that acts as a protective shield, screening out potentially harmful content and limiting access to inappropriate websites. It ensures your child's internet journey remains safe, and age-appropriate content is always at the forefront.
Parents have the power to customize their child's online access using FamiSafe. By merely toggling a button, specific categories or websites can be blocked on your child's device. Furthermore, parents can manually add specific URLs to a blocked list, providing enhanced control over their child's internet browsing. The feature effortlessly blocks all adult content, including sites related to pornography, drugs, and violence, ensuring a secure digital environment for children.🕸️🚫
⏱️📱 Screen Time Tracking: Nurturing Healthy Digital Habits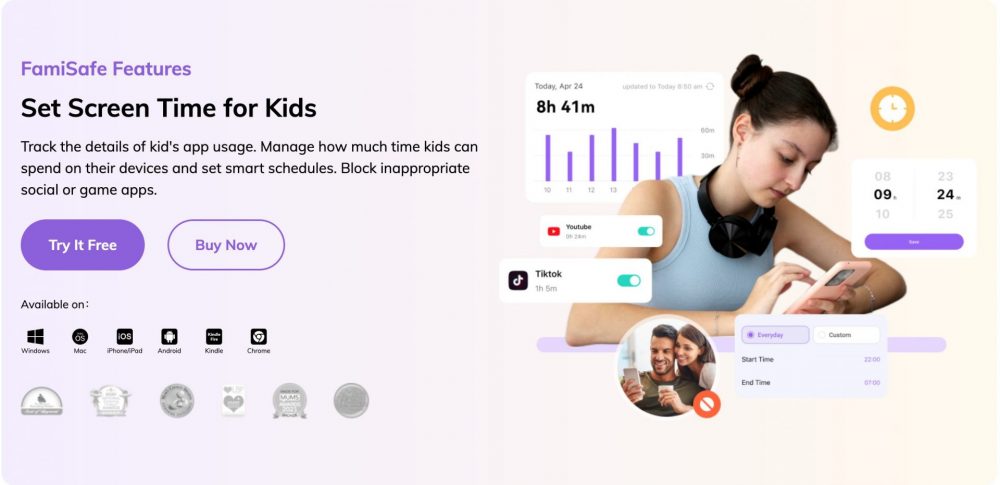 Screen Time Tracking by FamiSafe is a comprehensive tool designed to help parents manage and monitor their child's device usage effectively. This feature offers a clear snapshot of the amount of time spent on the device, providing both current and historical data up to the last 30 days. Apps that command the most screen time are categorized into Video Players and Editors, Action, and Others, enabling parents to understand where their child's digital focus lies.
The power to manage screen time is at your fingertips with FamiSafe. It allows you to:
View Daily, Weekly, and Monthly Usage Stats: Understand the duration and patterns of device usage over different periods.📊
Identify Frequently Used Apps: Identify which apps are used most and when the device is used most often.📲
Block/Unblock Devices: Exercise remote control over your child's device to manage screen time effectively.🔒
Set Smart Schedules: Establish downtime schedules to prevent devices from disturbing your child's sleep.⏰
Customize App Restrictions: Whitelist specific apps during lockdown and schedule app or device blockage at specific times.🔐
Geo-based Screen Time Restrictions: Set screen time limitations based on location, such as home or school.📍
Additionally, FamiSafe advocates for children's involvement in managing their own time. It allows children to start and pause their own timers, nurturing their understanding of time management while still under parental oversight. With FamiSafe, it's not just about restriction, it's about instilling healthy digital habits.
⏰📱 Smart Scheduling: Balancing Screen Time with Real-Time
Struggling with your kid's phone addiction and its impact on their daily activities? It's time to make use of FamiSafe's Smart Scheduling feature. This tool gives you the ability to block all apps during critical times like meal times, study hours, and bedtime. It ensures your child can't use their phone during the time frames set by you, promoting healthier habits.
With this feature, you can create a well-structured routine for your child. Just toggle on the 'Repeat' button to enforce the schedule daily. This will not only ensure proper discipline but also help your child understand the importance of time management.
Implementing Screen Time Restriction with Smart Scheduling
As the digital world continues to grow, so does screen time. Smart Scheduling can help you manage this. It allows you to:
Remotely block or unblock your kids' devices, helping to reduce their overall screen time.
Set up a schedule with downtime at night, preventing devices from affecting your kids' sleep.
Customize the list of blocked apps, allowing certain 'whitelisted' apps to be accessible during lockdown periods.
🎥🚫 YouTube Control: Ensuring Safer Viewing Experience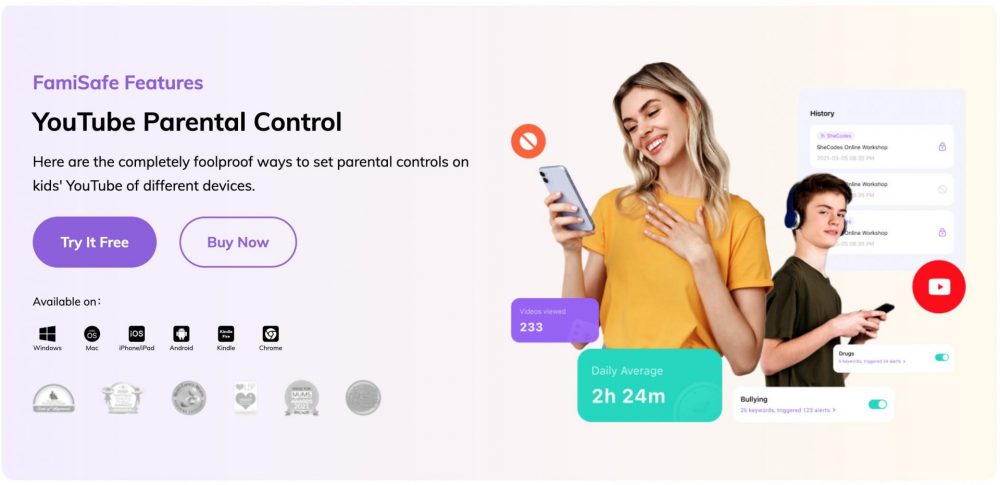 In the digital age, YouTube is a treasure trove of content, but not all of it is suitable for young viewers. FamiSafe provides a solution through its YouTube Control feature for Android and YouTube Content Detection for iOS. This feature tracks your child's YouTube activity, offering a comprehensive list of videos they've watched, ensuring transparency in their digital consumption.
However, if you're an iOS user, connecting FamiSafe to YouTube might be a bit challenging. But don't worry! YouTube's own 'Restricted Mode' comes to your rescue.
💡How to Use YouTube's 'Restricted' Mode for Parental Control?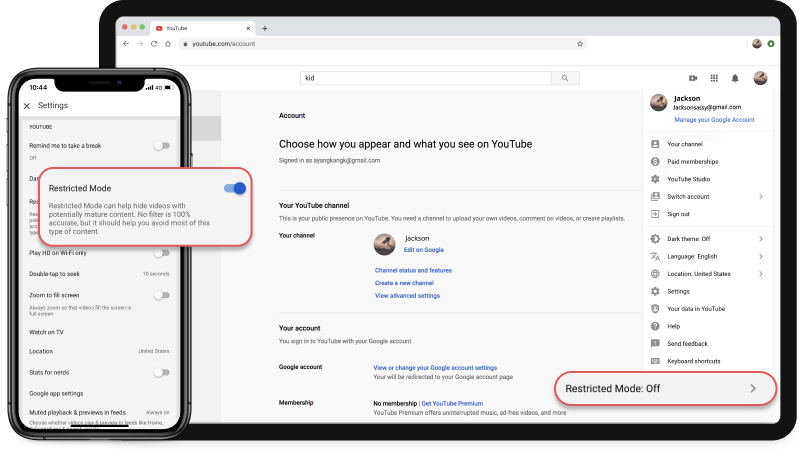 Restricted Mode, a smart feature developed by Google, filters and screens out content that might be inappropriate for children. Although it may not be entirely foolproof, it offers a safer, controlled YouTube experience for your kids.
To set up YouTube Parental Control using Restricted Mode:
For Browser:
Open YouTube and sign into your account.
Click on the account profile at the top right corner.
Toggle on the 'Restricted Mode' option.
For App:
Open the YouTube app and tap on your account profile.
Scroll down to 'Settings'.
Tap on 'General', then toggle on the 'Restricted Mode'.
Remember, digital parenting is a collective effort, and tools like FamiSafe and YouTube's 'Restricted Mode' make it a lot easier.👪💻
🚨 Detecting Suspicious Photos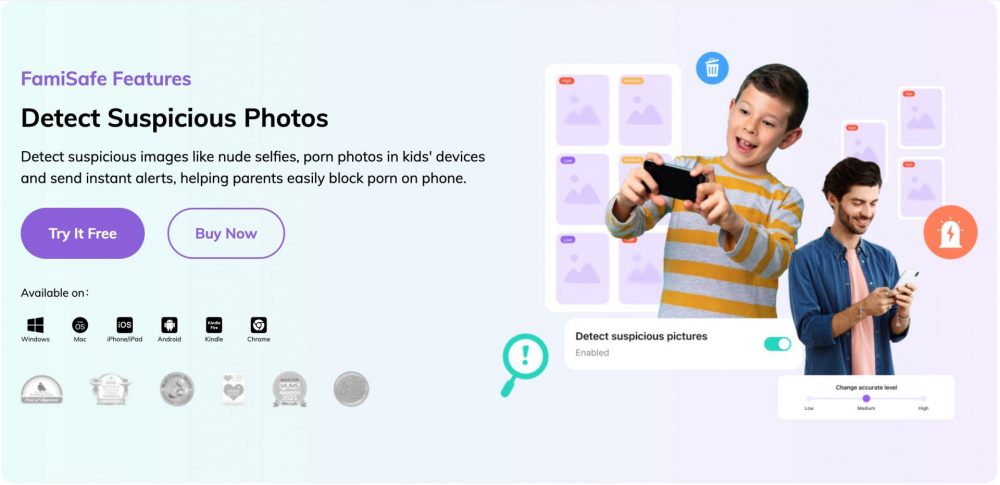 In the world of limitless internet access, there lies the potential for young minds to inadvertently stumble upon and download images that aren't age-appropriate. Here to counteract such scenarios is FamiSafe's ingenious feature – Detect Suspicious Photos. Not only does it identify explicit content like nude selfies or porn photos on the child's device, but it also alerts parents in real-time, offering an effective solution to block inappropriate content. 🛡️👪
👀 Key Features of the Detect Suspicious Photos Functionality
🔍 1. Thorough Album Monitoring
FamiSafe's vigilant eyes scan through your child's entire device album, on the lookout for any inappropriate or pornographic images.
This feature provides the flexibility to tweak the detection sensitivity to suit your preference.
It meticulously maintains a record of flagged images, enabling you to review them at your convenience.
🚨 2. Instant Alerts for Suspect Content
The moment FamiSafe identifies a potentially harmful photo on your child's device, an immediate alert is dispatched.
You're instantly informed about the specific device where the image was detected, keeping you a step ahead always.
🗑️ 3. Proactive Management of Inappropriate Images
Upon receiving an alert, you, as a parent, have the capability to swiftly view and eliminate the suspect photos directly from your child's Android device.
Following deletion, these photos vanish from the child's access, significantly minimizing their exposure to harmful content.
This immediate action opens a window to discuss the occurrence with your child, helping them comprehend and learn about safer online behavior.
With FamiSafe's Detect Suspicious Photos feature at your disposal, creating a safe online haven for your child is no longer a challenge. Be informed, be proactive, and ensure your child's digital journey is a safe one! 💻🌐👧👦
💲 FamiSafe Pricing: Affordability Meets Excellence
FamiSafe offers a variety of pricing plans tailored to your needs. Each plan includes the full suite of FamiSafe features, and with multiple options, you're certain to find one that suits your budget and requirements. 🎯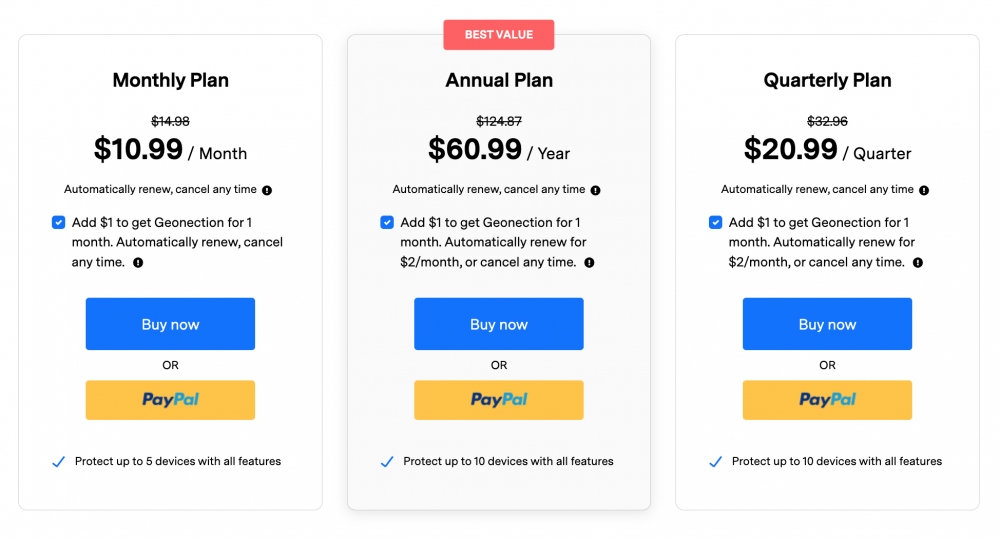 Pricing Tiers:
Monthly Plan – Get access to all FamiSafe features at just $10.99 per month.
Quarterly Plan – Enjoy a three-month subscription at a reasonable $20.99 per quarter.
Annual Plan – Opt for the best value plan at $60.99 per year, letting you save more in the long run.
💼 Why Choose FamiSafe?
🔐 Security Assured. FamiSafe values user privacy and shields both financial and personal data with advanced encryption and state-of-the-art fraud protection methods. With FamiSafe, user safety is never compromised!
📞 24/7 Customer Support. FamiSafe's dedicated team is available 24/7 to assist users via instant live chat and email. All queries are typically addressed within 24 hours, ensuring a seamless user experience.
💰 7-Day Money-Back Guarantee. Every FamiSafe product comes with a 7-day money-back guarantee. If a user is not satisfied with the product, they can request a refund either through FamiSafe's Support Center, Google Play, or the App Store, based on the original purchase platform.
🔄 Free Updates For Life. Once a subscription to FamiSafe is purchased, users enjoy lifetime access to free software updates. FamiSafe is committed to continuously developing and refining their offerings to provide cutting-edge digital safety.
📱 Multiple Device Management. Whether you have one child or five, FamiSafe has got you covered! The application allows monitoring of multiple devices under a single plan. This flexibility means there's no need for different plans for different kids, making it a highly cost-effective solution.
👉

Frequently Asked Questions (FAQs)
Conclusion / Final Verdict 🏁
FamiSafe is indeed a legitimate and highly effective parental control app that has proven to be a boon in today's digital age. Its wide range of features, from activity reports, web content filtering, screen time tracking, YouTube control, smart scheduling, to suspicious photo detection, all contribute to comprehensive child safety online.
Its design caters to both Android and iOS users, with certain features that vary according to the operating system. The app's interface is user-friendly and easy to navigate, making it simpler for parents to set up the safety parameters needed.
The pricing is reasonable and flexible, with monthly, quarterly, and annual plans that cater to different budget needs. There's a 7-day money-back guarantee, which shows the brand's confidence in their product and commitment to customer satisfaction.
One significant advantage is the ability to monitor multiple devices under one plan. So, no matter the size of your family, FamiSafe has got you covered.
That being said, there are some limitations. For instance, text message and Snapchat monitoring aren't available directly through the app. However, considering the extensive range of other protective features, these limitations are overshadowed.
Overall, FamiSafe is a robust, reliable, and essential tool for any parent wanting to ensure their child's safety in the digital world. It empowers parents to take an active role in their child's online activities without being overly intrusive, promoting a healthier and safer digital environment.