In a world increasingly dominated by technology, parental control software has become a necessity for parents who want to protect their children from the dangers of the Internet, such as cyberbullying and grooming.
Today, we dive into the world of spy apps, drawing a comparison between two prominent players – mSpy and Hoverwatch. Both provide similar services, making it quite challenging to discern which one trumps the other. The big question is, which one is good for you? We're here to help you make an informed decision by providing a detailed analysis of their features and functionality.
Quick Summary
mSpy and Hoverwatch are two popular phone monitoring software applications that are often used for parental control or employee monitoring purposes. Here's a quick comparison between the two:
✅ Overview: Hoverwatch provides a variety of monitoring features including call and SMS tracking, social media monitoring, and GPS location tracking. mSpy also offers these features, but it also includes a keylogger and a geofencing feature, which allows for setting specific areas on a map and getting alerted when the monitored device enters or leaves those areas.
✅ Interface: Both offer user-friendly interfaces,

but mSpy is often praised for its easy-to-use and intuitive dashboard.

✅ Compatibility: Hoverwatch is compatible with Android, Windows, and Mac. mSpy is more versatile with compatibility with Android, iOS (no jailbreak required for basic features), but doesn't support Windows and Mac.
✅ Pricing: Hoverwatch operates with a three-tiered pricing scheme and is roughly in the same price range as mSpy. Although mSpy's cost is slightly higher by a few bucks, this slight uptick is largely due to its more extensive set of features.
✅ Customer Support: mSpy generally receives better reviews for its 24/7 customer support and multilingual assistance compared to Hoverwatch.
✅ Stealth Mode:

Both apps operate in stealth mode

, meaning the monitored user will not know the app is installed on their device.
✅ Installation and Setup: Both mSpy and Hoverwatch offer easy installation and setup processes.

mSpy provides a comprehensive installation guide and even offers a mAssistance service for help with installation

.
In sum, when considering the feature set, compatibility, customer support, and pricing, our choice leans towards mSpy. Despite its slightly higher cost, the breadth of its features and robust customer service make it a more comprehensive and reliable monitoring solution. Hoverwatch is still a viable option for those on a tighter budget, but for overall performance and functionality, mSpy has the edge.
mSpy Vs Hoverwatch: At A Glance
In the competitive landscape of mobile monitoring applications, mSpy and Hoverwatch are two leading contenders that often dominate discussions. Both of these spy apps have made their mark by offering a plethora of features, specifically tailored to provide a comprehensive tracking and monitoring experience for a target device. However, despite their similarities, each one possesses unique characteristics and strengths that set them apart.
👉 mSpy: Known for its widespread popularity and vast user base, mSpy is a powerhouse in the mobile monitoring solutions domain. It's often the preferred choice due to its impressive suite of features. This app provides access to an array of detailed data from the target device, such as:
GPS location
Call logs
Text messages
Photos
What puts mSpy a step ahead of its competitors, including Hoverwatch, are its advanced monitoring options. These include the ability to:
📞 Record phone calls
🎧 Listen to ambient sounds through the device's microphone
This advanced suite of features ensures an in-depth understanding of the target device's environment and activities, making mSpy a comprehensive monitoring solution.
👉 Hoverwatch: Though not as popular as mSpy, Hoverwatch has been steadily gaining traction in the market by introducing unique functionalities. One such standout feature is the ability to block certain websites or apps on the target device. This feature can be incredibly beneficial for parents concerned about their children accessing inappropriate content or employers aiming to restrict non-work-related app usage during office hours. This unique selling point makes Hoverwatch an attractive choice for users prioritizing control over device usage.
Now, to make an informed decision about which app better serves your needs, let's delve into each of these applications in more detail.
What is mSpy?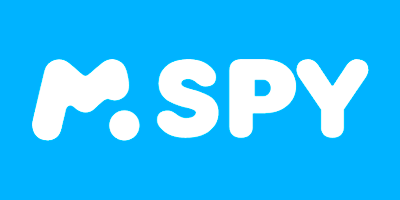 In the realm of monitoring software, mSpy is a dominant force. This feature-rich app is designed to run seamlessly on a variety of devices, including cell phones, tablets, and computers, giving users the power to track and scrutinize the activities taking place on their target device.
Key features of mSpy include:
📱 Social Media Monitoring: With mSpy, you can gain access to private social media chats. It allows you to read conversations taking place on popular social media apps, and even on platforms you may not be familiar with.
🌐 Online Activity Management: mSpy provides options for controlling the digital environment of the target user. It enables you to block certain websites and apps, ensuring that the user doesn't engage in unwanted or potentially harmful activities.
📩 Texts & Emails Access: mSpy makes the communication of the user transparent by providing access to their SMS messages, iMessages, emails, and Google Hangouts chats. If it's stored on their phone, it's available for you to read.
📞 Call & Meeting Tracking: This feature enables you to understand who the target user is communicating with and meeting. It helps provide answers to any suspicions about secretive phone conversations and plans.
📍 Location Tracking: mSpy allows you to monitor the real-time location of the user. This feature eliminates uncertainties about where the user is or has been, as you can easily access this information.
💾 Access to Phone Storage: mSpy gives you access to see the photos, videos, and apps saved on the target's phone. This feature provides an in-depth understanding of what's stored on their device.
⌨️ Keystrokes Recording: The integrated keylogger feature in mSpy allows you to see everything that is typed on the device. The added Screenrecorder feature provides a more detailed view of the user's activities.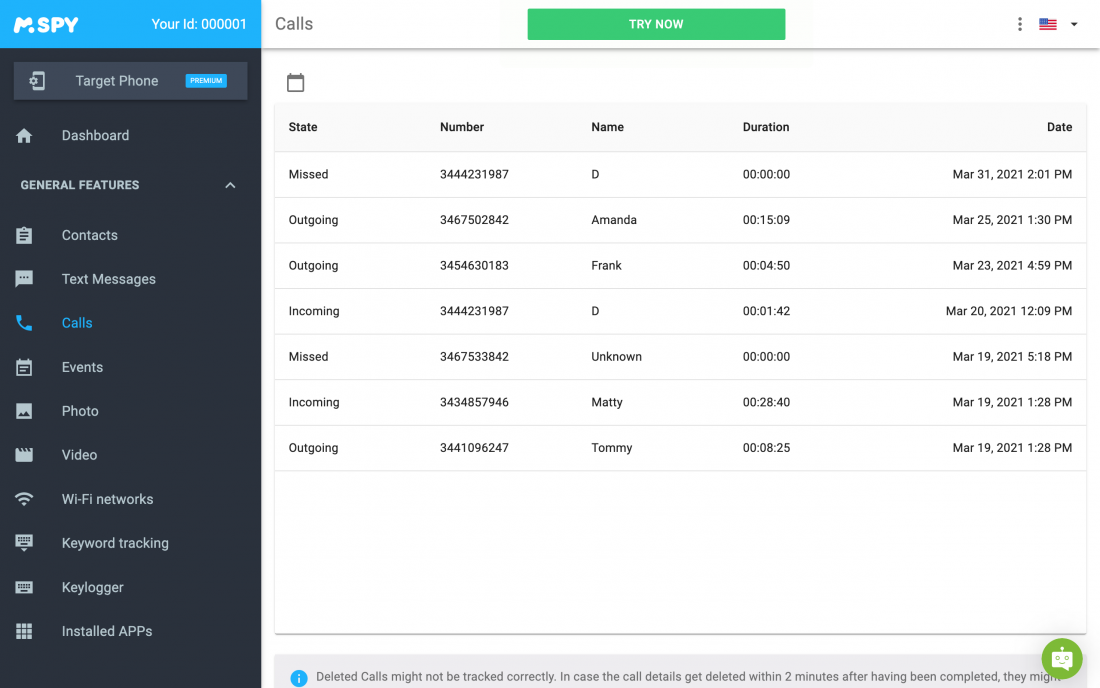 mSpy is designed to provide a superior monitoring experience and is incredibly user-friendly. The support team is always available for assistance, ensuring you get the most out of the application's features.
All these features are consolidated into a single, user-friendly package that's offered at an affordable price point. This makes mSpy an attractive solution for both Android and iOS users, delivering a comprehensive surveillance solution across platforms.
Notably, mSpy excels in delivering an extensive array of surveillance capabilities for Android devices. From call logs and text message tracking to GPS location updates, the data gathered by mSpy is presented on an intuitive web-based interface. This interface enables users to review and analyze data effortlessly, further reinforcing mSpy's position as a go-to solution for mobile surveillance needs.
While this provides a high-level overview of mSpy, a more in-depth understanding of how this software works is essential to fully appreciate its capabilities. To get a more comprehensive view of mSpy's functionality and operation, we encourage you to check our detailed article on how mSpy works. This will provide you with deeper insights into how mSpy operates, enabling you to utilize its features optimally.
What is Hoverwatch?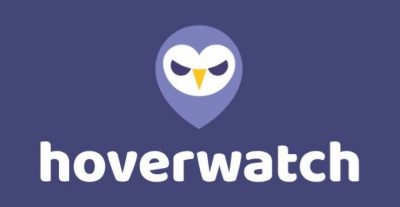 Hoverwatch is another heavy hitter in the world of mobile surveillance, renowned for its exhaustive tracking capabilities across various platforms. With this mobile tracker, you can seamlessly record SMS, call history, audio, camera, locations, and internet activity, among other things. The application is designed to be compatible with Android, Windows, and Mac OS X, thereby offering wide coverage and convenience for users.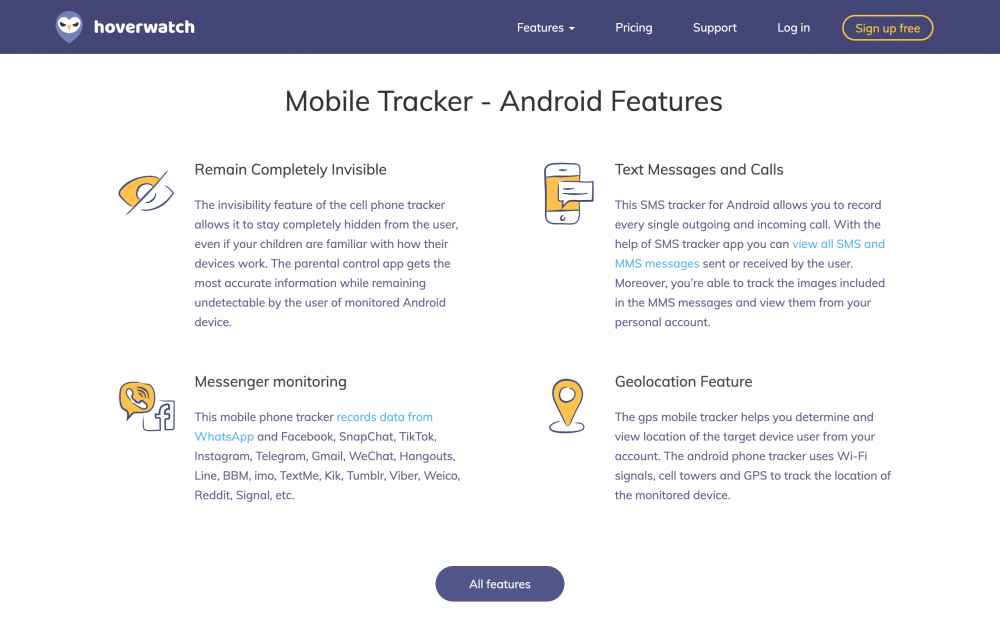 The core capabilities of the Hoverwatch include:
📲 SMS and Call Monitoring: Hoverwatch's SMS tracker for Android allows you to record each outgoing and incoming call. It also enables you to track all SMS and MMS messages sent or received by the user. In addition to text, you can track the images included in the MMS messages and view them from your account.
💬 Messenger Monitoring: With this mobile phone tracker, you can record data from a wide range of platforms, such as WhatsApp, Facebook, SnapChat, TikTok, Instagram, Telegram, Gmail, WeChat, Hangouts, Line, BBM, imo, TextMe, Kik, Tumblr, Viber, Weico, Reddit, Signal, and more.
🌍 Geolocation Feature: Hoverwatch's GPS mobile tracker helps you determine and view the location of the target device user from your account. The Android phone tracker uses Wi-Fi signals, cell towers, and GPS to track the location of the monitored device.
📸 Front Camera Photo: An exceptional feature of Hoverwatch is the automatic front camera photo capture. Every time a user unlocks the screen, the call and SMS tracker takes a photo using the front camera.
📞 SIM Card Replacement: The software allows you to continue tracking the device even if the user changes the SIM card. This hidden mobile tracker sends a notification every time a user decides to change the SIM card.
🖥️ Multi-device Tracking: Installing Hoverwatch allows you to monitor up to five devices simultaneously, including smartphones, personal computers, and laptops (Mac, Windows). This means you can simultaneously monitor your children, employees, and loved ones.
🌐 Internet History, Gallery & Apps: Hoverwatch allows you to track all web activity on the phone (address, time, and date of visited sites). You can also view photos from the Android Gallery on the monitored device and see a list of installed apps.
📝 Todo List & Calendar Events: This feature is very useful as it allows you to track the Todo list and Calendar events. This means you can stay updated with the user's planned activities.
📖 Contacts: Hoverwatch keeps track of all entries in the user address book, allowing you to view all contact details (numbers and names, emails, addresses, and so on) stored in the address book.
📷 Android Screenshots: This feature enables the software to create screenshots periodically, helping you understand when, how, and by whom the target phone is being used.
👻 Snapchat Spy: Hoverwatch also provides Snapchat monitoring, allowing you to track the flow of media data in Snapchat (drawings, documents, videos, audio, photos) on a target device.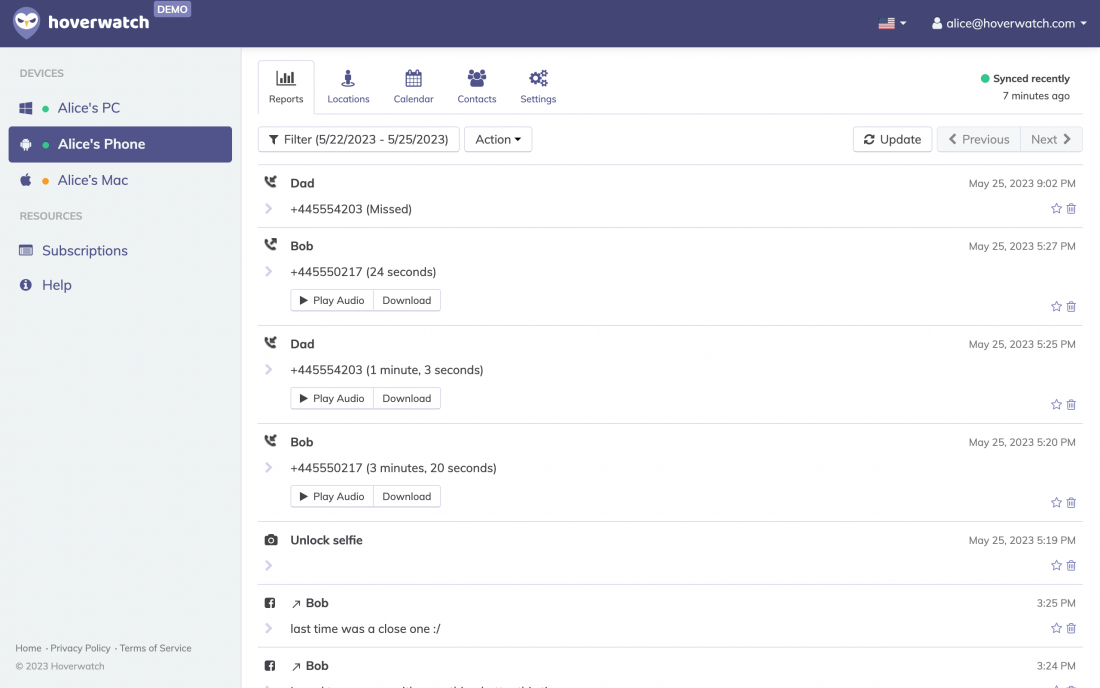 Moreover, the application also offers keylogging features for both Windows and Mac. This function enables the registration of all the pressed keyboard buttons, providing an in-depth understanding of the user's activities.
Overall, Hoverwatch is a robust mobile tracker free of charge that provides a multitude of features designed to deliver comprehensive surveillance capabilities.
Pricing Comparison of mSpy and Hoverwatch
When choosing a surveillance application, the cost is a crucial factor to consider. Both mSpy and Hoverwatch offer different plans suited to individual needs. Here's a closer look at the pricing structure for each application:
💵 mSpy Pricing Structure
mSpy offers various subscriptions, with a set of features depending on the type of subscription you choose. They offer premium packages with a validity period ranging from 1 to 12 months. The pricing for the premium package decreases significantly the longer your subscription period:
Great for people who like
to work in their free time.

Great for people who like
to work in their free time.
Perfect for start-ups or
small companies.

Perfect for start-ups or
small companies.
Best for large companies
and enterprise.

Best for large companies
and enterprise.
The Premium subscription of mSpy gives you a comprehensive insight into your child's online activities, offering a wide array of monitoring capabilities.
💵 Hoverwatch Pricing Structure
Hoverwatch, on the other hand, boasts of having its software installed on over 12 million devices. They offer three different plans – Personal, Professional, and Business. Each plan provides full monitoring functions, with the price per device decreasing as you monitor more devices:
Track 1 DeviceAll monitoring functions are available

Great for people who like
to work in their free time.
$24.95

/mo
$59.95

/3 mo
$99.95

/12 mo
Track 5 DevicesAll monitoring functions are available+ Mobile Viewer for
Android

Perfect for start-ups or
small companies.
$49.95

/mo
$99.95

/3 mo
$199.95

/12 mo
Track 25 DevicesAll monitoring functions are available+ Mobile Viewer for
Android

Best for large companies
and enterprise.
$149.95

/mo
$299.95

/3 mo
$499.95

/12 mo
The Business plan is tailored for large-scale monitoring, offering tracking for up to 25 devices, along with a mobile viewer feature.
As evident, both mSpy and Hoverwatch offer different pricing structures to cater to various user needs. You can choose the one that best fits your requirements and budget.
Device Compatibility for mSpy and Hoverwatch
Device compatibility is a crucial factor to consider when choosing a mobile tracking and monitoring application. Here, we will provide you with detailed information about the device compatibility of both mSpy and Hoverwatch.
Hoverwatch Compatibility
Hoverwatch provides monitoring capabilities for Android devices and computers running on Windows and Mac operating systems. However, the software does not support iPhones, iPads, or other iOS devices and smartphones running Windows. The compatible operating systems for Hoverwatch are Android / Windows PC / Mac Computer.
mSpy Compatibility
mSpy offers compatibility with a wide range of devices, including Android and iOS platforms. Depending on whether the iOS device is jailbroken or not, mSpy provides a different set of features. Here are the specifics:
Both mSpy and Hoverwatch have unique compatibility specifications. Your choice will depend on the device type and operating system you wish to monitor, as well as your comfort level with actions like jailbreaking or rooting a device.
mSpy vs Hoverwatch: Comparative Analysis
Now that we've thoroughly examined the key features, pricing, and device compatibility of both mSpy and Hoverwatch, let's compare them side by side. This comparison will provide a clearer understanding of these two platforms.
| Features / Aspects | mSpy | Hoverwatch |
| --- | --- | --- |
| 📰 Social Media Monitoring | ✅ Yes (WhatsApp, Viber, Snapchat, etc.) | Yes (WhatsApp, Facebook, Snapchat, TikTok, Instagram, Telegram, Gmail, etc.) |
| 📱 Online Activity Control | ✅ Yes | ✅ Yes |
| 💬 Texts & Emails Access | ✅ Yes | ✅ Yes |
| 📲 Call Monitoring | ✅ Yes | ✅ Yes |
| 📍 Location Tracking | ✅ Yes | ✅ Yes |
| 🖼️ Access to Stored Media | ✅ Yes | ✅ Yes |
| 🔑 Keylogger Feature | ✅ Yes | ✅ Yes |
| 🖥️ Multiple Device Monitoring | Not Specified | ✅ Yes (Up to 5 devices) |
| 🫥 Invisibility Feature | ✅ Yes | ✅ Yes |
| 📸 Screenshots & Front Camera Photo | Not Specified | ✅ Yes |
| 💳 Sim Card Replacement Notification | Not Specified | ✅ Yes |
| 🗂️ Internet History, Gallery & Apps Monitoring | ✅ Yes | ✅ Yes |
| 📅 Calendar Events & Todo list | Not Specified | ✅ Yes |
| 📖 Contacts | ✅ Yes | ✅ Yes |
| 🤳 Snapchat Spy | ✅ Yes | ✅ Yes |
| 📞 Android Compatibility | Android 4+ | Android 4.x – 7.x |
| 📞 iOS Compatibility | All iOS versions (additional features for jailbroken devices) | ❌ Not Compatible |
| 🪟 Windows Compatibility | Not Specified | Yes (7, 8, 8.1, 10, Vista) |
| 🖥️ Mac Compatibility | Not Specified | Yes (OS X 10.9 – 10.11) |
| 💰 Pricing | Premium: $11.66 – $48.99/mo | Personal: $24.95 – $99.95, Professional: $9.99 – $199.95, Business: $6.00 – $499.95 |
In conclusion, both mSpy and Hoverwatch offer a wide range of robust features designed to ensure comprehensive monitoring of target devices. Your choice will depend on specific needs, such as the operating systems you intend to monitor, your budget, and the set of features most relevant to your monitoring goals.
🏁 Concluding Thoughts & The Final Verdict 🎯
As we draw the curtain on our meticulous exploration and side-by-side juxtaposition of mSpy and Hoverwatch, we've managed to unmask an assortment of significant facets — from their feature-rich toolset, and device compatibility, right down to their pricing blueprints. Both these monitoring goliaths have displayed their prowess, offering a mighty array of features designed to provide comprehensive surveillance of the targeted devices, making them an ideal weapon of choice for anyone seeking to maintain a firm grip on a device's activities.
However, unique differences between them could sway the balance in favor of one, depending on your specific needs and scenario. Let's delve deeper:
mSpy emerges as a radiant beacon in the realm of iOS compatibility, with its arms wide open to a vast audience, catering to both jailbroken and non-jailbroken devices. It also takes the cake when it comes to a streamlined user experience and top-notch customer support, offering an easy-to-navigate interface that makes it an irresistible choice for those who place a premium on simplicity and ease of use. Moreover, with its advanced suite of features, including reading texts, monitoring calls, and real-time location tracking, mSpy solidifies its standing as a truly formidable monitoring solution.
In contrast, Hoverwatch steals the limelight due to its unique ability to keep tabs on multiple devices—up to five—at once. This makes it an absolute gem for small enterprises or households with several devices under their purview. The inclusion of exclusive perks such as front camera photo captures and instant notifications for SIM card changes, bring added flavors to its overall offering. Hoverwatch also flaunts compatibility with a broader spectrum of Android and Windows versions, as well as Mac OS.
💰 When it comes to pricing, both mSpy and Hoverwatch showcase versatile pricing models, offering a variety of plans tailored to diverse needs and budgets. mSpy champions a single-package system, where the length of your subscription inversely affects your monthly payment, while Hoverwatch displays a more dynamic, tiered pricing strategy based on the number of devices monitored.
🏆 The Verdict
The final call between mSpy and Hoverwatch will largely hinge on your specific requirements, the devices you're eyeing to monitor, and your financial arsenal.
👉 If your prime directive is monitoring iOS devices, mSpy sweeps the stakes.
👉 On the flip side, if you're on the hunt for a multi-device monitoring solution for Android, Windows, or Mac, Hoverwatch could be your knight in shining armor.
In essence, both mSpy and Hoverwatch live up to their promises: delivering robust, reliable, and comprehensive monitoring solutions. Your personal preferences and specific demands will ultimately shape your decision.
In the grand scheme of things, the choice between mSpy and Hoverwatch is akin to choosing between two gleaming jewels—each one precious in its own right!
Frequently Asked Questions (FAQs) 🧐
Always remember to use these tools responsibly, respecting privacy rights and conforming to all relevant laws and regulations.