Parenting in this digital age can be quite a challenge. With the influx of technology, kids are exposed to a world of information at their fingertips. How do you protect them from the dangers lurking online? That's where iKeyMonitor comes into play! I've personally tested this app, and here's my complete review of the service that aims to monitor, control, and protect your children's online activities.
Quick Summary
iKeyMonitor is a versatile monitoring app offering a free plan, no need for device rooting, photo tracking, and compatibility with iOS and Android. Some limitations exist such as missing or limited features and potential battery drainage. Advanced features are available through affordable add-ons.
✅ iKeyMonitor offers a free plan with basic features and affordably priced add-ons for more advanced needs, enabling flexibility based on user needs.
✅ Advanced features of iKeyMonitor, including call recording and geo-fencing, do not require rooting or jailbreaking of the target device, a major benefit over some other monitoring apps.
✅ The app has strong photo and screenshot monitoring features, allowing for extensive visibility into target device activity.
✅ However, some features, such as web history access, screen time tracking, and certain social media monitoring, are missing or limited, and the app can also cause rapid battery drainage on the target device.
✅ iKeyMonitor is compatible with both iOS and Android, even older versions, and it provides a comprehensive monitoring solution across different device configurations.
✅ The dashboard of iKeyMonitor offers a wide range of functionalities like real-time messaging, call data, location tracking, clipboard and keystrokes monitoring, and screenshot viewing.
✅ For advanced features, iKeyMonitor offers add-ons for $9.99 for a 3-day trial and $16.66 per month thereafter. A desktop monitoring plan is available at $29.99 per device per month.
What do I like About iKeyMonitor? 🌟
One of the standout aspects of iKeyMonitor is that it is entirely free to use. If your monitoring needs are limited, then the free plan could be perfect for you. Even if you need more, the add-ons are affordably priced, making upgrading an easy decision. Beyond the pricing, the app's features themselves are well-crafted and reliable. The extensive monitoring capabilities, ranging from chat messages on various platforms to call recording and geo-fencing, provide comprehensive surveillance. The user-friendliness of the app makes navigation a breeze, and the all-in-one solution for Android and iOS ensures a seamless experience. Additionally, responsive customer support adds to the positive user experience, making help readily available if needed.
There are several aspects of iKeyMonitor that I particularly appreciate:
Photos Feature 🖼️
One of the strongest aspects of iKeyMonitor is its ability to track all the photos present on the target device. This feature provides insight into the types of images your child views, sends, or receives, ensuring you can safeguard them from inappropriate or harmful content.
Screenshots Feature 📸
The screenshot feature is another commendable aspect of iKeyMonitor. As promised, this feature captures screenshots from most applications on the target device, allowing you to remotely view their activities. This is a powerful tool for providing visual proof of the device user's actions.
No Rooting Required 📱
iKeyMonitor impresses with its advanced features that don't require rooting of the target device. This is a significant advantage, as rooting can be complicated and may void the device's warranty. Some of these advanced features include call recording, listening to surrounding sounds, and remote photo capture.
Free Plan 💸
iKeyMonitor scores points with its free plan option, a rarity among tracking applications. While the features in the free plan are fewer compared to the paid version, the fact that it offers a no-cost option allows users to test out its basic functionalities before committing to a purchase.
What I don't like about iKeyMonitor? ❌
Despite its many benefits, some aspects of iKeyMonitor may not meet everyone's needs. Some essential features, such as hacking into Snapchat or tracking web history, only work on rooted devices, which may limit its functionality for some users. Additionally, the app lacks certain features like app blocking and VoIP call recording. While the free plan offers a lot, it does lack social media monitoring for platforms like Instagram and Snapchat, which may require an upgrade to the paid plan. Privacy concerns are a consideration with any monitoring app, so responsible and legal use is paramount. Some users might find certain features or settings complex, and compatibility issues with older devices could be a stumbling block.
While iKeyMonitor is a robust tool with many great features, there are some areas where the application falls short.
Web History 🌐
One surprising aspect of iKeyMonitor is that it offers advanced features without the need for rooting, yet a basic feature like Web History access is only available for rooted devices.
Screen Time 🕒
The increasing addiction of children to their mobile devices is a significant concern for parents. The Screen Time feature, which provides details about the duration of smartphone use, could have been instrumental in addressing this issue. Unfortunately, this feature is missing from iKeyMonitor.
Battery Drainage 🔋
Considering that iKeyMonitor constantly extracts extensive data from the target device, it's understandable that this might result in rapid battery drainage. However, this issue is not commonly observed with other monitoring apps. Although the high rate of battery consumption occurs sporadically, it's worth noting for potential users.
iKeyMonitor Compatibility 📱
Regarding compatibility, iKeyMonitor offers a range of options to fit various devices and user needs.
iKeyMonitor offers flexibility for both iOS and Android platforms. Whether dealing with rooted or non-rooted Android devices or jailbroken or non-jailbroken iOS devices, the compatibility is extensive.
However, it's worth noting that some features may vary depending on the device's configuration. For iOS, jailbreaking may provide a significantly expanded feature set. In contrast, Android users might find that the features available on non-rooted devices are already enough for complete monitoring.
iOS Compatibility 🍏
iKeyMonitor supports iOS devices, and it is compatible with all iPhone and iPad devices with iOS versions ranging from 9. x to 14. x.
No Jailbreak: 🚫 For non-jailbroken devices, iKeyMonitor works seamlessly, requiring only the iCloud ID and password of the target device.
Two-Factor Authentication: 🔐 Physical access to the target device is needed to obtain the Two-Factor Authentication code.
Enable iCloud Backup: ☁️ This feature must be enabled on the target device for proper functioning.
Jailbroken Devices: 🧩 If you're dealing with a jailbroken iPhone or iPad, iKeyMonitor is compatible with all such devices. The list of tracking features for jailbroken devices is extensive, enabling capabilities like screenshot capture, keylogger, Facebook messenger monitoring, Snapchat monitoring, and much more. If you desire these additional features, jailbreaking the target iPhone might be the right choice. You can Check Jailbreak Availability.
Android Compatibility 🤖
Android users also find robust support with iKeyMonitor. The app is compatible with Android devices with an OS version as old as 2.3 and all subsequent versions.
Android Non-Root: 📱 iKeyMonitor supports non-rooted Android devices, fully working with all features. Rooting is not required.
Android Root: 🌳 For those with rooted devices, some features are exclusively accessible, such as Snapchat monitoring and access to web history. If you're contemplating rooting the target device for these features, it's worth considering that the non-rooted phone features might be sufficient for comprehensive monitoring.
Physical Access Required: 🗝️ Whether it's a rooted or non-rooted device, physical access is required for installation. You'll need to have the device in hand and unlocked.
How To Install & Setup iKeyMonitor? 📲🔧
iKeyMonitor Android Installation Guide 🤖
If you want to understand the process visually, here is a video about the process:
For Android devices, the installation process consists of a few steps, including prerequisites, installation, and configuration.
Prerequisites 🛠
If you have Google Play installed (if not, skip this step, e.g., for China phones where Google Play is not installed by default):
Disable Google Play Protect: Navigate to Settings > Google > Security > Scan device for security threats and Improve harmful app detection. Set to "OFF."
Disable Google Play Protect Notification: The instructions differ between Android 7.x and 8.x. You'll need to block all notifications for the Google Play Store in your device settings.
Note: If you have already installed iKeyMonitor and seen a notification "Uninstall harmful app," long-press the notification and turn the notification to "OFF."
Installation 📥
Allow Application Installs from Unknown Sources: Go to Settings > Security and tick "Unknown sources."
Tap on the Downloaded File: Tap on the downloaded "iKeyMonitor-Android.apk" file to install it.
Open the App: Open it after installation completes. If you choose "Done" after installation, find and tap on the iKeyMonitor icon on the device screen to launch the software.
Ways to Open iKeyMonitor: You can open the app in different ways, including visiting a specific URL with the phone browser, dialing PIN #8888* with the call dialing pad, or tapping on the iKeyMonitor icon on the home screen or notification bar.
Configuration 🔧
Background App Protection: These settings keep iKeyMonitor running in the background.
Security Protection/System Admin: Prevent the app from being flagged or removed by secure apps.
Usage Access and Accessibility: These settings enable some spy features.
Hide/Display iKeyMonitor Icon: You can choose to display the icon or remove it directly based on your needs.
Change Password and PIN: You can change the password and PIN to prevent unauthorized access.
Note: After configuration, delete the downloaded installer and browser history. iKeyMonitor uploads logs every 5 minutes when the device screen is ON.
How To Install iKeyMonitor On iPhone? 🍏
Installing iKeyMonitor on an iPhone is even more straightforward. You do not have to install the iKeyMonitor app on the target iPhone. If you know the iCloud username and password of the target person, you can remotely access all their data through their iCloud backup. No installation on the iPhone is needed!
How To Use iKeyMonitor? 📱🔍
Once you've installed the iKeyMonitor app on the target phone, you're ready to start monitoring. Log into your iKeyMonitor account on your personal device, and you'll see a dashboard that systematically and intuitively presents all the recorded data from the target phone 🎯.
iKeyMonitor Dashboard 🎛️
The dashboard of iKeyMonitor is user-friendly and straightforward. Here's an overview of what you can access:
Alerts ⚠️: Stay informed about significant activities.
Activities 📊: Overview of all activities on the device.
Chats 💬: Monitor all chat conversations.
Logs 📝: Detailed logs of calls, messages, and more.
Media 📸: Access all media files.
Top 5 Websites, Searches, Contacts 🌐: Insights into frequent websites, searches, and contacts.
Recent Locations 📍 and Photos 🖼️: Track the latest locations and photos.
Additional Functionalities 🛠️
Real-time Messaging and Call Data 📞: See new messages and calls, including notifications from WhatsApp, Facebook, WeChat, and more.
Live Location Tracking 🗺️: Check the GPS location of the target.
Clipboard and Keystrokes Monitoring 📋: See what's copied to the clipboard and what's being typed.
Screenshot Viewing 📷: View all screenshots taken from the target smartphone.
iKeyMonitor Features 🧩📱
Chats, SMS & Messenger Monitoring 💌
iKeyMonitor provides extensive monitoring for a wide variety of chat applications and platforms, allowing you to keep track of all conversations:
SMS: Log and record all SMS messages.
WhatsApp: Record all messages on this popular messaging app.
WeChat, Facebook, Skype, Line, Kik, Vibe, Google Chat, QQ, IMO, Instagram, Snapchat, Tinder, BBM, Hike, Telegram, Odnoklassniki, Gmail App, KakaoTalk, Zalo: Record all conversations on these platforms.
Signal, Bumble, TikTok: Monitor activities and conversations.
iKeyMonitor can track an impressive array of social media platforms:
This robust tracking capability becomes vital for parents and partners who want to know who their loved ones are communicating with, possibly identifying harmful interactions.
While iKeyMonitor offers comprehensive features, there are some specific points to consider:
Tracking Sent Messages: Most of the time, the app enables you to view messages received by the target phone, but tracking messages sent by the target can be inconsistent.
Snapchat Limitation: iKeyMonitor can only monitor Snapchat on rooted Android devices and jailbroken iOS devices.
Keystroke Solution 🎹: Even with the limitations in tracking sent messages, the keylogger feature can capture what the child or spouse types on various social media platforms. This information can be found in the iKeyMonitor keystroke section.
iKeyMonitor Call & Call Recording Feature 📞🎙️
iKeyMonitor provides powerful capabilities for monitoring and recording both inbound and outbound calls, including traditional cell phone calls as well as calls made through various apps like WhatsApp, Skype, and WeChat.
Call Monitoring and Recording 🔍📱
With iKeyMonitor's automatic call recorder, you can have access to a multitude of features:
Incoming and Outgoing Phone Calls: Monitor all calls made and received.
Call Conversations Online Remotely: Listen to call conversations from anywhere.
Date and Time Stamps: Know exactly when each call occurred.
Contact Information: See who's been in contact with the target phone.
This call recorder plays a vital role in maintaining control and security in both personal and professional life. Wondering if your children are interacting with suspicious persons or concerned about insider threats within your company? iKeyMonitor's hidden spy call recorder for Android can provide peace of mind.
Call History 📅☎️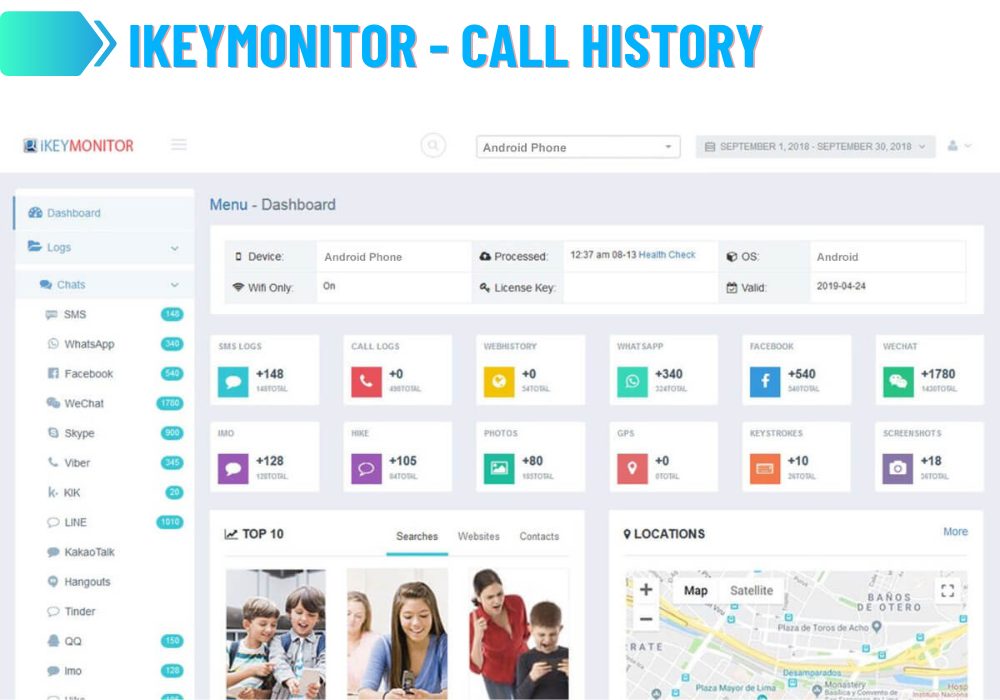 iKeyMonitor allows you to delve into call history, providing key insights such as:
Call Duration: How long each call lasted.
Date and Time Stamp: Precise timing of each call.
Contact Information: Including names and phone numbers.
This information can be crucial in understanding potential dangers, such as bullying, predatory behavior, or insider threats. It also gives insights into personal relationships, such as long talks between spouses or conversations among teens.
Despite the extensive features, iKeyMonitor's call recording has some limitations:
Distorted Voice: Some recorded calls may have distorted voices, making it hard to understand the conversation.
One-Sided Recording: For some calls, you can only hear what the target (e.g., your child) is saying, not what's being said on the other side.
iKeyMonitor offers extensive call monitoring and recording features, allowing users to know who their children, spouse, or employees are talking to and what they're discussing. These features can be essential for parents, partners, or employers who want to safeguard their loved ones or business interests.
However, users should be aware of the limitations, particularly regarding voice distortion and one-sided recording. These challenges may influence your choice, especially if call recording is your main focus. With that in mind, iKeyMonitor remains a robust tool for those looking to have a comprehensive view of phone activities, but with certain limitations in the call recording aspect. 📈🔐
GPS Tracking Feature 🌍📍
iKeyMonitor's GPS tracking feature allows users to monitor the whereabouts of the target device with precision and ease. This comprehensive tracking tool offers multiple functionalities to ensure the safety and transparency of loved ones or employees.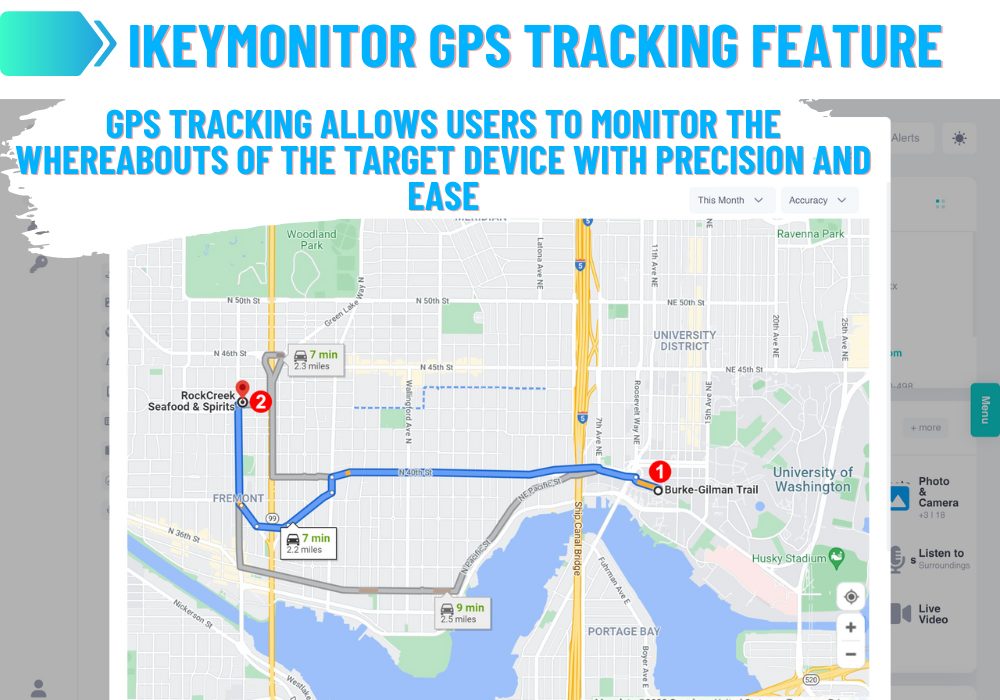 GPS Tracking Capabilities 🛰️📌
With iKeyMonitor, you can utilize GPS tracking in several ways:
Customized GPS Update Interval: Adjust how frequently the location is updated.
Coordinates of Positions: View the exact coordinates of a location.
Accurate Addresses: See the full address of the location.
Location History on Map: Track the target device's movement over time.
Date and Time Stamp: Know when the target device was at a specific location.
This tracking enables users to understand if their children are where they said they would be or if employees are straying outside permitted areas.
Real-Life Applications 🏡🏫
Imagine the panic of your child being late from school without any information about their location. With iKeyMonitor's GPS tracking, you can pinpoint their current location, view street images, and even monitor previous locations they've visited. While not as pinpoint accurate as some other spy apps, iKeyMonitor still provides a reliable way to ensure loved ones' safety.
Geo-fencing 🚧🔔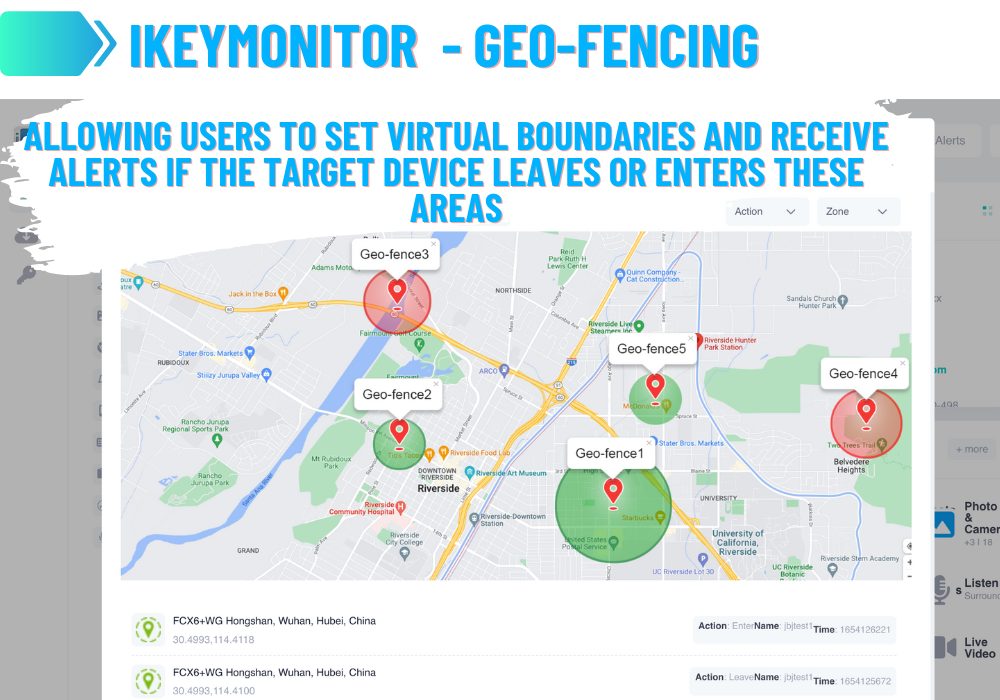 Geo-fencing is a particularly powerful feature of iKeyMonitor, allowing users to set virtual boundaries and receive alerts if the target device leaves or enters these areas. Features include:
Multiple Safe and Forbidden Zones: Set various zones as allowed or restricted.
Visit Frequency: Monitor when and how often each zone is visited.
Geo-fencing Alerts via Email: Get alerted by email or push notifications.
History of Device Movements on Map: See past movements on the map.
Date and Time Stamp: Keep track of when each movement occurred.
This feature can be used to ensure that children don't go into restricted areas or to monitor employees' movements during work hours.
Setting Up Geo-fencing 🛑📥
With iKeyMonitor, setting up a geo-fence is straightforward:
Click on the Geo-Fencing feature and select "+Add New Fence."
Name the fence and set the type (allowed or forbidden), alert preferences, and radius.
Use the center dot to place the radius in the desired area.
Now, whenever the target enters or leaves the radius, you'll be notified.
While the GPS tracking feature offers many advantages, it's not without limitations. The location tracking may not be as precise as some other spy apps, and there may be occasional failures in sending alert emails. It's important to consider these factors when relying on this tool for critical monitoring.
iKeyMonitor's GPS tracking feature is a comprehensive tool for monitoring the location of a target device. With functionalities like customizable tracking intervals, location history, and geo-fencing, it provides a multi-faceted approach to keeping track of children or employees.
iKeyMonitor Clipboard Feature 📋✂️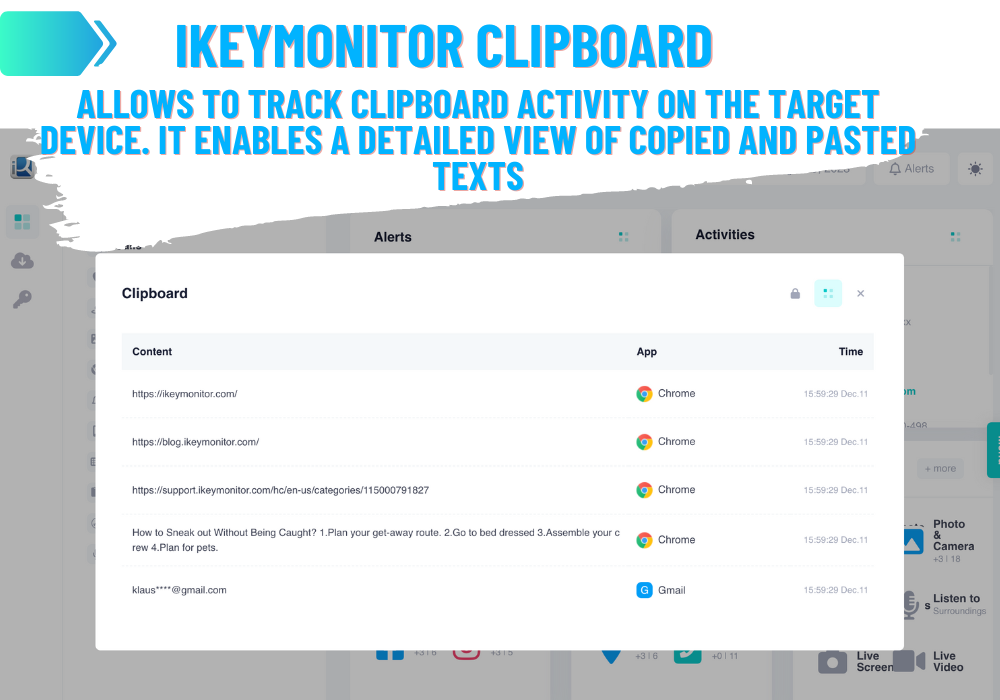 iKeyMonitor's Clipboard feature is a unique and innovative monitoring tool that allows users to track clipboard activity on the target device. It enables a detailed view of copied and pasted texts, opening a new dimension in monitoring that may reveal sensitive or hidden information.
With iKeyMonitor's Clipboard feature, you can monitor various aspects:
Copied Text Content: View any text that has been copied to the clipboard.
Name of App from which the Texts are Copied: Identify the source of copied texts.
Date and Time Stamp: Know exactly when the text was copied.
This feature offers a nuanced look into the target device's usage, possibly revealing critical insights that might otherwise go unnoticed.
Applications and Benefits 📚🎗️
Viewing Clipboard history is more than just tracking copied and pasted texts; it can be a powerful tool in several contexts:
Recovering Lost Data: It may help you find back lost or forgotten information.
Child Safety: Identify troubling behaviors, such as an addiction to porn or gambling, or communication with suspicious individuals.
Insider Threat Detection: Monitor employees' clipboard activities to identify potential insider threats within a company.
In a world where a significant portion of communication and information handling occurs through text, being able to monitor the clipboard can provide a unique insight into the user's activities and concerns.
Suppose you've decided to monitor your child's activities comprehensively. In that case, the Clipboard feature gives you an inside look at all the text they copy from one place and paste to another, complete with the time, date, and the app where the text was used.
For example, if a child frequently copies and pastes information related to inappropriate content, this could signal a problem that needs addressing.
How to Use the Clipboard Feature 🖱️🔍
Using iKeyMonitor's Clipboard feature is simple:
Click on the Clipboard feature within the iKeyMonitor app.
View all the copied and pasted texts, complete with details like the time, date, and app where the text was pasted.
It's a straightforward yet powerful tool that provides a clear view of the clipboard's usage on the target device.
iKeyMonitor's Clipboard feature brings a new layer of monitoring to the table, enabling users to track copied and pasted texts in a detailed and timely manner. Whether you are a concerned parent, a diligent employer, or someone looking to retrieve lost data, this feature could be an essential tool in your arsenal.
In our increasingly digital world, where even the smallest text fragments can have significant meaning or reveal hidden intentions, having the ability to view the clipboard history can provide a deeper understanding of a person's behavior or intentions.
iKeyMonitor Photo & Camera Features 📸🔎
iKeyMonitor's photo and camera features offer a robust monitoring tool that allows parents or employers to keep a close eye on the activities of their children or employees. This functionality expands on traditional monitoring features, giving users the ability to access the photo album and even remotely activate the camera.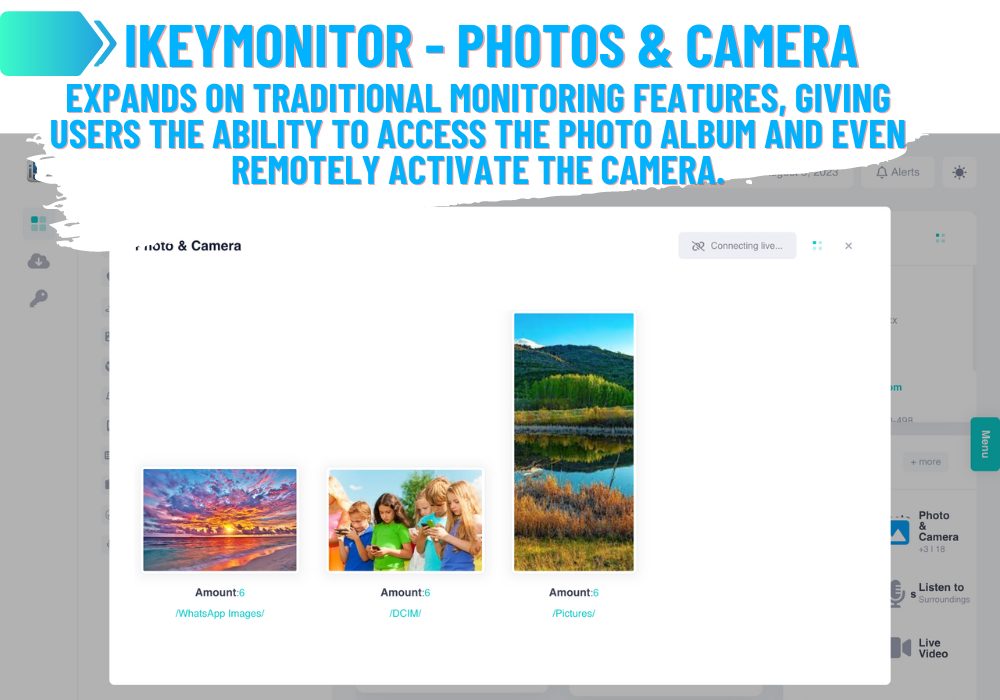 Spy on Pictures and Photos 🖼️🕵️‍♂️
With iKeyMonitor's photo spying feature, you can monitor a variety of aspects:
Photos taken by the Camera: View all pictures captured on the target device's camera.
Saved Screenshots in the Photo Album: Keep track of screenshots saved on the device.
Pictures Received in WhatsApp, WeChat, and QQ: Review all images received through these popular chat apps.
Live Photos: Gain access to the live photo feature which animates a still photo by capturing moments before and after the shot was taken.
This feature can provide you with invaluable insights, be it catching evidence for a personal situation, guiding children in proper digital device usage, or ensuring employees use company-provided devices appropriately.
Remotely Take Photos 📸📲
iKeyMonitor also allows users to remotely activate the target device's camera. This unique feature includes the following abilities:
Turn on the Camera Remotely and Take Photos: You can remotely access the device's camera to capture images of the surroundings.
Choose the Camera You Want (Front, Back): Depending on your need, you can select the front or back camera for remote image capture.
View the Photos on the Cloud Panel: The images you've taken can be viewed and stored in the Cloud Panel for future reference.
This feature is beneficial for ensuring children's safety or monitoring employee productivity during work hours. It gives you a snapshot of the environment around the device, allowing you to identify potential dangers or inappropriate behavior.
The photo and camera feature is a handy tool within iKeyMonitor's repertoire, allowing you to monitor all the photos stored on the target device. These could be pictures captured, downloaded, or shared via the device.
In today's digital age, children can be exposed to inappropriate or adult content, making it crucial for parents to monitor the images stored on their devices. Similarly, employers can ensure their company-provided devices aren't being misused by monitoring stored photos.
How to Use the Photo and Camera Features 📚👨‍🏫
Using iKeyMonitor's Photo and Camera features is easy:
Click on the 'Photos' feature within the iKeyMonitor app.
Choose the folder for which you want to view the stored photos.
View or download the desired photo by clicking on it and selecting the 'Download' option. Use the 'Auto Play' feature to view all the photos one by one.
iKeyMonitor's Photo and Camera features present an extra layer of surveillance for parents and employers, providing a comprehensive view of the images stored and the environment around the device. These functionalities further reinforce iKeyMonitor's position as a powerful, comprehensive monitoring solution for today's digital landscape.
Keylogger ⌨️🔍
iKeyMonitor's keylogger feature provides a powerful tool to track all text input on a target device, offering comprehensive oversight for parents, employers, and individuals. Whether it's keeping an eye on a child's online activities or protecting confidential business information, the keylogger is your all-seeing aide in digital monitoring.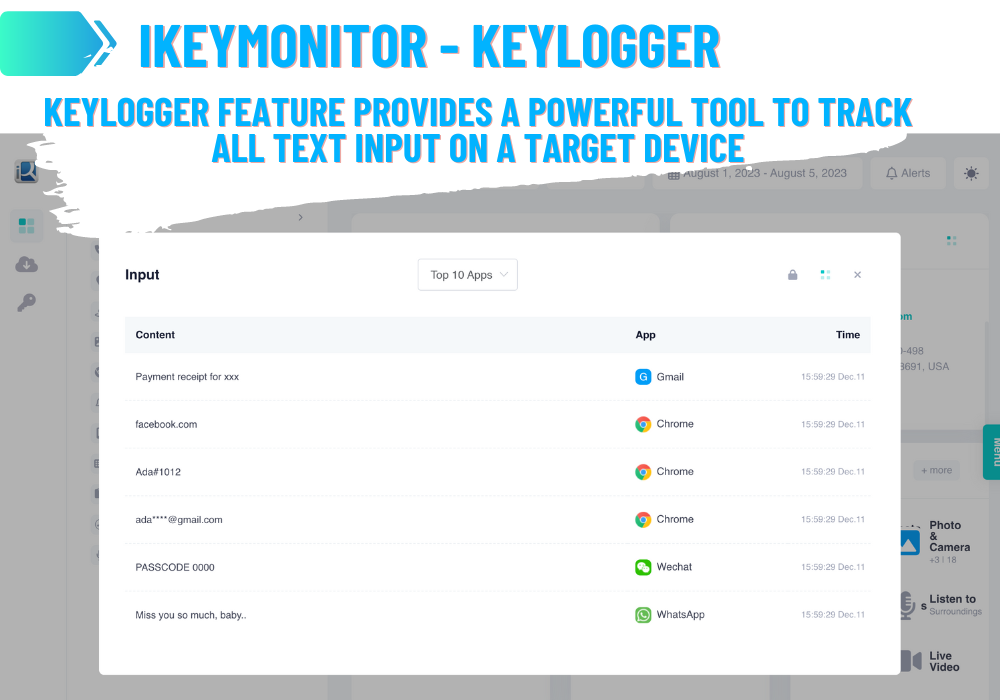 With the keylogger, you can monitor a range of activities:
All Typed Keystrokes: View every single keystroke entered on the target device.
Email Keystrokes: Keep track of all text input in emails, helping you prevent potential data leaks.
Chat App Keystrokes: Monitor text inputs in various chat apps to ensure appropriate usage.
SMS Keystrokes: Stay informed about all text messages sent from the device.
Website URL Keystrokes: Track all URLs typed into the device's browser.
The keylogger records all keystrokes on Android and iPhones, even those disguised as asterisks, allowing parents to keep an eye on children's online activities and employers to prevent potential data breaches.
The iKeyMonitor keylogger feature reveals everything that is typed on the target device. This includes messages sent from iOS and Android devices, enabling you to monitor if any inappropriate activities are being conducted online, such as viewing adult content, sexting, gambling, or obsessive gaming.
In work scenarios, companies in fields such as finance and software technology often provide smartphones to their employees. While this can boost productivity and communication, it can also lead to misuse. The keylogger provides a solution, allowing employers to ensure responsible usage of company-provided devices.
For personal use, the iKeyMonitor keylogger can serve as a digital backup tool, logging your draft messages, usernames, or other important information. If you ever lose your phone or have it stolen, you can recover this information quickly.
For parents, it's a valuable tool to understand your child's online behavior. Curious about what your child is searching for online, the language they use in chats, or their activity on various apps? The keylogger provides a window into all of this, showing every keystroke they make.
Despite lacking the feature of showing two-way communication in its chat section, iKeyMonitor compensates for this with the keylogger feature, allowing you to view the outgoing messages from the target phone.
How to Use the Keylogger: 📚👨‍🏫
Using iKeyMonitor's keylogger is easy:
Open the iKeyMonitor app.
Click on the 'Input' on the left menu.
View the recorded keystrokes across various apps and functions on the target device.
iKeyMonitor's keylogger feature is a powerful and comprehensive surveillance tool that lets you monitor all text input on a target device. For parents, employers, or anyone needing to keep tabs on a device's usage, the keylogger serves as a reliable and effective solution.
Screenshots and Live Screen Video 📸🎥
iKeyMonitor comes packed with the power to visually track activities on the target device, offering capabilities such as capturing screenshots and streaming live screen videos. These features serve as vigilant eyes, offering parents and employers an in-depth understanding of the device's usage.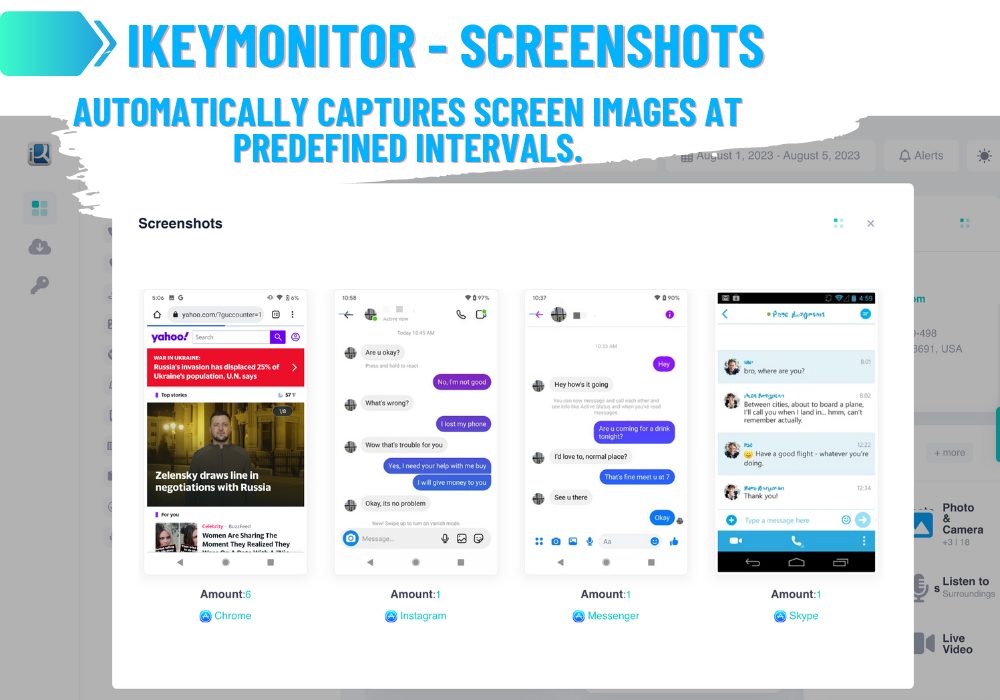 Screenshots Feature 📸
iKeyMonitor's screenshot feature automatically captures screen images at predefined intervals. Here's what you can monitor with it:
Interval Screenshots: Schedule screenshots at regular intervals.
Touch Action Screenshots: Capture screenshots when a touch action occurs.
Alert Word Detection Screenshots: Automatically take a screenshot when alert words are detected.
Photo Screenshots: Capture screenshots of photos displayed on the device.
Video Screenshots: Take screenshots of video content.
Chat App Screenshots: Automatically capture screenshots of WhatsApp, WeChat, Snapchat, Viber, QQ, and other chat apps.
Website Screenshots: Record screenshots of visited websites.
Live Screenshots: Capture real-time activity on the device.
The screenshot feature offers a visual log of all activities on iOS and Android phones, critical for parental control and employee monitoring. It allows you to view your child's digital activities and identify any areas where guidance is needed. For employers, it's an effective tool to identify any inappropriate use of company devices, preventing potential issues and financial losses.
Content inappropriate for children is not just limited to web browsing; platforms like Instagram and Netflix also have content that might be unsuitable. The screenshot feature helps you monitor these activities by sending screenshots whenever the child opens such an app.
You can download any particular screenshot by simply opening it and clicking on the 'Download' button. To save time, you can sort screenshots by Apps or Time.
Live Screen Streaming Video Feature 🎥
iKeyMonitor also offers live screen streaming, showing you real-time activity on the target device. The features include:
Remote Live Screen: View the screen of the target device remotely in real-time.
Record Screen Videos: Record screen activity for later analysis.
Triggered Screen Recorder: Set events to trigger screen recording.
Scheduled Screen Recorder: Schedule screen recording for specific times.
The live screen video feature provides visual evidence of what the user is doing on Android phones and tablets, essential for effective parental control and employee monitoring. It enables parents to observe their children's digital behavior and intervene when necessary. For employers, it helps in identifying any inappropriate activities on company devices, thus preventing potential problems and financial losses.
iKeyMonitor's screenshot and live screen video features offer comprehensive and effective monitoring tools. These visual tracking features give parents and employers an inside look at the device's usage, facilitating more informed decisions and interventions when necessary. They certainly make iKeyMonitor a robust and reliable digital surveillance solution.
iKeyMonitor Alerts 🚨
The Alerts feature of iKeyMonitor is designed to provide real-time alerts based on specific keywords or activities. It plays an important role in protecting children from harmful content and ensuring employee productivity in a work environment.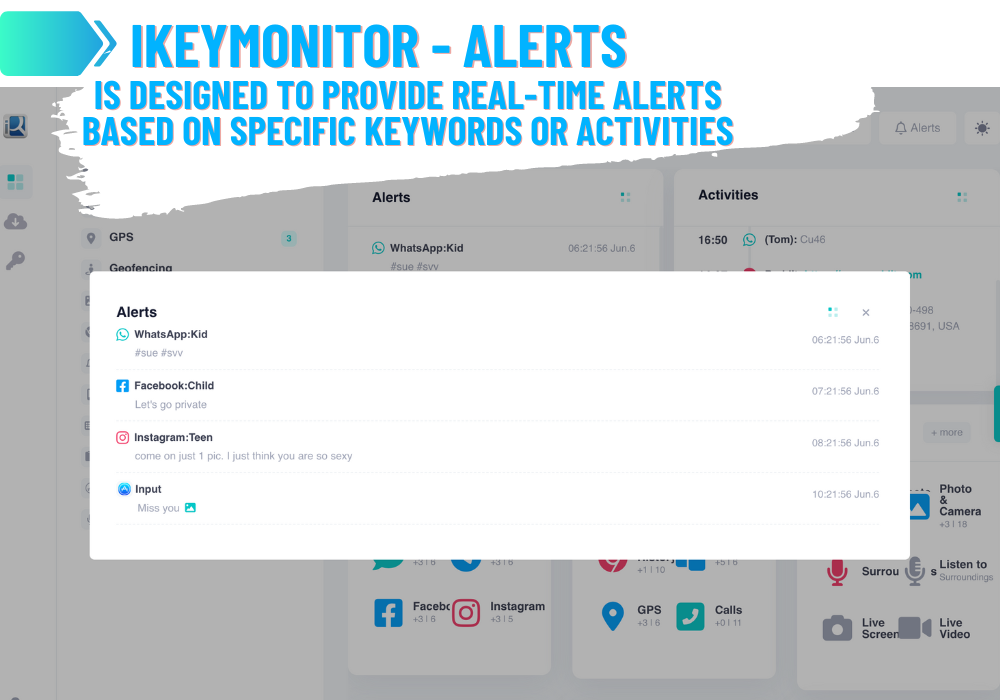 The Alert Words feature allows you to set keyword alerts. This means you will receive instant alerts by email and push notifications when the alert keywords are triggered or specific apps are used on the target device. Here are the capabilities of this feature:
Contact Alerts: Add alerts to monitor a specific contact's call activities.
App Alerts: Set alerts to monitor a specific app's activities.
Chat Alerts: Create alerts to monitor for specific words in chat messages.
Clipboard Alerts: Set alerts to monitor for specific words in clipboard logs.
Email Notifications: Get alert words notifications by email.
Screenshot Captures: Capture screenshots based on the alert words.
Cloud Panel Reports: View the alert words report on the Cloud Panel.
Concerned about your child accessing inappropriate content online? Worried about your employees wasting time during work hours? With iKeyMonitor, you can ease these worries. Simply add the words or apps you wish to monitor, and you will receive instant alerts when these words or apps are triggered.
Customize Alerts for Effective Monitoring 🛡️
The Alert feature of iKeyMonitor shines when it comes to monitoring children's digital behavior. Parents naturally worry about their children using harsh or abusive words, but tracking apps like iKeyMonitor can provide reassurance.
iKeyMonitor's Alert feature ensures that inappropriate language is detected across all apps on the target device. When any flagged word is used, you'll receive a notification. The list of trigger words is comprehensive, including but not limited to words like 'porn', 'ugly', 'block', 'suicide', 'die', 'fatso', 'meeting', 'dead', 'nerd', and 'freak'. This way, you're kept in the loop of any potentially harmful or concerning communication.
The Alerts feature of iKeyMonitor is a powerful tool for vigilant and proactive monitoring. It keeps you instantly informed about any inappropriate or concerning activities on the target device, thereby helping to ensure the safety and productivity of the device users. With its customizable alerts and real-time notifications, iKeyMonitor truly helps in building a safer digital environment for children and a more productive workspace for employees.
Phone Surroundings 🎙️
The Surroundings feature of iKeyMonitor allows you to remotely record and listen to the ambient sound around the target device. This can be a powerful tool in maintaining a safe environment for your children or ensuring employee integrity within your organization.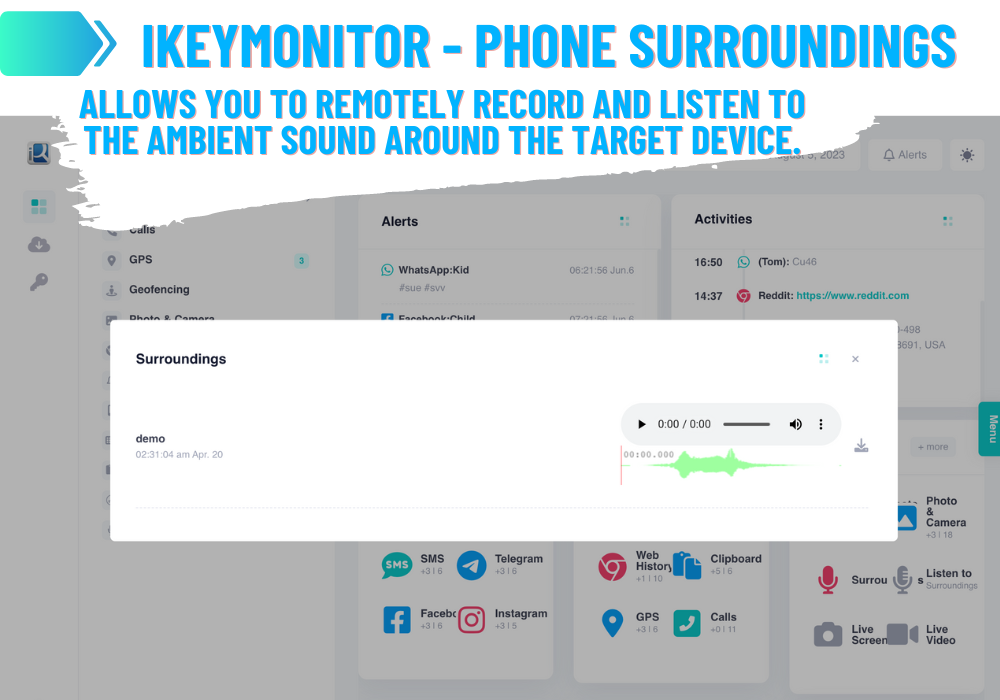 With iKeyMonitor, you can monitor the following aspects of phone surroundings:
Remote Voice Monitoring: Capture and listen to the sounds around the target device remotely.
Discreet Recording: Record the surroundings without alerting or disturbing the user of the device.
Online Remote Access: Access and monitor the phone surroundings online remotely.
Live Surrounding: Listen to live ambient sound around the device.
This feature is what sets iKeyMonitor apart from many other spy apps. Whether you're curious about your child's social circles, suspecting employees of inappropriate gossip, or concerned about comments made about you in your absence, iKeyMonitor provides an all-in-one solution.
Real-Time Surveillance 🔍
If you want to know what your children discuss when you're not around, you can use iKeyMonitor to record the phone's surroundings. When conversations occur near the device, iKeyMonitor records these voices or discussions and uploads them to your online user account. This makes it convenient to understand what your children are talking about.
While spy apps can be useful in protecting loved ones or securing your business, it's essential to respect privacy. The purpose is not to underestimate or mistrust the target user, but to ensure their safety and integrity.
Capture Offline Conversations 🗣️
While it's easy for someone to maintain clean conversations over calls or social media, their real-life discussions might paint a different picture. This makes the Surroundings feature a useful tool to assess the language and content of offline conversations.
When you access the Surroundings feature in iKeyMonitor and select 'Record Live Surrounding Sounds', the app remotely activates the target device's microphone. Within 5 minutes, it begins capturing the ambient audio.
Once the recording is complete, you can listen to it and download it for future reference. You can even schedule regular recordings for specific periods.
The Surroundings feature of iKeyMonitor provides an insightful dimension to digital monitoring. By enabling you to capture and review offline conversations, it broadens your ability to maintain a safe environment for children or an integrity-driven workplace. This feature operates discreetly, making it an effective tool for a comprehensive understanding of the target device user's activities.
Contacts 📒
The Contacts feature of iKeyMonitor aids you in backing up your child's phone contacts to the cloud. It allows you to assess their contact lists, which can be instrumental in safeguarding them from dangerous individuals.
With the Contacts Backup feature, you can monitor:
Contact Names: Review the names saved in the contact list.
Phone Numbers: Monitor the phone numbers associated with the contacts.
Email Addresses: Review the email addresses of contacts.
These contact logs enable you to assess whether your children are frequently interacting with potentially harmful individuals, such as predators, drug dealers, or others with ill-intent. Additionally, it can help you identify employees who misuse work time by making personal calls or those attempting to leak sensitive business information to competitors.
Safety Precautions 🛡️
It's challenging to be certain about the genuine intentions of all the individuals in your child's contact list. With the proliferation of social media, meeting new people online is common. Unfortunately, not everyone presents their true selves online, often hiding ill intentions behind pleasant exteriors.
The responsibility of protecting your children from potential dangers falls on your shoulders, and this can be aided by tracking the contacts saved on their smartphones. With iKeyMonitor, you can closely review their contact list and address any suspicious contacts with them.
The Contacts feature in iKeyMonitor provides you with a valuable tool to protect your children from potential harm. By enabling you to monitor and review their contacts, it aids in preventing interactions with potentially dangerous individuals. This feature also helps in maintaining a professional environment at work by catching employees misusing work hours or attempting to compromise business information.
Beyond contacts, iKeyMonitor also allows you to keep an eye on other aspects of the target phone. It includes tracking of:
Calendar: Monitor important dates, appointments, and events.
Reminders: Keep an eye on the reminders set on the target device.
Notes: Review any notes saved on the phone.
Voice Memos: Listen to any voice memos recorded on the device.
WiFi History: Keep track of the WiFi networks the device connects to.
This comprehensive monitoring approach provides an in-depth understanding of the user's activities and interactions.
How Much Does iKeyMonitor Cost? 💰
iKeyMonitor offers two plans for its users depending on the device they wish to monitor: one for mobile devices (Android, iPhone, iPad), and one for desktops (Windows and Mac).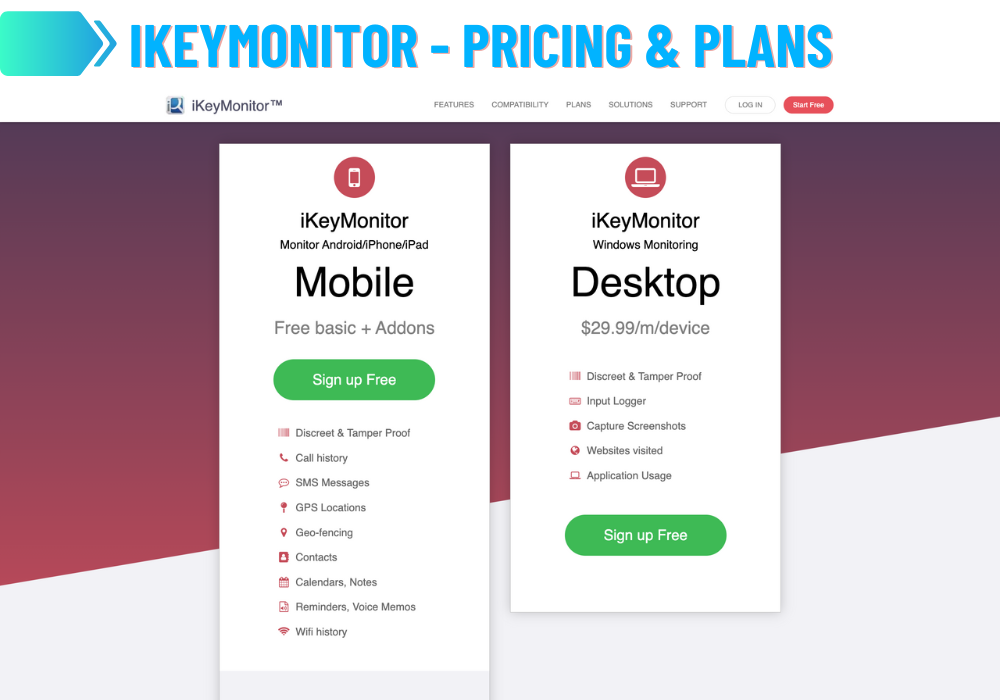 Mobile Monitoring Plan 📱
The mobile monitoring plan has a unique pricing structure. You can start with the basic features for free and choose to add advanced features on-demand.
The basic free plan includes features such as:
Call History
SMS Messages
GPS Locations
Contacts
Calendars, Notes
Reminders, Voice Memos
Wifi history
If you wish to access more advanced features, you can opt for add-ons. This gives you the flexibility to choose only the features you need without paying for extras you won't use. The cost for these add-ons is $9.99 for a 3-day trial, after which you can choose to continue with a subscription of $16.66 per month.
Desktop Monitoring Plan 💻
The desktop monitoring plan is for users who wish to monitor activity on Windows or Mac computers. This plan comes at a flat rate of $29.99 per device per month. It offers features like:
Input Logger
Capture Screenshots
Websites Visited
Application Usage
Unlike the mobile plan, there's no free option available for the desktop monitoring plan.
With these offerings, iKeyMonitor aims to provide versatile and comprehensive solutions that cater to diverse needs, whether you're a concerned parent or an employer needing to oversee the use of company devices.
👉 Frequently Asked Questions (FAQs) 🙋
Conclusion
In the vast landscape of digital monitoring tools, iKeyMonitor stands as a reliable and practical solution. Despite some minor drawbacks like the absence of web history and app blocking for non-rooted devices and the lack of a screentime feature, its performance is commendable. The app's strongest assets are its Photos, Screenshots, Clipboard, and Keylogger functionalities, all of which worked impressively in our review.
While some aspects of iKeyMonitor may leave room for improvement, its overall capabilities make it a viable spyware option, especially considering it comes with a free plan. Its advanced features, ease of use, and affordability underscore its value.
In summary, iKeyMonitor's diverse range of features and impressive performance make it a robust monitoring tool. Whether you're a concerned parent or an employer, it's an excellent choice to ensure the safety and productivity of your loved ones or employees. However, always remember to use such tools ethically and within legal boundaries.