Quick Summary
After thoroughly testing and reviewing Scannero, I can confidently say it stands out as a highly effective tool for phone number tracking. Its blend of simplicity, efficiency, and legal compliance makes it a top choice for anyone needing to locate a phone number.
Why Scannero Shines: 🌞
User-Friendly: The hassle-free setup and easy-to-navigate interface make Scannero accessible to all, regardless of technical expertise.
Real-Time Tracking: The accuracy and speed of its location updates ensure you get timely and precise information.
Consent-Based and Legal: Scannero's adherence to legal standards, requiring the consent of the person being tracked, speaks volumes for its ethical approach.
Wide Compatibility: Being web-based, Scannero works across all devices and operating systems, eliminating the need for any software installation.
Cost-Effectiveness: 💸
While Scannero isn't free, its pricing model – with an initial trial offer followed by a monthly subscription – provides flexibility. The cost may be a consideration for some, but for the features and convenience it offers, it's worth the investment for those in need of reliable tracking.
What is Scannero?
For those new to phone tracking services, Scannero is a website that can locate any cell phone number.
It works by sending a text message to the number you enter, which the phone's owner then clicks to consent to sharing their location.
Once they click the link, Scannero emails you their real-time GPS coordinates, address, and more.
The company markets itself as a tool for tracking kids, employees, lost phones, and unknown callers. However, it does require consent from whoever's number you input.
Scannero is web-based, so there's no app to install. Just sign up for an account, purchase credit, enter a number, and you'll get that phone's current location.
It's great for quickly finding someone's general area, but lacks other monitoring features found in spy apps and family trackers. If you just need to periodically pinpoint a phone number, Scannero gets the job done.
Key Features of Scannero 🚀
Anonymity in Localization: Scannero allows for discreet localization of a phone number, keeping your identity hidden when necessary. 🕵️‍♂️
Easy Setup: Getting started with Scannero is a breeze. Just create an account with an email and a password. 📧
Real-Time Tracking: Enter the phone number you wish to locate, and Scannero quickly sends a location request. Once accepted, you receive the exact location, displayed on a map in your dashboard. 🗺️
Cross-Platform Compatibility: Scannero works effortlessly on both Android and iPhone devices, and being web-based, it operates smoothly on any browser. This eliminates the need for any app installations. 📲
No Physical Access Needed: Remarkably, Scannero can track a phone number without needing physical access to the phone, allowing you to locate someone's phone remotely. 🌍
Network Agnostic: Scannero functions across all networks, offering a universal solution to phone number tracking. 📡
Locate Without a SIM Card: Scannero can still track the phone number even if the target device changes their SIM card, as long as the phone number remains the same. 🔍
Privacy and Legality: Adhering to legal standards, Scannero ensures that consent is obtained from the person being tracked, prioritizing privacy and ethical use. 🛡️
In summary, Scannero emerges as a reliable, user-friendly, and ethical tool for those needing to find the location of a phone number. It's an ideal choice for ensuring the safety of loved ones or for gaining peace of mind, thanks to its efficient and intuitive platform.
Get Scannero for Phone Number Tracking
How Scannero Works?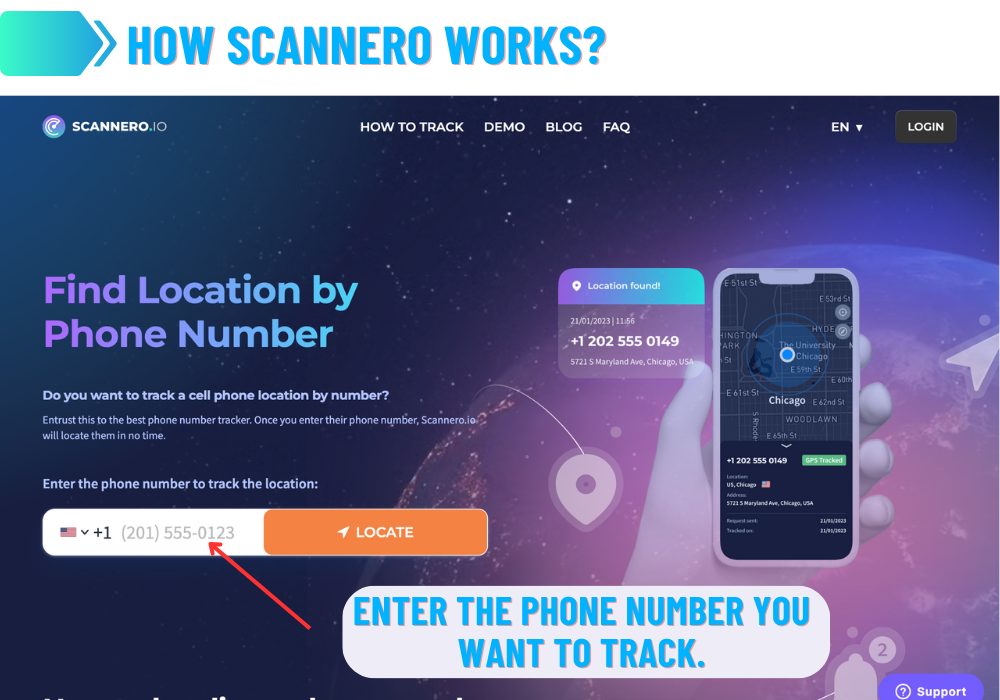 Using Scannero to find a phone number location is super simple:
Create an account – Go to the Scannero website and enter your email to setup an account. No installation required.
Buy credit – Purchase prepaid credits to perform lookups. The more you buy, the cheaper per lookup.
Enter a number – Type in the 10-digit phone number you want to locate.
Customize message – Scannero will text the number, but you can customize the content.
Get location info – Once the person clicks the link in the text, you'll receive their address, map coordinates, accuracy, and more by email.
Check online dashboard – The location results also populate in your Scannero account dashboard.
Quick and Legal
⏱️ Fast Tracking: It takes about two minutes to track a location.
🔒 Legality: Scannero operates legally, requiring consent from the person being tracked.
Universal Compatibility
Lost or Stolen Devices
🌍 Online Operation: Can track the location of a lost or stolen device with an active SIM and internet connection.
How Much Does Scannero Cost?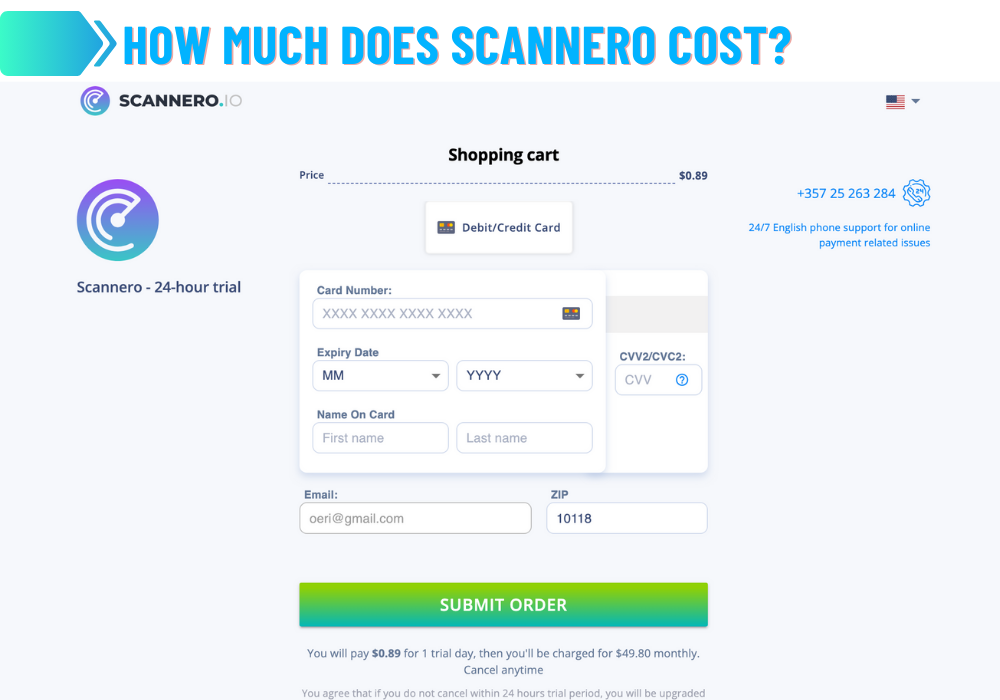 Scannero offers a straightforward monthly subscription model for access to its phone number tracking.
Here's what you'll pay:
👉🏼 Trial Offer: To get started, once you've entered your email and credit card details, Scannero welcomes you with a tempting introductory offer. For just $0.89, you can access all of Scannero's features for a full day. This trial period is an excellent way to explore the service and see if it fits your needs.
👉🏼 Monthly Subscription: After the trial day, if you decide to continue using Scannero, the service transitions into a regular subscription. This will cost $49.80 per month. It's a flat rate, providing full access to Scannero's tracking capabilities without any hidden charges or tiered functionalities.
The monthly plan gives you unlimited phone number lookups. For infrequent use, the prepaid credit packs can be more affordable.
Compared to other phone tracking tools, Scannero is on the pricier side. But you can cancel anytime if you decide it's not worth the monthly cost.
No Long-Term Commitment: The great thing about Scannero's pricing model is its flexibility. If at any point you feel that Scannero's services are no longer necessary, you can cancel your subscription. This option adds a layer of convenience and control, allowing you to manage your expenses according to your usage needs.
While not free, Scannero delivers on quickly locating any cell phone number you input within minutes. The unlimited monthly plan is best for frequent location checks.
My Experience With Scannero
After hearing about Scannero, I decided to try out the phone number tracking service myself. I wanted to see just how well it could pinpoint my friend's location using only her cell number.
Simple and Quick Setup
Getting started with Scannero took less than 5 minutes. I went to their website, entered my email to create an account, and added funds to my wallet.
The dashboard interface was clean and intuitive. I clicked "New Lookup", entered my friend's 10-digit number, and customized the text message she would receive.
Within seconds of submitting the lookup request, Scannero sent the text to her phone. The whole process was really smooth and user-friendly even for someone new to phone tracking.
Impressively Accurate Location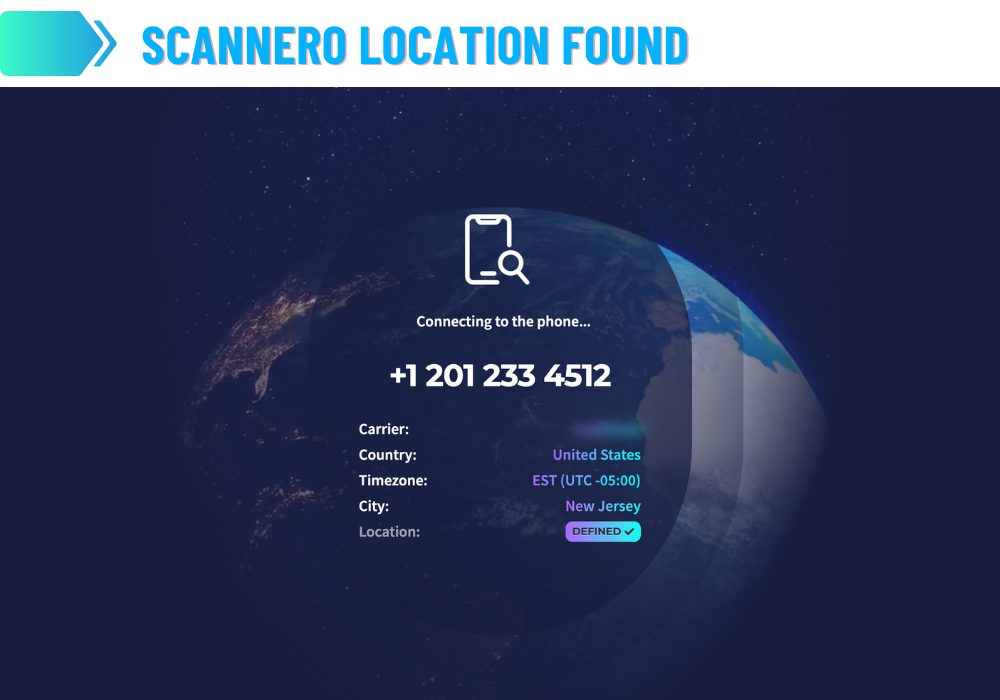 After my friend clicked the link that Scannero texted her, I received an email within a minute containing her precise location details.
The information showed her exact coordinates on a map view, which perfectly matched up with her apartment downtown. It also included the street address, location name, and timestamps.
I was seriously impressed by Scannero's accuracy in pinpointing her phone's location using just the cell number. The real-time map was spot on.
Ethical and Legal Phone Tracking
As phone tracking services raise potential privacy concerns, I appreciated that Scannero requires consent before locating a number.
My friend wasn't caught off guard, because the text message clearly came from Scannero. She chose to click the link knowing it would share her location with me.
This consent-based approach put my mind at ease about trying out the service. I'd recommend Scannero to anyone needing an occasional phone location check.
🌐 Scannero's Compatibility
One great thing about Scannero is that it works on both Android and iPhone devices. The phone number tracking service is accessible from any modern web browser too.
🖥️ You also don't need to install anything on your own device. Just access Scannero from any web browser on your:
💻 Laptop
📱 Smartphone
🖥️ Desktop computer
It doesn't matter if the phone you want to locate is using an outdated operating system or not. As long as it can receive text messages, Scannero can send the tracking link.
With no downloads required, Scannero offers hassle-free phone number tracking that's compatible across all types of devices and operating systems. It's web access makes it easy to use on the go too.
📍 Why Use Scannero for Phone Number Tracking?
Scannero offers a quick and easy way to pinpoint the location of any cell phone number. Here are some key reasons to use this service:
🔧 Hassle-free setup – No software to install. Just sign up and start entering numbers.
⏱️ Real-time tracking – Location updates every time the person clicks the link Scannero texts them.
🤝 Consent-based – The number's owner chooses to share their location, avoiding privacy issues.
🎯 Accurate locations – Scannero precisely maps out cell phone coordinates and addresses.
💳 Affordable packages – Prepaid credits start at $12 for 5 lookups. Unlimited monthly plans available.
🖥️ User-friendly interface – The online dashboard makes viewing locations a breeze.
For occasional location checks through a consent-based method, Scannero delivers accurate and real-time phone tracking. The easy online access makes it a convenient choice over installing spyware.
Get Scannero for Phone Number Tracking
Final Verdict on Scannero
After testing out Scannero myself and reviewing its features in-depth here, I can comfortably recommend it for quickly locating any cell phone number.
The web-based access means Scannero is compatible with all devices – no downloading required. Setup takes just minutes to start tracking numbers.
While on the pricier side, Scannero's unlimited monthly plan is great for parents or employers wanting regular location checks. Prepaid credits also available for occasional look ups.
The consent-based approach puts Scannero in a better ethical position than "shadier" spy apps. However, it does mean the number's owner has to click the tracking link first.
For rapidly finding general location details through a phone number, Scannero delivers. It locates devices accurately and in real-time. Just don't expect extensive monitoring features.
Overall, Scannero satisfies the need for occasional, consent-based phone number tracking. The easy web access and precision mapping make it a legit cell phone locator.
Have you tried Scannero or a similar number lookup service? I'd love to hear your experiences finding phone locations in the comments below!
👉

Frequently Asked Questions about Scannero

I hope these answers help explain how Scannero's phone number tracking and location services work! Let me know if you have any other questions.