Online safety has become a top concern for many families as our lives become increasingly digital. We worry about our kids spending too much time on devices, who they are talking to, and what information they are sharing.
To keep tabs on my family's activity and ensure their safety online, I decided to test out Spyera – one of the most robust phone monitoring apps available today.
Spyera has a reputation for offering unparalleled access to smartphone and computer activity, with advanced features allowing remote monitoring without the user knowing. While controversial among privacy advocates, Spyera provides concerned parents with powerful tools to oversee their family's digital lives.
Eager to see if Spyera lived up to its reputation, I installed the app on a few devices to give it a test drive. I spent weeks tracking activity, recording data, and exploring the advanced monitoring capabilities.
In this detailed review, I'll give you an inside look at how Spyera works based on my own experience testing it out. You'll learn about its powerful features, get a sense of how easy it is to set up and use and understand some potential downsides to be aware of.
What is Spyera?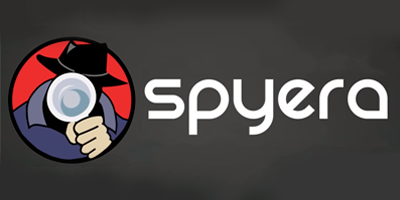 Spyera is a powerful monitoring software that allows you to secretly track and record activity on smartphones and computers. Marketed as a tool for concerned parents and employers, it enables remote monitoring without the user's knowledge.
The software is designed to be completely invisible once installed. It runs silently in the background, logging and recording everything done on the device.
Spyera allows you to:
Track phone calls and record conversations
Remotely activate the microphone to listen in on the surroundings
View web browsing history and bookmarks
Track GPS location in real-time
View photos and videos
Capture keystrokes typed on the device
Remotely view device cameras
And much more…
All data is securely sent to an online dashboard for remote viewing. Activity can be monitored from any internet-connected device by logging into your Spyera account.
Advanced features like live call recording, ambient listening, and VOIP call monitoring allow you to discretely monitor activity taking place on the target device. Spyera is designed to be completely hidden from the user being monitored.
Currently, Spyera offers monitoring for Android, iPhone, Windows, and Mac devices. One license can be installed on up to 3 devices.
Spyera Compatibility – What Devices Can It Monitor?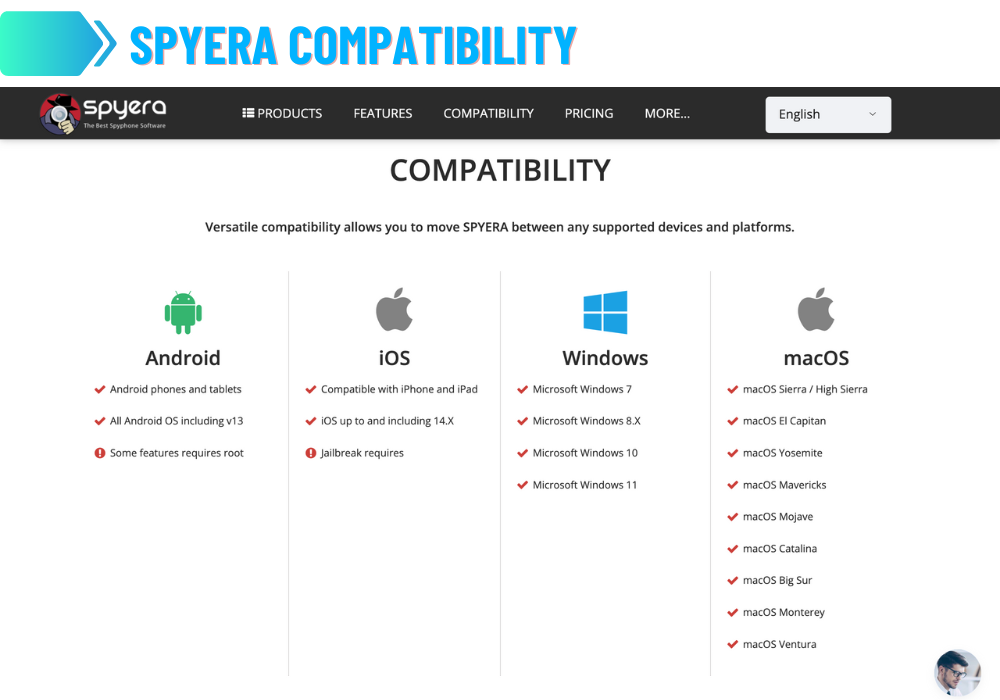 One of the first questions with any monitoring software is compatibility – what devices and operating systems can it work on?
Spyera offers extensive support and can monitor the most popular platforms:
Android Compatibility 🤖
Key Highlights:
Device Support: Both Android phones and tablets.
Special Notes: While Spyera offers a plethora of features for Android users, it's essential to note that some of those functionalities will require root access.
With Android dominating the smartphone market, Spyera offers full monitoring of any Android device. Most features work without rooting, making setup easy.
iOS Compatibility 🍏
Key Highlights:
Version Support: Encompasses all iOS versions up to, and including, 14. X.
Spyera can monitor iPhone and iPad but you must jailbreak the device first before installing the app. This extra step complicates iOS monitoring.
Windows Compatibility 💻
Key Highlights:
Version Support: Extending its reach from the older Microsoft Windows 7 to the fresh Microsoft Windows 11. This means devices running on Microsoft Windows 7, and 8. X, 10, and 11 are all under Spyera's umbrella.
Special Notes: So, if your target prefers a PC over a smartphone or even a macOS device, Spyera ensures you're not left in the lurch.
For Windows devices, Spyera installs just like any other program allowing for complete monitoring.
Mac Compatibility 🖥
Key Highlights:
Version Support: Spyera encompasses a broad spectrum of macOS versions. Whether it's macOS Sierra, High Sierra, El Capitan, Yosemite, Mavericks, Mojave, Catalina, Big Sur, Monterey, or the latest Ventura, Spyera has got your back.
Special Notes: If you're aiming to oversee a Mac device, be it for parental control or other reasons, Spyera stands ready to assist.
Spyera can discreetly monitor all activity on Macbooks and iMacs running supported macOS versions.
With full compatibility across iOS, Android, Windows, and Mac, Spyera offers monitoring for all major device types and operating systems. Just be aware that iOS does require jailbreaking as an extra prerequisite.
How Does Spyera Work?
The key to Spyera is that it runs completely in stealth mode once installed on a device. The user will have no indication they are being monitored. Before you can start monitoring a target phone, you first need to purchase and set up Spyera on your device. Here are the steps:
1. Visit the Spyera website and click "Get Started" to begin.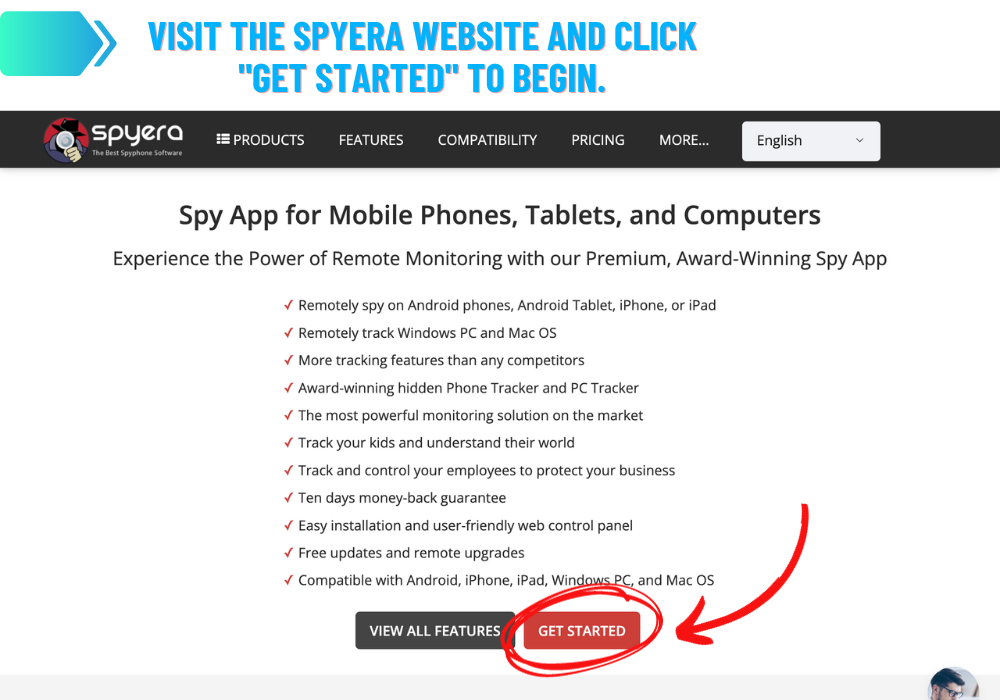 2. Choose one of the Spyera subscription plans that fits your needs. Make sure to select monthly or yearly billing.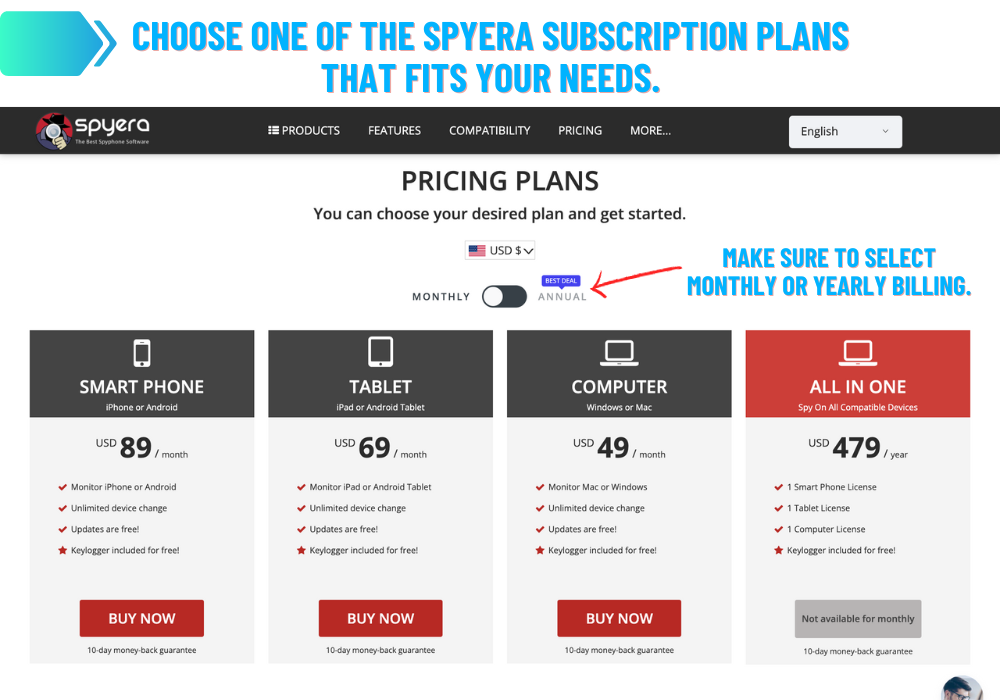 3. Provide your payment information to purchase your Spyera plan.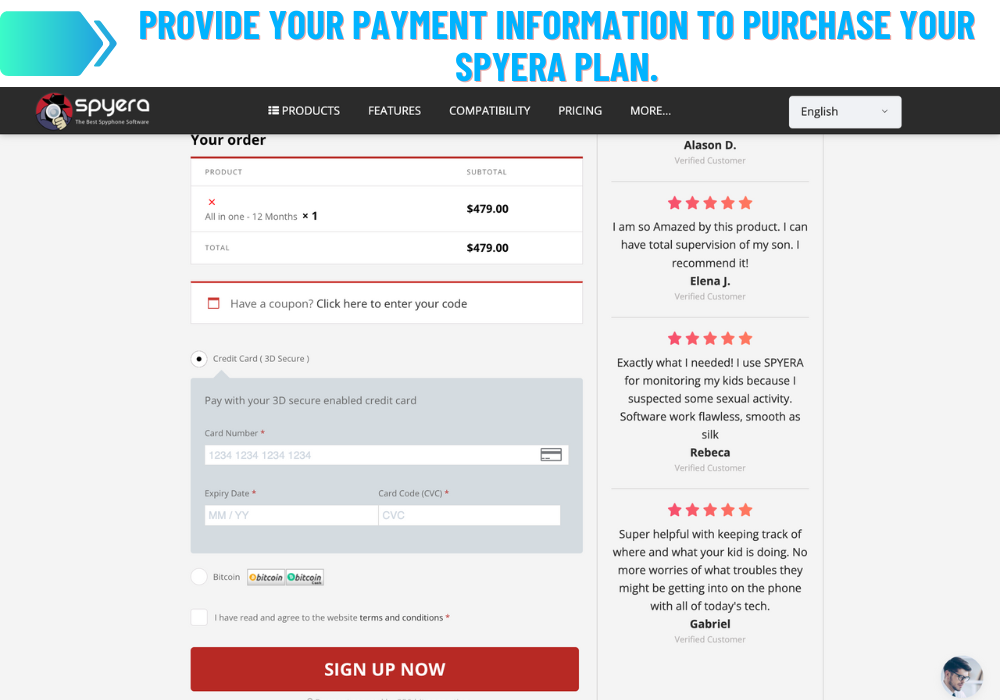 4. After the purchase is complete, you will receive a confirmation email with login credentials for your Spyera online account.
5. Visit the Spyera login page and enter your new username and password.
6. You are now logged into your Spyera control panel and can begin setting up devices to monitor.
7. Once you complete the purchase and create your Spyera account, you are ready to install the app on the target phone when you have physical access to it.
The control panel allows you to monitor all connected devices from anywhere. Your account is key to viewing all data from monitored devices on any internet-connected device.
Installing Spyera on an Android Phone

Once you purchase Spyera, you'll need physical access to the target Android phone to install it. Here is the process:
Disable Play Protect in the Play Store settings so the app install isn't blocked.
Enable Unknown Sources in Settings so you can install apps from outside the Play Store.
Turn off Play Store notifications so there are no alerts about new app installs.
Download the Spyera APK file directly on the target device from the Spyera dashboard.
Install Spyera by tapping the APK. Grant all requested app permissions.
Enter your license key to activate Spyera on the device.
Allow additional access to call logs, contacts, SMS, etc. when prompted.
Hide the app icon so Spyera runs fully in stealth mode.
Enable accessibility in Settings so Spyera can function properly in the background.
Once configured, all device activity will be monitored without the user knowing. Just log in to your Spyera dashboard from any device to view the reporting.
You must disable Play Protect and hide the icon. This allows Spyera to install and run without the user being alerted. Proper setup is key for invisible monitoring.
Installing Spyera on an iPhone

Installing Spyera on an iPhone is more complicated than on Android since you must jailbreak the device first. Here is an overview:
Identify the iPhone model and iOS version to determine the proper jailbreak method. Newer iOS versions are harder to jailbreak.
Perform jailbreak by using reputable jailbreak software like unc0ver or checkra1n. This removes iOS restrictions.
Once jailbroken, Spyera can be sideloaded using Apple Configurator 2 on a Mac. IPA file is installed directly.
Launch Spyera and enter a license key to activate monitoring on the iPhone. Grant requested permissions.
Hide the Spyera app icon so it runs undetectably in the background.
The user will be unaware that Spyera is installed since jailbreak is invisible. Re-jailbreak after any iOS updates.
View iPhone monitoring data by logging into your Spyera online account.
The key requirements are having the iPhone jailbroken and using proper sideload methods to install Spyera. This allows Spyera to bypass Apple restrictions and monitor the device.
Jailbreaking can be complex so you may need to contact Spyera support if you run into issues. Proper jailbreak and sideload installation are crucial for monitoring iPhones with Spyera.
Spyera Dashboard Overview
The dashboard is the central hub of your Spyera account. It provides an at-a-glance view of your monitored devices and recent activity.
As soon as you log into your Spyera account, the dashboard displays:
📱 Device Info – Details like device model, OS version, IMEI number, SIM card, battery level, and sync status.
📦 Product Info – Summary of your Spyera license plan and expiry date.
📞 Latest Calls – Call log showing the most recent incoming, outgoing, and missed calls.
📩 Latest SMS – The newest text messages sent or received on the device.
⌨️ Latest Keylogs – Recent app/website names where keystrokes were captured.
📍 Latest Location – The current or most recent GPS location of the device.
📸 Latest Photos – Thumbnail previews of new photos taken with the device camera.
The dashboard gives you a quick overview of activity without having to dig into the more detailed tracking data. Everything is neatly organized with timestamps so you know when it occurred.
With all this key information in one place, the Spyera dashboard acts as an easy-to-use control center. You can quickly check for any suspicious activity at a glance before drilling down further.
Spyera Features
Spyera offers an unparalleled breadth of monitoring capabilities across devices. Here are some of the core features for comprehensive tracking:
Monitoring Call Logs
The Call Logs feature gives you complete visibility into all calls made and received on the monitored device.
You'll see the name (if a contact) or number for every call, along with the call duration and exact date/timestamp. Calls are marked as incoming, outgoing, or missed.
Some examples of what you can do with Call Logs:
Check if your spouse is frequently calling a suspicious number. The long call durations will tell you if it's an affair.
See what time of day your child is calling or receiving calls from unknown numbers.
Identify callers by name if matched to a contact, or by number if no match. Easily search for specific numbers.
Sort calls by incoming, outgoing, or missed only to analyze patterns.
Star important calls for quick access later. Delete any logs you want removed.
Export the call log if you need to save a copy for investigation.
By monitoring Call Logs with Spyera, you can identify unusual activity and have proof of who your spouse or child is communicating with. The detailed call data enables you to make informed decisions.
Recording Calls with Spyera
The call recording capability of Spyera allows you to listen to the actual conversations from phone calls.
Here's an overview:
All incoming and outgoing calls can be recorded automatically in the background.
Call details like date, time, duration, and name/number are shown for each recording.
Download the MP3 file of any recording to listen on your computer or device.
Fix muffled call audio by changing the recording source to microphone in Spyera settings.
Search for recordings by name/number to quickly find a specific call.
Note long call durations as those are likely important conversations.
Listening to the conversations your spouse or child has on the phone can remove all doubt about who they are talking to. You can hear first-hand what is being discussed.
While call recording without consent is controversial, Spyera makes it possible if you truly need to know what's happening. Just be conscious of privacy laws in your region.
Monitoring Key Logs
Spyera's keylogger gives you insight into everything typed on the monitored device.
Key capabilities include:
Keystrokes are logged from any app used on the device – messages, notes, browsers, social media, etc.
See the exact text as it was typed, even if the user edits or deletes it later.
The app or website where keys were logged is shown for context.
Date and timestamp show when and where keystrokes occurred.
Search and filter logs to find keywords typed in any app.
Save important keystrokes as favorites for quick access.
The keylogger lets you see messages, search terms, websites visited, passwords entered, and more. It captures all activity across apps and websites.
You can even bust lies by comparing key logs to what the user tells you they were doing. The complete keystroke data reveals the full truth.
Calls
Call Logs – View all incoming/outgoing calls with name, number, duration, date, and time. Identify suspicious activity.
Call Recording – Spyera can automatically record all calls. Listen to conversations your spouse or child is having.
Live Call Listening – With ambient listening mode enabled, you can listen in on live phone calls as they happen.
Messages
SMS – Read the content of all sent and received text messages. See the associated contact names/numbers.
Emails – View email content and attachments from accounts configured on the target device.
MMS – Track sent and received media messages with attached photos, audio files, and videos.
Media and Files
Photos – View images stored on the device or recently captured with the camera. Check for inappropriate content.
Videos – Download and watch any video files stored on the target phone.
Audio Files – Listen to audio files like music or recordings on the monitored device.
Documents – Access Word, Excel, PDF, and other documents stored in device memory or cloud apps.
Web and App Activity
Keylogger – Every keystroke typed on the device is recorded, like messages, searches, URLs, and passwords.
Website History – View all web pages visited and searches conducted on the browser.
Apps – See how much time is spent in apps with usage tracking and records.
Bookmarks – Websites bookmarked on the browser are logged. Identify favorite sites.
Location Tracking
Real-time GPS – Pinpoint exact device location at any time using built-in GPS location tracking.
Location History – See everywhere the device has been with detailed location timelines and mapping.
Geo-Fencing – Get alerts when your child leaves or enters specific locations you designate.
Plus Additional Features:
Remote Control – Remotely lock device, wipe data, activate microphone, and more.
Ambient Listening – Use the mic to listen in on surroundings in real time.
Alerts – Get alerts for specific callers, keywords, apps, and locations.
As you can see, Spyera leaves no digital footprint uncovered. It provides unparalleled access to device and user activity – far beyond what most spy apps offer.
Spyera Pricing and Plans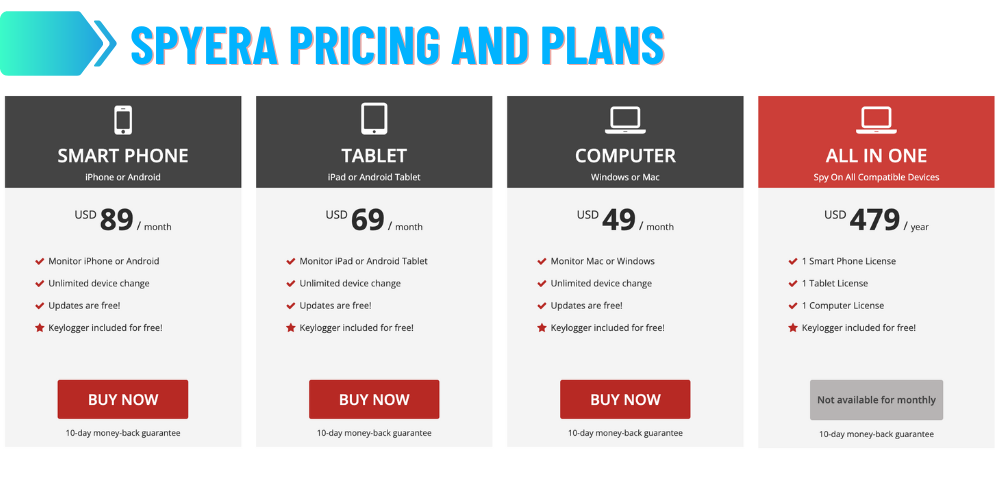 Spyera offers monthly and yearly subscription plans to access its powerful monitoring features:
The smartphone plan is the most popular since parents/employers are commonly tracking phones. But Spyera can monitor tablets, computers, and all devices under one annual "All Devices" plan.
While not cheap, Spyera offers extensive features even without rooting or jailbreaking needed. For serious monitoring requirements, the price may be justified.
❗ Key things to know:
No free trial, but a 10-day money-back guarantee
Free updates and support included
Unlimited device switching allowed
Optional add-ons like live chat support
Consider your budget and how many devices need monitoring. For wider needs, the annual plan offers better value than monthly purchases. But Spyera does come at a premium cost.
Comparing Spyera To Other Monitoring Apps
Spyera and mSpy are two of the most popular phone monitoring apps. Here's how they compare on key features:
Call Logging – Both record call history with numbers, names, dates, etc.
Text Messages – Both apps monitor SMS messages and popular messaging apps.
Keylogger – mSpy and Spyera have robust keystroke logging to capture messages and passwords.
Location Tracking – They offer real-time GPS location tracking. Spyera seemed faster at syncing locations in testing.
Call Recording – Spyera can record calls automatically while mSpy lacks call recording capabilities.
Camera Access – Spyera can secretly activate and record the camera. mSpy does not offer live camera access.
Social Media – Both offer monitoring of popular social media activity and messages.
Remote Control – Spyera allows more remote control features like wiping data or locking the device.
Pricing – mSpy starts at $29.99 per month while Spyera plans to start at $89 per month.
Overall, Spyera generally offers more advanced features, especially around call recording, camera access, ambient listening mode, and powerful remote control options. However, you'll pay a premium price for Spyera.
mSpy is more affordable but lacks some of the more sophisticated monitoring capabilities. Depending on your needs, both solutions have their advantages.
Conclusion – Is Spyera Worth It?
After extensively testing and reviewing Spyera, here is my final verdict on this leading spy app.
The Good
Packed with advanced monitoring features like live call recording, ambient listening, and camera access that unseen in other apps
Can record calls and ambient audio without rooting on Android
Powerful location tracking both real-time and via history timelines
Intuitive online dashboard neatly organizes monitored data for all devices
Capable of capturing virtually all device activity from calls to keystrokes
SMS commands allow control of the target device like wiping data or locking
Final Verdict
For those serious about complete mobile monitoring, Spyera is hard to beat. The advanced features allow unparalleled access to device activity, beyond what other apps provide. Just be prepared to pay a premium, especially for iOS tracking.
While the price is steep, you may get what you pay for given the sophisticated capabilities if you have high monitoring needs. But for basic tracking, cheaper solutions like mSpy get the job done.
In the end, Spyera offers the most powerful option for those requiring total device monitoring. Just understand the pricing, and device setup needs, and weigh your requirements.
👉 FAQ
Let me know if you have any other questions!