Need to Spy on an Employee's Phone? SpyPhoneMax Has All The Features You Need

Problem Employees: Hurting Your Business? – Spy Phone App gives you the power to get to the truth. Just Start Monitor Employee's Phone, PC or Tablet Right Now!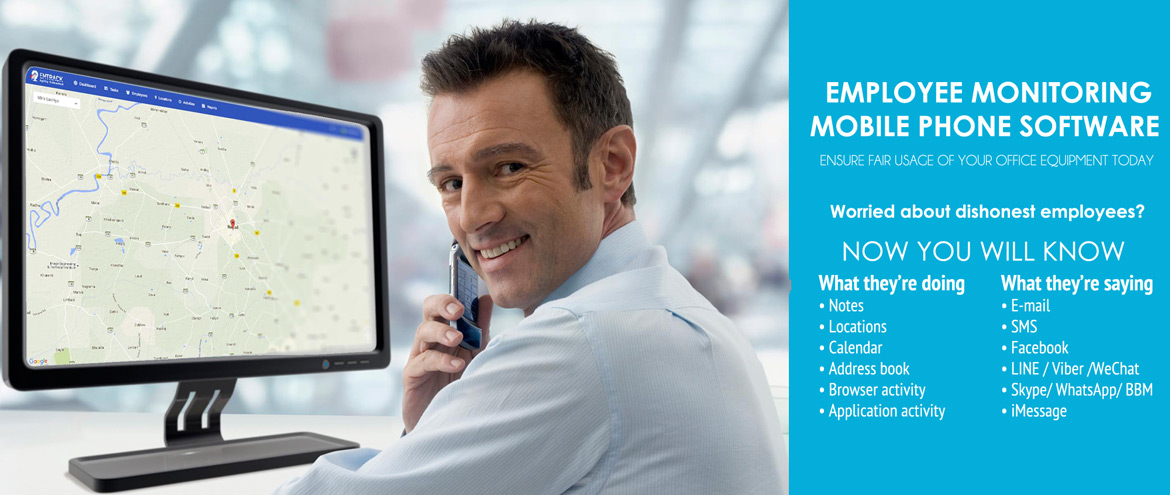 STOP BEING FOOLED: ENSURE REASONABLE USE OF YOUR WORKING ENVIRONMENT GEAR
Workers all over the world admit to using their official electronic equipment for a number of purposes they wouldn't like their supervisors to find out about. So why are you keeping mum? Take actions – start spying on them, right now!
Your business has employees and therefore you must keep in touch together, working out in the area. You provide them with business owned smartphones to ensure it is simpler for them to send manage projects, share files, e-mails and much more.
While your employees are supposed to perform only work endeavors, they could be wasting valuable company time surfing social networking sites (Facebook, Instagram, WhatsApp) or leaking sensitive business information. You require a way to protect your company from these tasks that can harm your business.
SpyPhoneMax employee monitoring software for mobile phones is the ideal way to protect your business. When our advanced application is installed onto the firm owned smartphone or PC, you can log all their activities: internet history, GPS locations, social media and text messages.

So improve your bottom line and protect your business with all the knowledge gained from an effective employee monitoring project. What you learn could well save you from loss and much hardship.
In case you are business owner, or an executive you are most likely already aware that handling your companies' cell phones is a genuine problem.
Companies increasingly rely on Employee Monitoring Software to help organize and manage outside employees, reduce cell phone use and/or personal computer, and finally foster functionality and overall profitability. SpyPhoneMax Employee Monitoring Tool provides both computer and cell phone monitoring abilities featuring the most sophisticated surveillance programs in the marketplace nowadays.
Our Monitoring Software is undetectable once installed and our cutting edge surveillance tools will secretly transmit the information that is captured straight to your user account for review.
SpyPhoneMax is actually the most comprehensive and cost-effective option for monitoring employees.
Track Activities on Cell Phones;
Monitor Activities on Computers;
Your Satisfaction is 100% Guaranteed;
Download, Install, and Collect Info in Just Minutes;
Completely Undetectable by the User;
Monitor Location of Cell Phones;
Monitor and Coordinate Outside Staff
Employee Monitoring Software helps businesses better track and coordinate their workers that are external to improve customer response times and operational efficiency. Moreover, private mobile phone use can be significantly reduced by our applications to track workers while enhancing compliance with procedures and company policies.

SpyPhoneMax is Easy and Efficient -to-Use
Employee Monitoring Software can be set up in just a couple of minutes. Once up and running, it is possible to immediately login to your user account to review the data via our User Friendly interface from anywhere on the planet with Internet access.
Significantly Reduce Private Usage of Cell Phones and Computers;
Increase Employee Conformity in Procedures and Company Policies;
Better Manage and Organize External Workers;
Substantially Enhance Worker Performance;
Installation Without The Help from the IT Department;
SpyPhoneMax can allow you to enforce business mobile usage policy is followed by workers. You will make sure your employees use company smartphones for business purpose. Monthly your company needs to pay many dollars for employee's cellphone use. You need to make sure your money not wasted for nothing.
If your workers actually venture out to attend conference with customer or just for personal reasons, you wonder. Are they using company vehicles for purpose that is appropriate? With Trace Mode feature and GPS tracking attribute, SpyPhoneMax can help you trace company's vehicles, transport employees to anywhere on the planet.
SpyPhoneMax can assist you in making sure they arrive to target place security and on time. Running silently on target cellphone, SpyPhoneMax allow you to keep track all SMS, Calls, GPS location and browser history of the objective phone. All the truth will be known by you.
Corporate Cellular Phone Management Tools
Monitor mobile phone usage in your organization;
Track PC and phone data of your targets;
Track your work force;
Have signs for legal dilemma and customer relationship;
SPYPHONEMAX cellphone management software empowers one to control, screen, & track your organization irrespective of supplier or platform for most of the cellphones.
With SPYPHONEMAX you can:
Track cell phone use in your organization with all the granularity you'll need.Backup & log all mobile phone data streams to your protected account;
Protect corporate data from falling into your competitors;
Initialize GPS tracking of your mobile workforce;
Track cell phone inventories effectively;
SPYPHONEMAX is an entire mobile direction toolkit that assists you in logging, backing-up, & monitoring all the data created via your organization's mobile phones:
Places (via GPS along with network cell ID)
Calls
Internet traffic
SMS
Chats
Address book entries
SIM-card changes
Emails
Corporate Phone Management Tool You Can Depend On!
If you are an executive or company owner then you definitely are already aware that managing the cell phones of your business's is a real aggravation.
Although employee privacy is to be honored, ultimately, the smartphone device is corporate property, used as a member of your business – and you're officially accountable for knowing what is going on.
There's absolutely no device management application that may inform you this, and that's the reason why you want SpyPhoneMax.
Unlike a management tool, SpyPhoneMax will enable you to monitor and archive all communications, locations and program actions that happen on your target tablets or mobile phones.
For example, you can read instant messages and posts from Facebook, Skype, LINE, SMS email. Understand where all of your devices are by tracking and requesting their GPS locations.
Find out what web sites your employee are seeing. See program tasks, and restrict programs that are authorized. Know when SIM cards are changed, what forbidden keywords your employees use.
The most complex variants of SpyPhoneMax can even listen to live phone conversations and record them, making it great for customer service. With over 50 more special monitoring possibilities are offered by features than every other spy phone monitoring product.