Hello, dear readers! 🙌 Today, I am diving deep into the world of spy apps, and I'm sharing my firsthand experience with CheckPeople.com. This isn't just another review, it's a detailed walkthrough of my journey, discoveries, and overall impressions. So buckle up, tech enthusiasts! 💼
Quick Summary
CheckPeople.com is a user-friendly online search engine that allows users to access detailed personal information through various search parameters, emphasizing user experience and offering several pricing options.
✅ CheckPeople.com is an online platform for accessing detailed information about individuals using names or phone numbers.
✅ The platform offers versatile search options like Phone Lookup, Background Check, Arrest Record, and Address Lookup.
✅ Uses for the service range from ensuring personal safety to reconnecting with old acquaintances and satisfying general curiosity.
✅ The platform boasts features like fast results, in-depth data retrieval, an intuitive interface, and privacy-preserving searches.
✅ Main areas for improvement include expanding its global reach and providing clearer subscription details.
✅ Both name-based and phone number-based searches are supported, each with an easy-to-follow process and detailed results.
✅ Pricing varies from a $1 trial offer, standard monthly memberships, two-month packages, budget plans, and individual report access, ensuring flexibility for users.
📌 Quick Overview
In the digital age, the ability to quickly and accurately find information about individuals has become not just a convenience, but in some cases, a necessity. Whether it's verifying the background of a potential roommate or rekindling an old romance, online people search engines have paved the way. Amongst the myriad of platforms out there, CheckPeople has emerged as a name of interest. But what is CheckPeople, and is it the real deal or just another online gimmick? Let's dive in!
What is CheckPeople? 🕵️‍♂️
CheckPeople is an online search engine tailored for one specific purpose: helping you discover information about individuals using just their names or phone numbers. It acts as a digital directory, pulling data from various sources to give you comprehensive insights about a person.
At its core, CheckPeople.com is a well-designed website that doesn't bombard users with unnecessary clutter. Its user-friendly layout is a testament to how user experience should be at the forefront of any digital platform.
How It Works: Imagine you're curious about an old friend. You'd simply input their first and last name into the designated search bar. For narrowing down the results in case of common names or to get more precise data, you can add the city and state they might be residing in. With just a few clicks, the information will be at your fingertips, from their location and email to any potential criminal records they might have.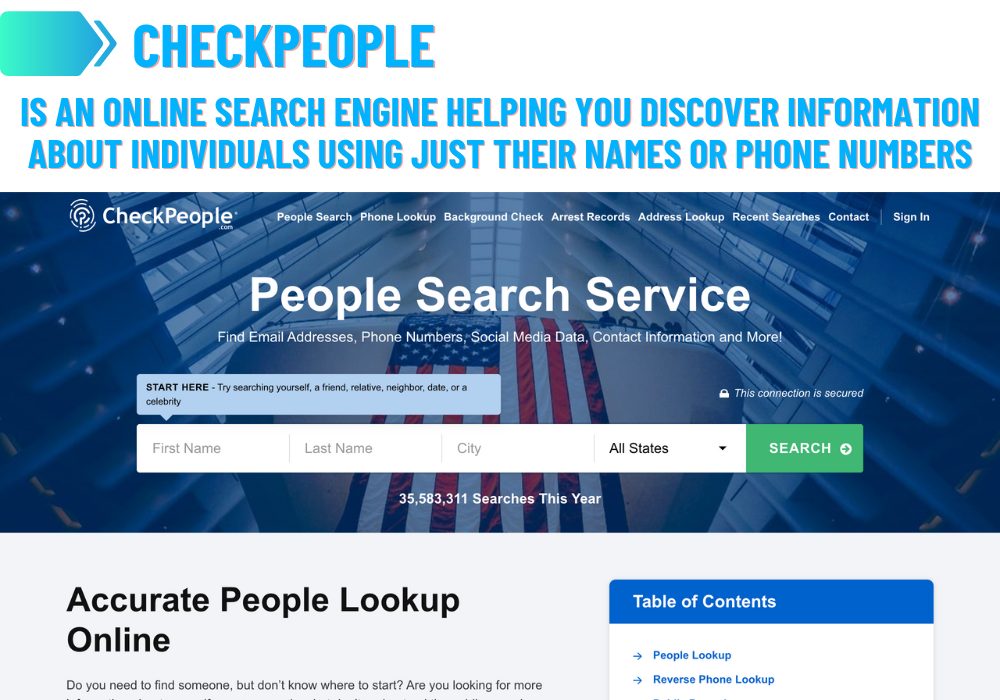 Versatile Search Options: More Than Just Names 📇
One of the standout features of CheckPeople is the sheer variety of search parameters it offers. You're not just limited to search by names. Here's a brief overview of the types of searches you can initiate:
Search People: The primary search option is where you enter the name and potentially the city or state.
Phone Lookup: Ever got a call from an unknown number and wondered who it might be? Just type in the mysterious number and unveil the caller's identity, address, and even more.
Background Check: Dive deeper into someone's history, perfect for more comprehensive insights.
Arrest Record: Specifically check if someone has had brushes with the law.
Address Lookup: Perhaps you have an address but want to know more about its residence or its history. This is the option for you.
Apart from the Phone Lookup, the common thread across these searches is the name of the individual. It's the key that unlocks a treasure trove of information.
Why Might You Need a People Search Engine? 🤔
There are numerous scenarios in which you might find yourself needing the services of a tool like CheckPeople:
Safety First: Whether it's vetting a blind date or a new neighbor, knowing about any potential criminal records can offer peace of mind.
Reconnecting: If you've ever wanted to reunite with a college buddy or track down a long-lost love, a people search engine might be the key to unlocking that past connection.
General Curiosity: Sometimes, we just want to know more about the people around us, be it for personal or professional reasons.
🚀 Features That Made Me Go WOW!:
Instantaneous Results: We live in the age of immediacy, and CheckPeople delivers. My searches came back faster than I expected.
In-depth Information: This isn't just a name or number. CheckPeople digs deep, offering everything from criminal records to previous addresses.
User-Friendly Interface: You don't need to be a techie to navigate this site. Simple, intuitive, and clean.
Privacy-Preserving: You can search discreetly. No one is notified of your searches, so your privacy is maintained. 🤐
🎯 Ease of Use:
One of the first things I noticed is the streamlined user interface. It's as easy as inputting a name or a phone number, hitting 'search', and voila! CheckPeople does the rest. The results? Clear, concise, and organized in a way that even the least tech-savvy among us can understand.
🤔 What Could Be Better:
While I'm largely impressed, no review is complete without some constructive feedback.
More Global Reach: Currently, CheckPeople seems to focus primarily on U.S. records. A more global scope could be a welcome addition for international users.
Clearer Subscription Details: It would be great to have a clearer breakdown of what each subscription tier offers.
How to Use CheckPeople.com for Person Searches 🔍
Navigating CheckPeople.com can be a breeze. For those new to the platform, there are two main ways to search: by name and by phone number. To ensure you get the most out of it, I've delved deep into its features and have prepared a comprehensive guide for you!
1. Searching by Name 🧑
If you're curious about someone's background, CheckPeople is the platform to resort to. Here's how to utilize its primary search function:
Initiate Your Search: Visit the CheckPeople homepage. Key in the individual's full name. If you have additional information like their city or state, add those in; it'll refine your search.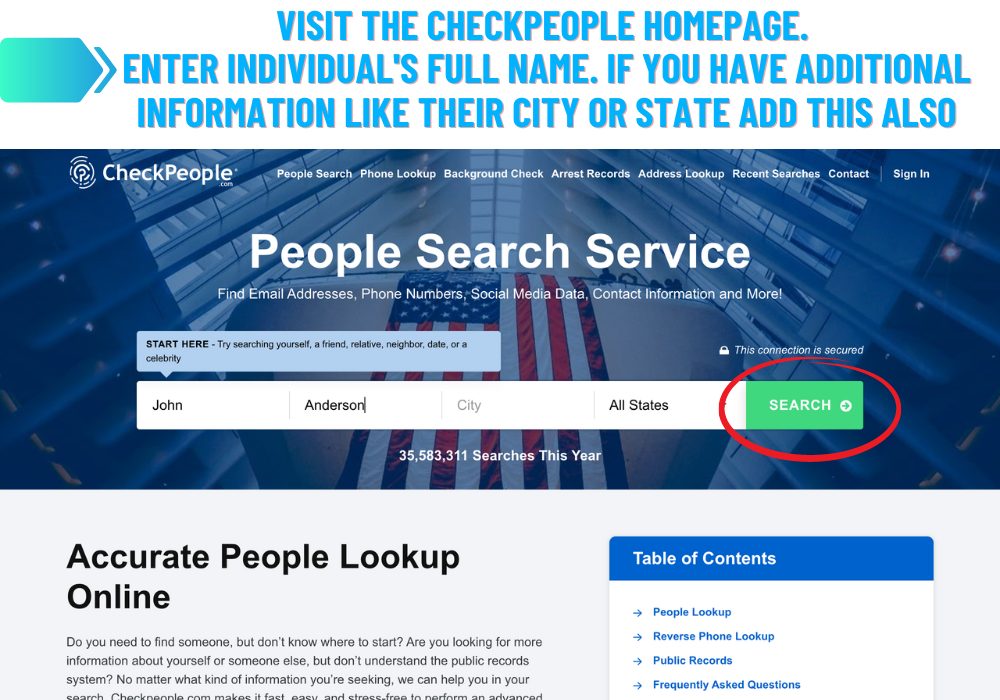 Gathering Information: Your inquiry will prompt the system to scan various public databases, from state to federal sources, ensuring a detailed output.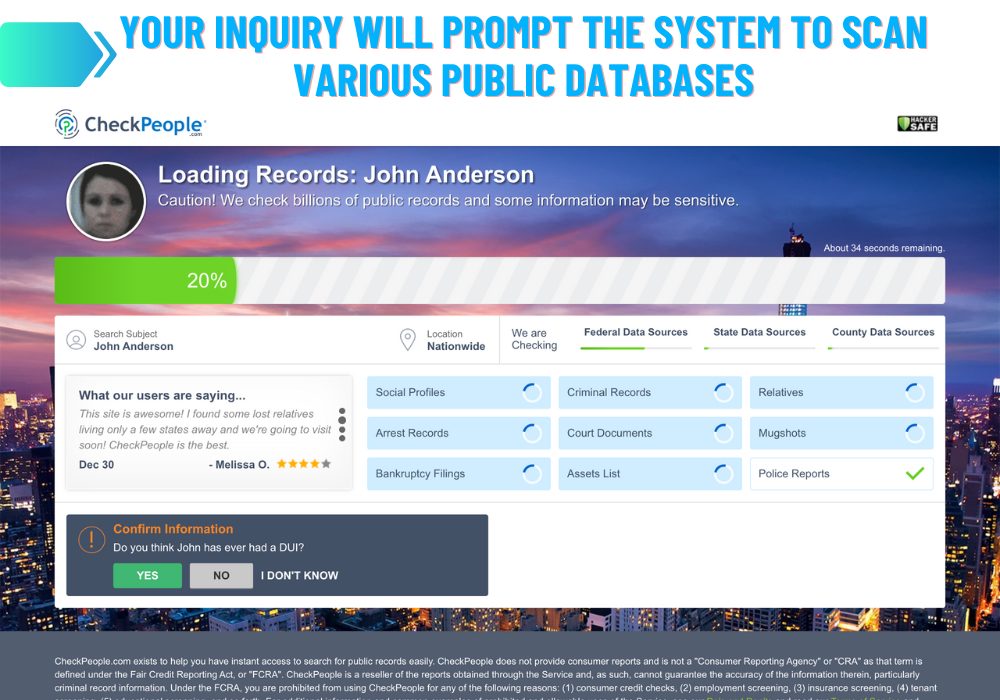 Review Your Findings: Based on the details provided, you'll be presented with a list of potential matches, complete with relevant data like age, city, and even relative connections.
Deeper Insights: Found the person you were looking for? Click on their profile for an in-depth view. This will pull data from different social platforms, offering a fuller picture.
Family Connections: You'll be provided with a list of potential relatives. If this interests you, simply select those you want to be included in your final report.
Legal Encounters: Here, CheckPeople does a deep dive, exploring local police records and court documents to determine if the person has had any legal issues.
Acknowledging Terms: Before delving deeper, you'll be prompted to acknowledge CheckPeople's terms and conditions.
A Glimpse of the Report: Up next, you'll be shown a brief overview of the data collated. To delve deeper, you'll need to proceed to the full report.
Your Details: To tailor the experience, CheckPeople might prompt you for some personal information. Fill it in to move forward.
Your Comprehensive Report: Your gathered data will now be formatted into a neat, comprehensive report. To view it, a simple confirmation is required.
Bonus Tip: Securing a report also enrolls you for future notifications. If the individual updates their online profile or has legal issues, you'll be the first to know!
2. Phone Number-Based Searches 📱
For those mysterious numbers or to ensure a caller's authenticity, CheckPeople's reverse phone lookup is your tool.
Start Your Inquiry: Locate the "Phone Lookup" feature on the main page. Input the number you're curious about and set the system in motion.
Unraveling the Mystery: After a brief wait, the system will unearth details associated with the number.
Accessing the Data: With the search complete, you'll get a preview of the associated individual's details. For a more comprehensive view, simply access the full report.
Detailed Insights: If you're subscribed to CheckPeople's premium offerings, the entire report will be instantly accessible. Otherwise, a nominal fee unlocks this data for you.
In conclusion, whether you're conducting a name-based search or investigating a number, CheckPeople offers a streamlined, user-friendly experience. Dive in and explore!
Pricing Options for CheckPeople.com 💰
This is a big factor for many, and I was pleasantly surprised. CheckPeople offers a free initial search, allowing users to dip their toes in without committing. However, for the deep dives and unlimited searches, there's a fee involved. I found the pricing reasonable, especially for the depth and breadth of information provided.
Navigating through the maze of online search tools can sometimes hit your pocket harder than expected. But with CheckPeople, clarity is the name of the game! Here's a breakdown of their pricing structure so you can pick what best fits your needs and budget:
1. The Trial Offer 💼
Cost: Just $1 to kickstart your experience.
Duration: Lasts for 5 days.
Flexibility: If you feel it's not the right fit, you're free to cancel at any time within those 5 days.
Post-Trial: If you're impressed and choose to continue post-trial, the rate settles at $44.85/month.
2. Standard Monthly Membership 📅
Cost: Flat rate of $27.65/month.
Features: Like the trial, this plan offers unlimited features, ensuring you extract maximum value from your investment.
3. Two-Month Value Package 🗓️
Cost: At $22.97/month, it's a sweet spot for those wanting a longer commitment with a bit of savings.
Duration: Lasts for two months.
Unlimited Access: Despite its discounted rate, you're not skimping on features. Everything is at your fingertips.
4. Power Plan for the Budget-Conscious 🔌
Cost: At a more affordable $17.16/month.
Features: While it comes at a lesser price, note that this plan offers limited features. It's designed for those who might not need all the bells and whistles.
5. Individual Report Access 📄
Cost: For a detailed report on a specific individual, you pay only $4.95.
Best For Those who have a one-off need and are not looking for recurring searches.
In wrapping up, CheckPeople.com strives to provide flexible pricing options for various needs. Whether you're in for a trial, seeking monthly access, or need a one-time report, there's something for everyone! Choose wisely and happy searching! 👀🔍
👉 Frequently Asked Questions (FAQs) 🤔
We hope these FAQs provided clarity on CheckPeople and its offerings! If you have more questions, always refer back to the main content or visit CheckPeople's official website or ask me in the comments below! 👍🌐
🌟 Final Verdict
CheckPeople.com provides an impressive, easy-to-use platform for those seeking in-depth personal information. Its emphasis on user privacy, combined with comprehensive results, makes it a top contender in the world of spy apps. For those needing quick, reliable, and detailed background checks, I'd confidently recommend giving CheckPeople a whirl.
What particularly stands out about CheckPeople is its unwavering commitment to user confidentiality. In an era where data breaches are, unfortunately, all too common, the peace of mind offered by the platform's security measures is genuinely invaluable.
Moreover, in comparison to other spy apps and people lookup tools, CheckPeople balances a rare combination of depth in reporting with ease of use. Whether you're reconnecting with an old friend or ensuring the safety of your surroundings, CheckPeople ensures you have all the information you need, presented in an easy-to-understand manner.
In conclusion, for anyone on the fence about which tool to use for thorough background checks or people searches, CheckPeople.com is undoubtedly worth a shot. It's a platform that doesn't just promise, but delivers, ensuring every penny spent is worth the value derived. Dive in, explore, and always remember to use the tool responsibly. After all, with great power comes great responsibility! 😉