Have you ever wondered what your kids or spouse are typing on their iPhone? Do you want to discreetly monitor their texts and track their keystrokes? Keyloggers for iPhone can give you the answers.
As an iPhone user myself, I recently tested out the keyloggers for iOS devices to find which one is the best. In this review article, I'll share my experiences and help you decide which iPhone keylogger is right for your needs.
What's a Keylogger?
For those unfamiliar, a keylogger is a savvy tool that captures every keystroke made on the target device, sending it remotely to you. Imagine being able to see every single word typed on an iPhone, without the device owner having a clue.
Do Keyloggers for iPhone Actually Work?
I know what you may be thinking – there's no way keyloggers can work on iPhone right? After all, Apple is known for its tight security.
Well, I'm here to tell you keyloggers for iOS devices are 100% possible – but only if you jailbreak the iPhone first.
🛑 Any app that claims to log keystrokes on a non-jailbroken iPhone is a scam! Avoid those at all costs.
Jailbreaking gives you root access to install apps that can record keystrokes, messages, websites visited, and more. The keylogger then saves the logs which you can view through the app's online dashboard.
How Do Keyloggers for iPhone Work?
First things first – keyloggers for non-jailbroken iPhones simply do not work. To use a keylogger on an iPhone, you generally need a jailbroken device. All those whispers you hear about non-jailbreak solutions via iCloud? Any app that claims otherwise is a scam. Apple doesn't store keylogger data on iCloud. Such claims are usually baits to snag your cash for useless software. 💸
The only way to monitor keystrokes on an iPhone is by:
Jailbreaking the device
Installing a keylogging app with jailbreak support
This allows the app to record all keystrokes, texts, websites visited, and more. The logs are then accessible through the app's online dashboard.
Before jumping into the top iPhone keylogger, let's quickly understand the mechanics.
Installation: The initial step involves installing the software on the target iPhone.
Data Logging: Once activated, the keylogger starts recording every keystroke on the device.
Transmission: This data is then sent to a remote server or directly to you.
Review: You can access and review this data through a dedicated dashboard.
Best iPhone Keyloggers
#3 mSpy
mSpy offers robust keylogging along with tons of other monitoring features. Their dashboard is easy to navigate. I found mSpy to be reliable and accurate in its logging. mSpy offers the best overall keylogging solution for iPhones. Here's a deeper look at what makes it great:
Easy and Undetectable. Now it's easier than ever to find out what they typed on their iPhone. The iPhone keylogger from mSpy works in hidden mode, so they won't know you're keeping tabs on them.
Simple Viewing. You'll find a dedicated Keylogger section on the left nav of the mSpy dashboard. Just click it to see everything the keylogger captured.
Quick and Easy Setup. With simple, detailed instructions, it's never been easier to get a keylogger onto an iPhone. mSpy has tailored install guides for iOS to walk you through the process seamlessly.
In-Depth Logging. The mSpy keylogger captures date and time information and shows you the app in which each keystroke appears that in. You get rich details about the typing activity.
Reliable Support. mSpy works just as you'd expect it to. But if you ever need help, their customer support is available 24/7 via call or chat.
Secure and Private. mSpy cares about your privacy, so they always keep your details secure and private. You can have peace of mind that your data is safe.
The Best Choice. There are many keylogger apps available for iPhone, but mSpy stands apart from the competition. It's a powerful yet easy-to-use solution from a trusted company. If you're choosing the best keylogger for iPhone, mSpy is definitely the way to go.
Why Choose mSpy?
Stealth Mode Operation: Say goodbye to being caught! mSpy operates in an ultra-hidden mode, ensuring the target user remains oblivious. 🕵️‍♂️
Instant Access with One-click Viewing: Navigate to the dedicated Keylogger option on the left of the Control Panel. A single click reveals all typed content.
Detailed Captures: Each keystroke is accompanied by a timestamp and the specific app it was typed in.
Round-the-clock Support: Any hiccups? The mSpy support team is at your service 24/7 via call or chat. 📞💬
Data Privacy is Paramount: With mSpy, your details remain under the tightest security. Always.
Safety: With a robust framework, mSpy ensures the user's device remains uncompromised.
Reputation: Coming from a reputable manufacturer, this app's credibility remains unquestioned.
Simplicity: Navigating the app is as intuitive as breathing.
Getting Started with mSpy
Choosing mSpy as your go-to keylogger for iPhone here's a swift walkthrough on setting it up: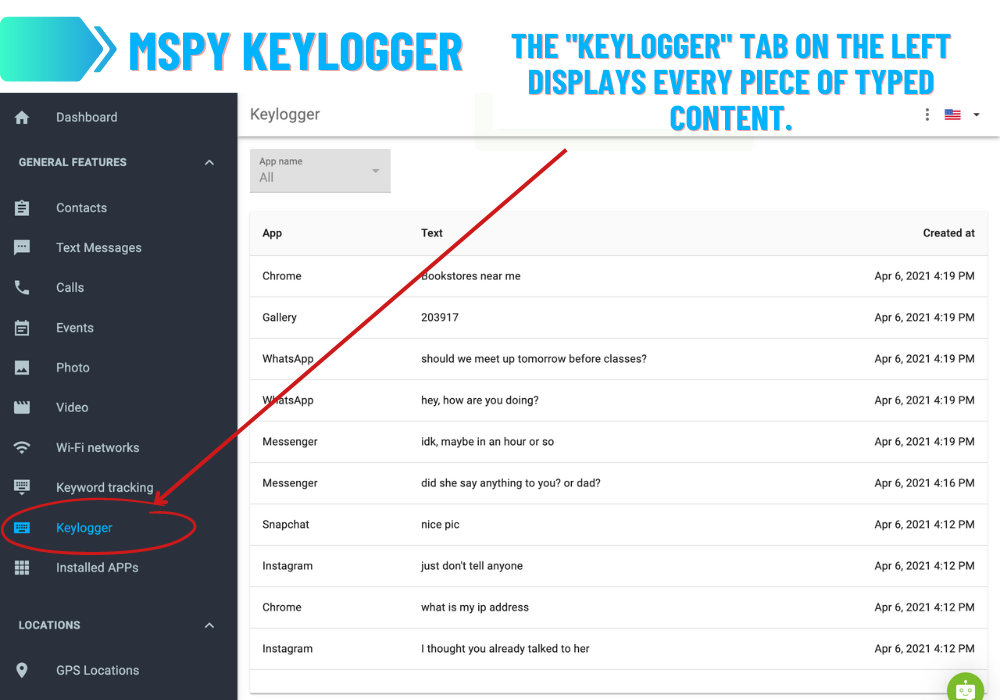 Subscription: Initiate your journey with a subscription purchase.
Email Confirmation: Post-purchase, expect an email from mSpy. This will include your unique login credentials and installation instructions tailored for iPhones. No more wading through Android guides; only iPhone-specific steps! 🍏
Installation: Once mSpy graces the target iPhone, its magic starts. Every keystroke made on the device will journey to your Control Panel.
Review: Access your Control Panel from any device. The "Keylogger" tab on the left displays every piece of typed content. Organized by apps, reviewing data is as seamless as scrolling through a well-organized library.
#2 Eyezy
If you want robust monitoring beyond just keylogging, Eyezy is an excellent iPhone spy app choice.
What Makes Eyezy Special?
How to Start Using Eyezy:
Choose a Membership: Eyezy has different plans. Pick the one you like, set up your account, and you're ready to go.
Install the App: Use Eyezy's Installer to put the app on the iPhone. If you run into problems, their support team is available 24/7.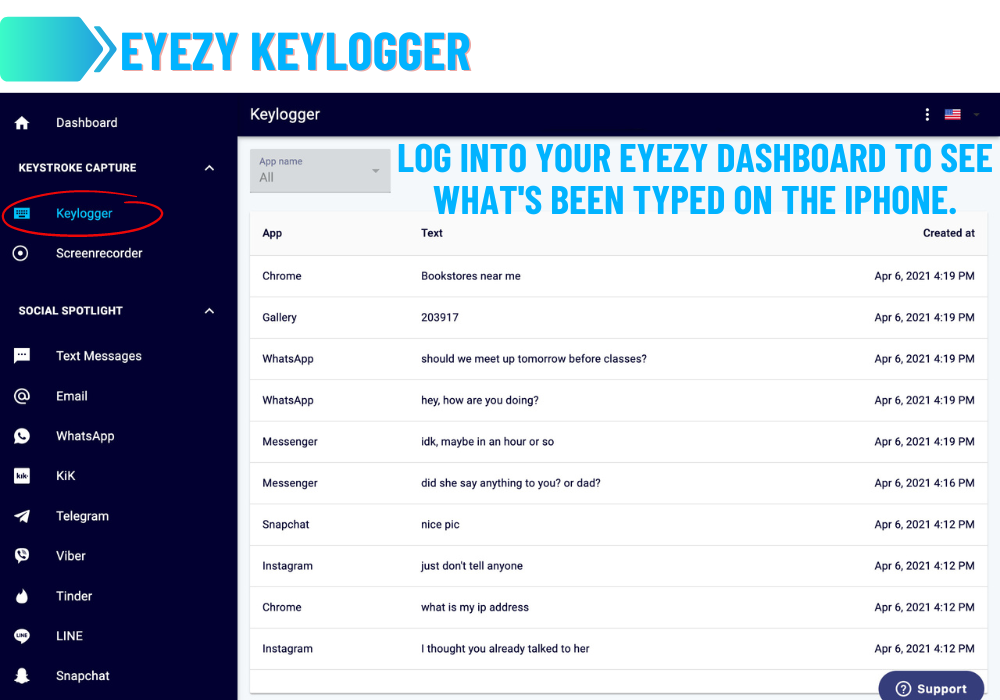 Before using Eyezy or any other iPhone keylogger, ensure your phone is compatible.
Jailbreaking: You have to jailbreak the iPhone before using a keylogger like Eyezy. If you're not sure how to do this, there are many online guides. And if you still need help, the company that makes the app can assist.
After jailbreaking the iPhone, you can buy and install a keylogger. Apps like Eyezy come with their keylogger built in.
Once you have the app on the iPhone, go to the Control Panel to see what's been typed. It's straightforward: login, click on the keylogger section, and you'll see all the data. This gives you a better understanding of what's happening on the iPhone.
Important Note: While most iPhone keyloggers need the phone to be jailbroken, apps like Eyezy have some features that work without jailbreaking. So even if you don't jailbreak the iPhone, you can still use some of Eyezy's tools.
#3 FlexiSPY
FlexiSPY has every feature you could ask for, including keystroke logging. However, their dashboard is outdated and confusing to use. But it's a powerful tool if you learn your way around it.
FlexiSPY's Keylogger feature is a powerful tool that enables you to discreetly monitor what's being typed on any application on a target iPhone. Whether you're worried about your children's safety or need to monitor your employees, FlexiSPY has you covered. The app keeps a complete record of all keystrokes, providing you with alerts for specific keywords that may indicate potential issues.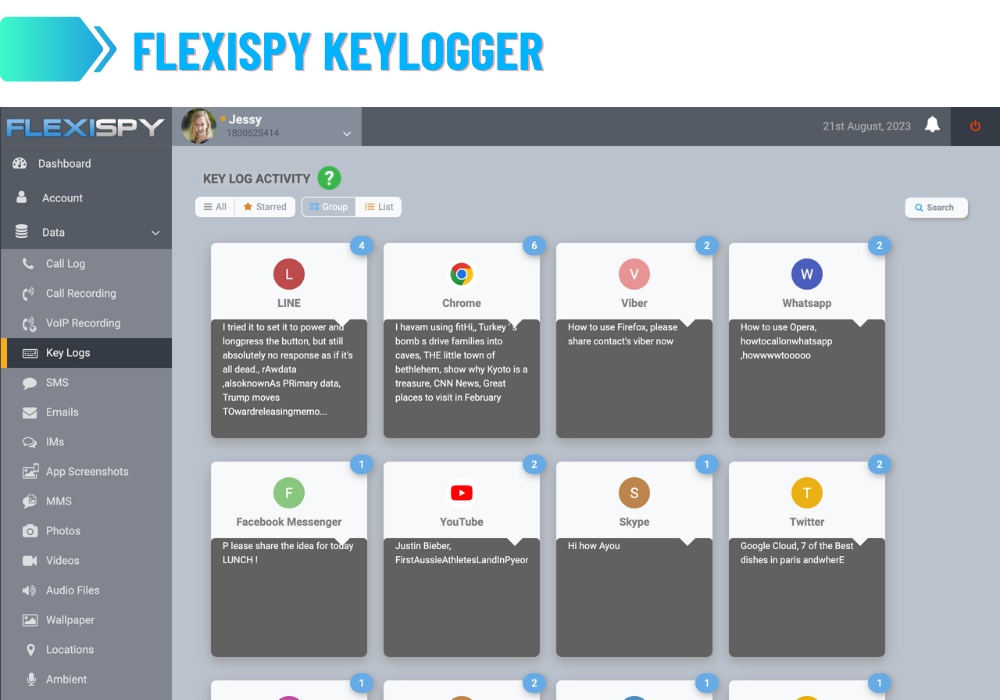 Key Features:
Comprehensive Keystroke Recording: FlexiSPY logs all the keystrokes on specified apps. You can easily view this encrypted data on your portal.
Application Details: You can see which apps the keystrokes were made in.
Timestamps: Every recorded keystroke comes with its date and time.
Keyword Alerts: Set up specific word alerts and get notifications when those words are typed.
Diverse Use Cases: Monitor your children's online searches, see if your employees are productive, or get insights into your personal typing habits.
Setting Up FlexiSPY:
License Purchase: Buy a FlexiSPY license suitable for the target phone.
Device Activation: Install and activate FlexiSPY on the target phone.
Data Collection: The app will start recording calls, texts, contacts, and more.
Server Upload: All this data is sent to your secure account.
Reviewing Data: Log in to view the collected data whenever you wish.
While our focus is on the keylogger, FlexiSPY is a robust app that can also monitor calls, texts, photos, locations, and even web history on the target device. You can discreetly access data and even download call recordings or take photos using the target phone's front camera.
Keyword Alerts:
This feature is especially handy for parents or employers. By setting up keyword alerts like "skip class" or "confidential," you get notified when those words are used. This helps you stay on top of potential issues or violations.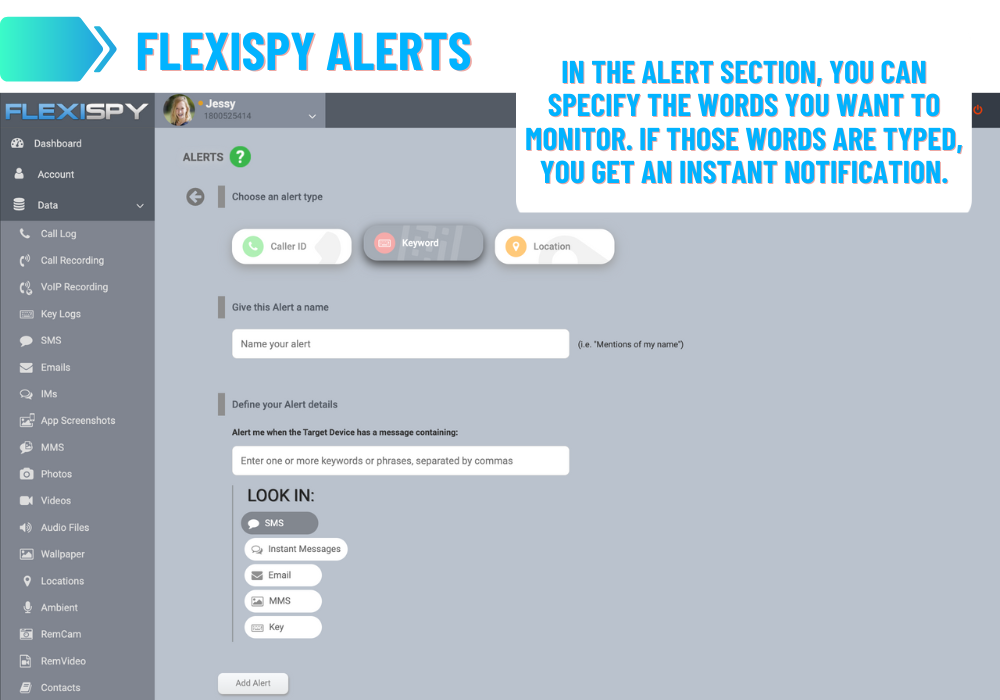 Creating alerts is straightforward. In the Alert section, you can specify the words you want to monitor. If those words are typed, you get an instant notification.
Other Spy Apps with Keylogger Feature
There are several other apps on the market beyond mSpy, FlexiSPY, and Eyezy that offer keylogging capabilities. However, many of these other options only support keystroke logging on Android devices. For example, uMobix, Spyic, and Cocospy have keylogger features for Android phones but not yet for iOS. When evaluating an iPhone keylogger, it's important to double-check that it supports jailbroken iOS devices before purchasing. The options covered in this article have proven iOS keylogging support and user-friendly interfaces. But new apps are emerging all the time, so always do your homework before deciding on the best keylogger for your iPhone needs.
And the Winner Is…👑
After installing all 3 apps on an old iPhone I had to lie around, I have to declare mSpy as the BEST keylogger for iOS devices.
Here's a recap of what makes mSpy my #1 choice:
🗝 Jailbreak solution for robust keystroke logging
🕵️ Easy to view logs in the dashboard
📲 Works perfectly in hidden mode
🔐 Encrypted data and protection
🆓 Amazing 24/7 customer support
For powerful yet user-friendly monitoring and keylogging, mSpy can't be beaten! 🏆
I hope this review helps you decide which iOS keylogger is best for your needs. Let me know if you have any other questions! I'm happy to help.
👉 FAQ
I hope these answers help summarize the key facts about using a keylogger on iPhone. Let me know if you have any other questions!