Have you ever wanted to monitor your child's phone activity or catch a cheating spouse? Spy apps can help, but installing them is tricky. After testing many options, I found the easiest spy apps to install on Android and iPhone. Keep reading for my top picks!
Quick Summary
✅ Installing spy apps is difficult, and requires physical device access, but mSpy, FlexiSPY, uMobix, SpyBubble Pro, and Glassagram simplify the process with automatic or quick manual setup. These top options enable powerful monitoring features with easy and discreet installation.
✅ They enable powerful monitoring features including location tracking, keylogging, remote camera access, call and message monitoring, and focused Instagram tracking
✅ We explain the challenges of spy app installs and why easy setup is important
✅ Tips are provided for effortless installation of each recommended app
✅ An overview of key capabilities is included for each top-pick
Why Is Installing Spy Apps Difficult?
To properly monitor someone, spy apps need extensive permissions and access to the target phone. You usually need:
Physical Access: For starters, you need the person's phone to install the app. Most people don't let their phones out of sight!
Permissions: After you get the phone, you have to give the app a lot of permissions. If you forget even one, the app might not work.
Time: You don't have long before the person might want their phone back. So, the app has to be installed fast.
People are glued to their phones nowadays! So getting access without them noticing is hard. And if the target catches you during installation, your cover is blown.
The best spy apps have an automatic installation process to enable permissions and ensure proper monitoring. This saves time and avoids detection.
Easy Spy Apps to Install 🚀
After testing many options, these apps stood out for effortless phone installation:
#1 mSpy
mSpy is my top recommendation for easy and quick spy app installation. It has an automatic Android process that sets up the app in under 5 minutes.t
Purchase mSpy Subscription: Begin by getting a subscription plan that best fits your needs.
Disable Play Protect: On the target Android device, turn off the Play Protect feature to ensure mSpy can be installed without any hitches.
Download mSpy Installer: Use the link provided after purchase to download the installer.
Install mSpy: Follow the step-by-step instructions on your screen to complete the installation.
Start Monitoring: Once installed, you can begin tracking and monitoring the target device.
Key Features of mSpy 🔍
With mSpy, monitoring becomes easy and efficient. Here are its standout features:
📱 Social Media Monitoring: Peek into private social media chats. Read messages from various apps, even the lesser-known ones.
🌐 Online Activity Management: Control what the user sees and interacts with online. Block websites or apps that may be harmful.
📩 Texts & Emails Access: View all messages, whether they're SMS, iMessages, emails, or Google Hangouts chats.
📞 Call & Meeting Tracking: Find out who the user is talking to and any potential secret plans they might have.
📍 Location Tracking: Know where the user is in real-time, removing all guesswork.
💾 Access to Phone Storage: See photos, videos, and apps on the user's phone to get a full picture of their stored content.
⌨️ Keystrokes Recording: With a keylogger, see everything typed on the device. A Screenrecorder gives even more detail about activities.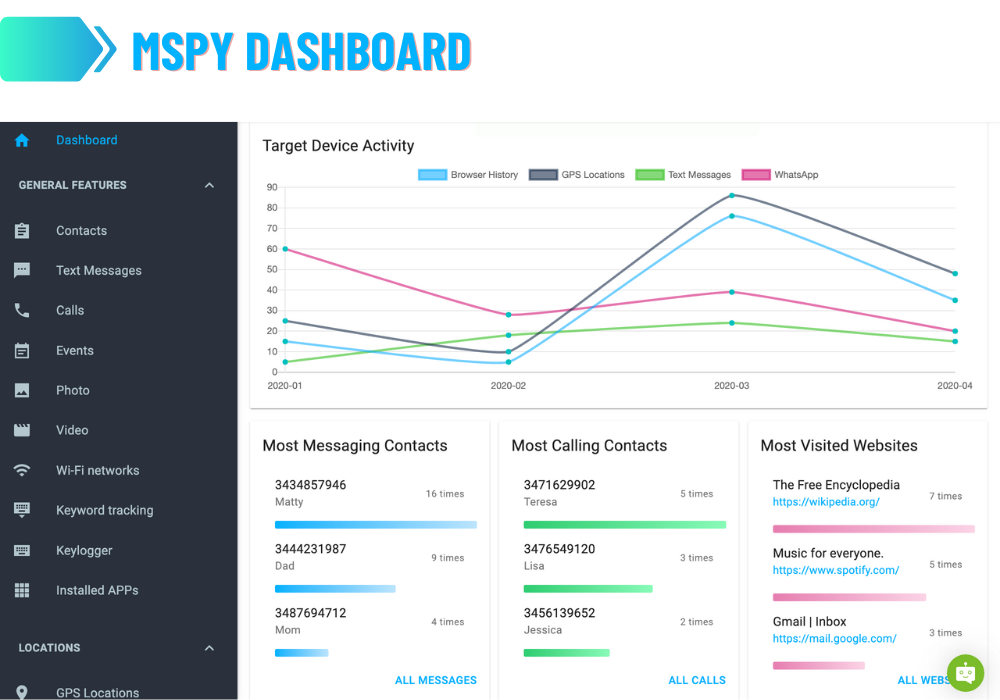 I found mSpy to be the most comprehensive yet easy to install spy app option. It enables complete monitoring and tracks virtually all activity on the target device.
If you're looking to delve deeper into mSpy's capabilities and setup, these articles can be incredibly helpful:
Check out these helpful guides to learn more about using
mSpy
:
#2 uMobix
nother great option for effortless spy app installation is uMobix. This app offers both automatic and manual setup, so you can choose which method you prefer.
The manual installation takes around 5-7 minutes, while the automatic setup completes in just 2 minutes. uMobix also hides its own app icon, so no need to conceal it yourself.
Once installed, uMobix enables powerful monitoring capabilities:
Track GPS location and set up geo-fencing alerts
View text messages and call logs
Record phone surroundings with the microphone
Log every keystroke typed on the target device
Remotely access the camera to capture photos
Monitor social media chats and activities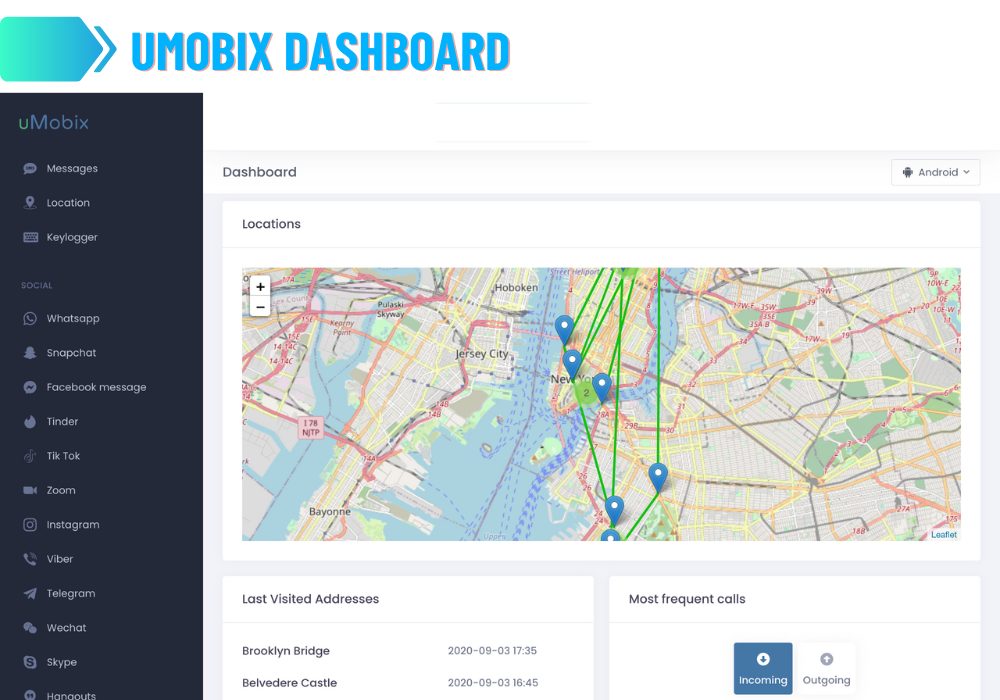 With advanced features like live camera access, keystroke logging, and audio recording, uMobix provides comprehensive monitoring. And the app excels in easy installation, whether you choose the swift automatic setup or opt for manual installation. For one of the best user-friendly spy apps, uMobix is one of the top choice to consider. Check our uMobix Review.
#3 FlexiSPY
FlexiSPY is another spy app that simplifies installation with an automatic process that sets itself up in under 2 minutes.
How to Install FlexiSPY:
Use Your Dashboard: Check your email for login information. Log in to your online account and follow the installation steps.
Set Up Your Phone: Follow steps to allow 'unknown sources' and turn off 'Play Protect'.
Start Installation: Use the link they give you to download FlexiSPY on the target phone.
Turn On FlexiSPY: After you install, put in your activation code. Decide if you want the app to show or be hidden.
Finish: Go back to your online account to see the phone's information.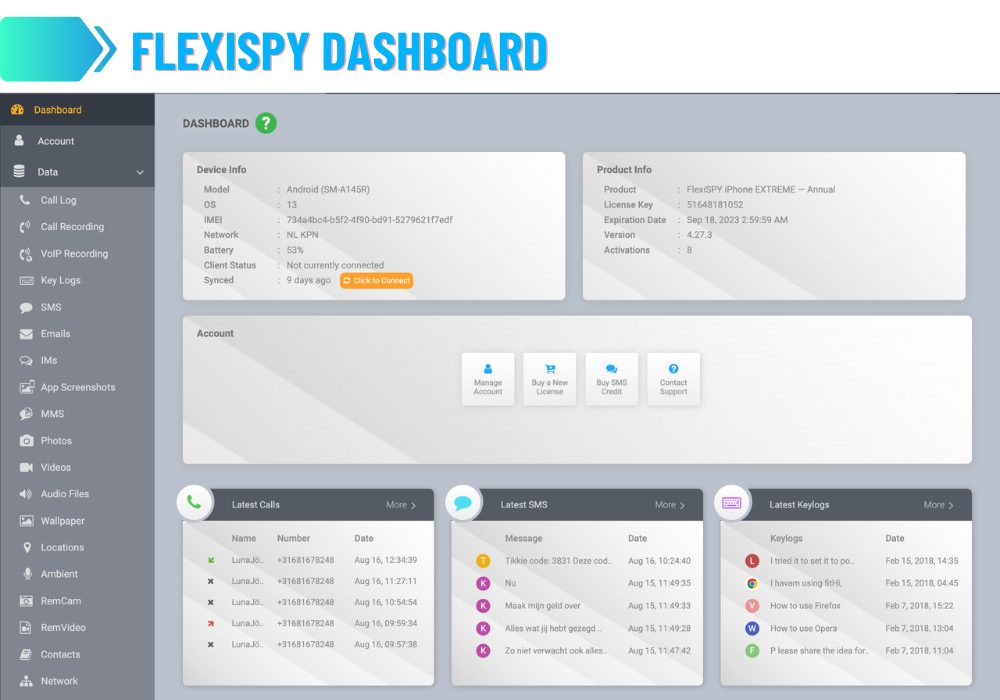 FlexiSPY allows you to record and save all phone calls, both incoming and outgoing. You can listen to live phone calls, record calls from apps like WhatsApp and Skype, and monitor chats across various messaging platforms. The app also offers the capability to hear the environment around the phone, remotely activate its camera for pictures and videos, and track its location. You can view web browsing history, saved pictures, events, and even see what apps are installed. Additionally, FlexiSPY operates in a hidden mode, offers remote control options, and can be renewed as needed.
With powerful features like live call listening, remote camera access, and robust social media monitoring, FlexiSPY provides an unparalleled level of phone surveillance. And the automated installation makes setup a breeze. For a deeper dive, consider reading the full FlexiSPY Review.
#4 SpyBubble Pro
SpyBubble Pro is another great spy app option that offers both automatic and manual installation.
The manual setup takes just 2 minutes of physical access to the target Android phone. This makes SpyBubble Pro the perfect choice if you want to discreetly monitor a cheating spouse.
Key features:
Powerful keylogger logs every keystroke typed on the device
Track GPS location and set up geo-fencing alerts
View text messages, call logs, browser history, and more
Remotely capture photos using the device's camera
Monitor popular social media platforms and chat apps
Does not impact device performance or drain battery
With quick access installation and top-notch features like robust keylogging, SpyBubble Pro enables you to secretly read your partner's texts and track their location without detection. It's a great pick for catching a cheating spouse red-handed.
#5 Glassagram
If you mainly want to monitor someone's Instagram activity, Glassagram is an easy to use option. This app is designed specifically for Instagram monitoring.
While Glassagram doesn't have robust features like location tracking or keylogging, it excels at keeping tabs on an Instagram account.
Key capabilities:
View all photos and stories posted by the target user
Download and save all Instagram stories anonymously
Track followers, likes, comments, captions, and more
Monitor direct messages and new friend requests
Discreet monitoring with only screenshots
The easy installation takes just a few minutes. This makes Glassagram the perfect tool for monitoring your child's Instagram activity or keeping up with a partner's account. It provides focused Instagram tracking without complex extras. For more details, see my full Glassagram Review.
📢 Final Verdict
Installing a spy app is often seen as a difficult process, but the options discussed here simplify it tremendously.
mSpy, FlexiSPY, uMobix, SpyBubble Pro, and Glassagram all offer either automatic or quick manual setup to get you monitoring in just minutes.
After testing many spy apps, these stood out as the top picks for easy and hassle-free installation. They enable powerful monitoring capabilities while removing the typical complexity of installing a tracking app.
Whether you need comprehensive tracking or focused Instagram monitoring, these user-friendly spy apps have you covered. The key is finding one tailored to your specific needs.
I hope this overview gave you a better understanding of which options excel in simple spy app installation. Let me know if you have any other questions! I'm happy to provide recommendations based on your particular monitoring goals.
👉 FAQ