When it comes to Instagram, we all have our moments of curiosity. Whether it's about the preferences of your favorite celebrity, your partner's latest follows, or your child's activity, wouldn't it be great if you could get insights into their Instagram behavior? Enter Snoopreport, the top-tier Instagram activity tracker that lets you peek into anyone's activity on Instagram most ethically and legally. 😇💻
Quick Summary
Snoopreport is a robust, web-based Instagram tracking tool offering in-depth insights into the activities of public Instagram accounts. It's user-friendly, affordable, and presents information ethically from publicly available data, although it does have a few limitations.
✅ Snoopreport is an advanced Instagram tracker, providing deep insights into public Instagram accounts including likes, follows, and hashtag preferences. 🕵️‍♂️💡
✅ It allows tracking of new accounts followed by a target, with an emphasis on promoting safe online interactions for users like children. 👨‍👧‍👦🔐
✅ It offers a "Liked Media Tags Cloud" feature that reveals the most popular hashtags liked by the target person, presenting insight into their interests. 🏷️☁️
✅ There is no need for app installation or privacy compromises to use Snoopreport; it uses only publicly available data and operates ethically and legally. 🚫🔒
✅ Some limitations include: it cannot track private accounts or direct messages, does not provide real-time monitoring, and is a paid service limited to Instagram. 💵🚫
✅ Key benefits include its compatibility, done-for-you reports, ease of use, versatility, and affordability, with plans starting from $4.99/month. 💻🎯
✅ The Snoopreport dashboard offers a comprehensive overview of tracked accounts and their activities, including likes, new follows, liked hashtags, user interests, and more. All data is downloadable and available for up to 36 weeks in the past. 📊📥
What is Snoopreport? 👀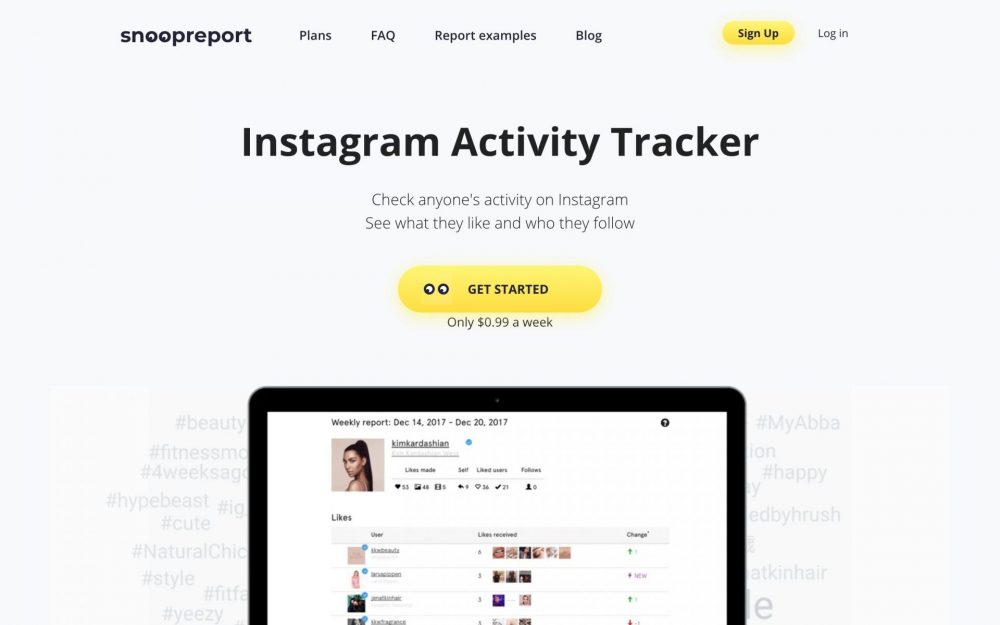 Snoopreport is far more than your average Instagram tracker. It's your personal Instagram detective, providing an all-encompassing understanding of anyone's likes, follows, and overall Instagram behavior. 💡🔍
With this powerful tool, you can unlock a treasure trove of public data to gain meaningful insights into the interests, habits, and activities of Instagram users. Whether you're an individual seeking to understand your favorite celebrities' preferences or a professional seeking in-depth Instagram user behavior insights, Snoopreport is the answer. Let's take a deeper look at the fascinating features Snoopreport brings to your fingertips. 🏊‍♂️🌊
Likes: Have you ever been curious about what posts your favorite celebrity is liking? Or maybe what kind of content your partner or friend is interested in on Instagram? With Snoopreport, you can check the likes of any public Instagram account. You'll be able to see what posts or reels your loved ones, or anyone else, have liked on Instagram. 🧡📸
New Follows: It's important to keep an eye on who your loved ones are following on Instagram, especially when it comes to your child's safety. Snoopreport lets you track the new accounts that the target person has started following, helping you ensure they're engaging with safe and appropriate content. 👀🔎
Liked Media Tags Cloud: Ever wondered what topics fascinate your target person? Snoopreport's "Liked Media Tags Cloud" feature gives you a peek into their favorite hashtags on Instagram. This way, you can get a clear understanding of the topics and trends that pique their interest. ☁️🏷️
The beauty of Snoopreport lies in its simplicity and effectiveness. It's a powerful tool that presents complex user behavior insights in a comprehensive, easy-to-understand manner. And the best part? You don't have to download any apps or worry about your privacy being compromised. All information is gathered ethically, using only publicly available data, and presented in beautiful reports and downloadable activity logs. Now that's an Instagram tracker worth exploring!
What's Good About Snoopreport? 👍🎉
Snoopreport is an incredible tool that takes Instagram activity tracking to another level. Here's why it stands out:
Deep Insights: Snoopreport gives you a 360-degree view of the user's Instagram activities, delving deep into likes, follows, and favorite hashtags. This comprehensive insight into user behavior is an unparalleled advantage. 📊🔍
No App Installation Needed: One of the best things about Snoopreport is that it lets you track someone's Instagram activities without installing any app on their phone. All the tracking happens in the cloud, and you access the reports directly through your dashboard. ☁️💻
Track by Username: Similar to Glassagram, Snoopreport allows you to track someone's Instagram activities using just their Instagram username. It's as simple as it gets. 🕵️‍♀️📱
Discreet Operation: Snoopreport provides you with all the details of the target Instagram account without alerting the person. It shows you their likes, followers, Instagram photos, and more, without them ever knowing. 🤫🔎
Historical Data: Want to know someone's Instagram activity from a few months ago? No problem! Snoopreport allows you to pull Instagram activity data from up to 36 weeks in the past. Even deeper retrospective activity reports are available upon request. 🕰️📅
Ethical and Legal: Snoopreport operates ethically and legally, using only publicly available data and not requiring access to any private account information. 👮‍♀️📚
What's Not That Good About Snoopreport? 👎🤔
Despite its robust features, there are some areas where Snoopreport falls short:
No Private Account Tracking: Snoopreport only works with public Instagram accounts. If the target account is private, Snoopreport won't be able to provide any data. This limitation ensures privacy is respected and the tool operates ethically, but it might be a disadvantage for some users. 🔐🚫
No DM Tracking: Another shortcoming of Snoopreport is its inability to spy on Instagram Direct Messages. It provides a comprehensive view of a user's Instagram activity, but it doesn't include DMs. 📧❌
Delayed Reports: While Snoopreport offers in-depth insights, it doesn't provide real-time monitoring. Users may have to wait for an entire week to get the reports. ⏲️📉
Paid Service: Snoopreport is a paid service. While the cost is justified given the deep insights it provides, it might not fit into everyone's budget. 💰💼
Snoopreport, like any other tool, has its strengths and weaknesses. But when it comes to tracking Instagram activity, its wide range of features and easy-to-use interface make it a top choice among individuals and professionals alike.
Benefits of Using Snoopreport 🌟🚀
Snoopreport isn't just an Instagram tracker — it's a versatile tool that offers a plethora of benefits. From compatibility to affordability, here's why Snoopreport is a game-changer for both professionals and individuals.
Snoopreport isn't just an Instagram activity tracker — it's an essential tool for any serious Instagram user, marketer, or parent. Its versatility, affordability, and ease of use make it an excellent choice for a wide range of users. Try Snoopreport now to experience these benefits first-hand!
How to Use Snoopreport: A Step-By-Step Guide 🚶‍♂️👣
If you're looking to track someone's Instagram account, the first thing you'll need to do is set up your own Snoopreport account. Here's a simple step-by-step guide to get you started:
Step 1: Create Your Snoopreport Account 🖊️🔏
1. Visit the Snoopreport official website and click on the GET STARTED button.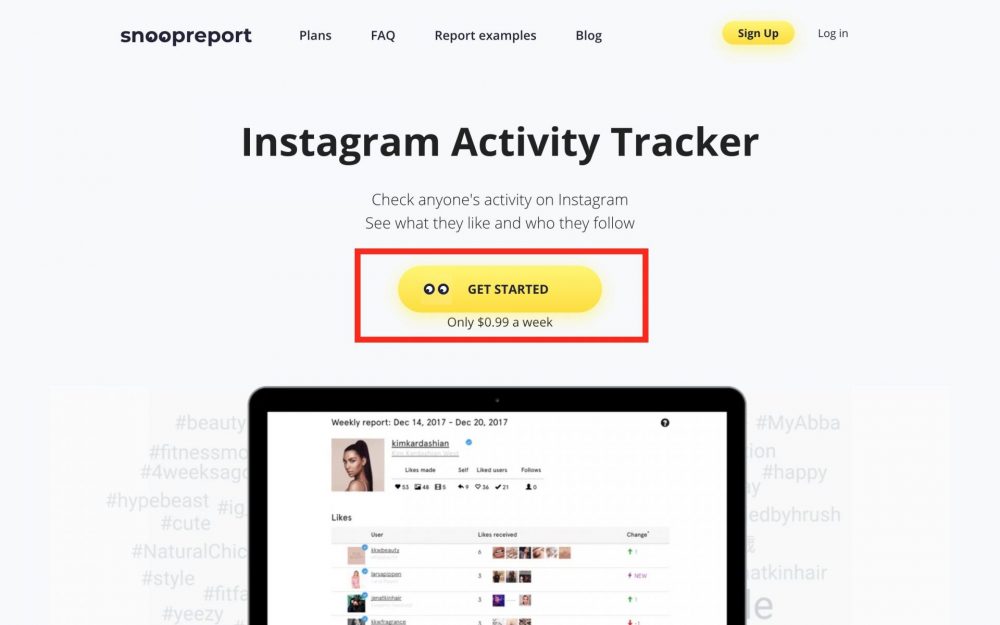 2. Next, Sign Up for Snoopreport by entering your email address and creating a password. Make sure to click on the checkbox to agree to the Terms and Conditions and Privacy Policy.
3. Click on the ADD ACCOUNT button located at the top left corner, and then select BUY SUBSCRIPTION.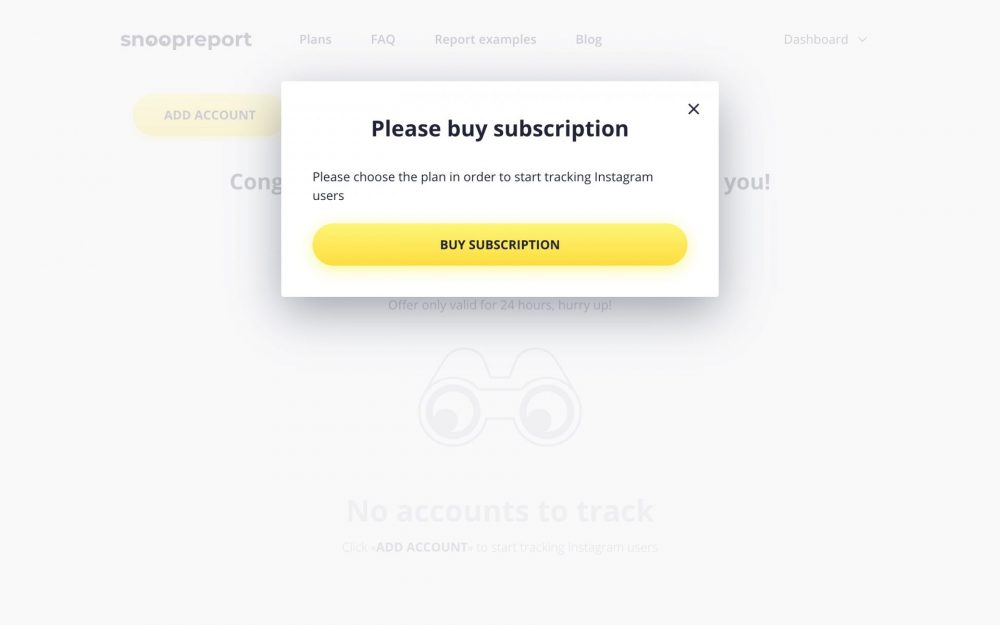 Step 2: Choose Your Plan and Subscribe 💰📋
1. You'll now be prompted to select one of Snoopreport's plans based on the number of accounts you wish to monitor. Once you've chosen the plan that suits you, click on the SUBSCRIBE button.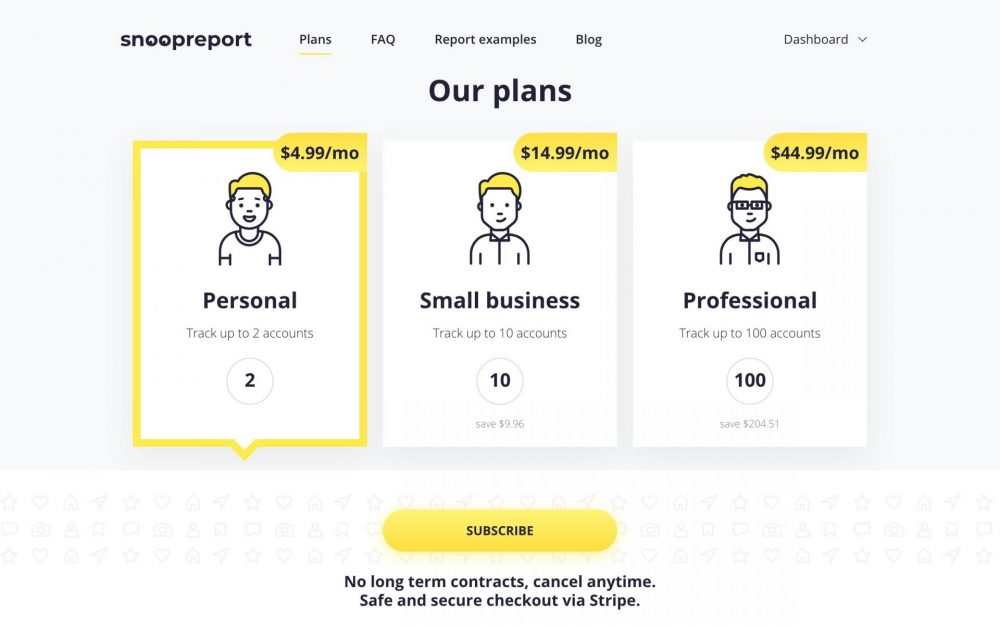 2. Enter your card details and click SUBSCRIBE once again to finalize the purchase and activate your account.
During my testing of Snoopreport, I found there isn't a free trial, but they do offer Report examples to illustrate how the tool works. It's a good idea to check these out before making a payment, to ensure you know what you're signing up for.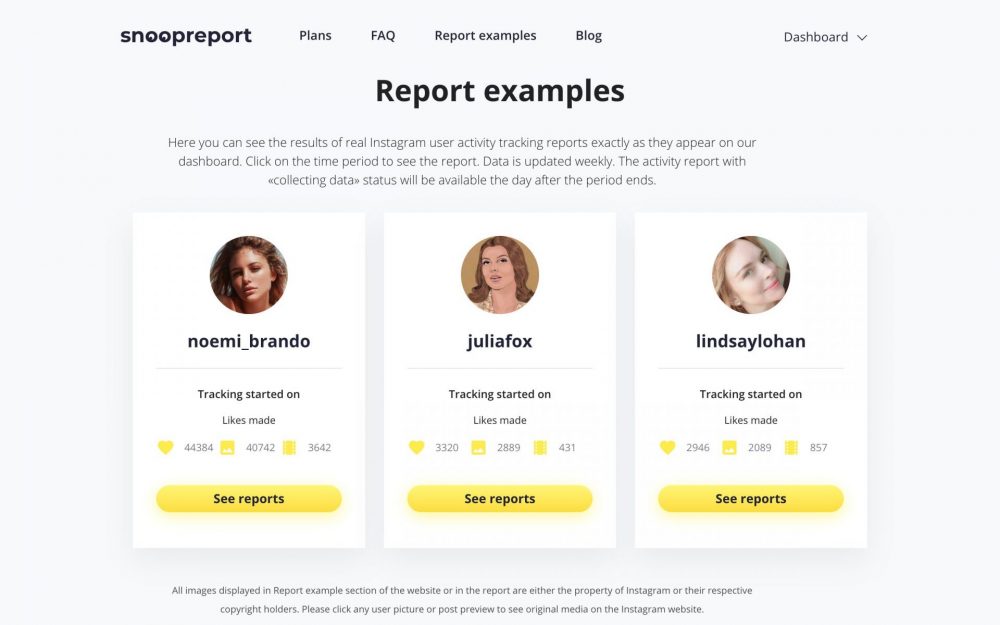 Step 3: Adding Instagram Accounts for Activity Tracking 📲➕
1. Once you've activated your account, go to your dashboard and click on the Add Account button.
2. Here, you'll need to enter the username of the account you wish to monitor. After a few seconds, the user's details will appear on your screen. Click ADD ACCOUNT to start tracking their activity.
Please note, Snoopreport can only monitor public Instagram accounts. If the account you want to track is private, you will not be able to monitor it using Snoopreport. You also need to know the username of the account you wish to track – without that, you can't find the user.
Depending on your chosen plan, you can add more accounts to Snoopreport for tracks, varying from 2 accounts under personal plans to 100 accounts under professional plans.
Please be aware, Snoopreport provides monitoring reports every week, and unfortunately, there are no real-time or daily updates.
Navigating the Snoopreport Dashboard
The user interface of Snoopreport has been designed to be user-friendly and straightforward, making it easy to monitor multiple Instagram accounts remotely. Here's a closer look at what you can expect when logging into your Snoopreport account and how to navigate through its dashboard.
Dashboard Overview 📋📊
Upon logging in, you'll see all the Instagram accounts linked to your Snoopreport profile. The dashboard allows you to select multiple accounts at a time for deletion or archiving.
You can also see a snapshot of the 'likes' made by a particular account on your dashboard. If you want more details, simply click on the See Reports button.
If you scroll further down on your dashboard, you'll find details about your subscribed plans and their expiration dates.
The dashboard's design makes it simple for beginners to get the hang of it.
Instagram Monitoring Reports 🕵️‍♀️📑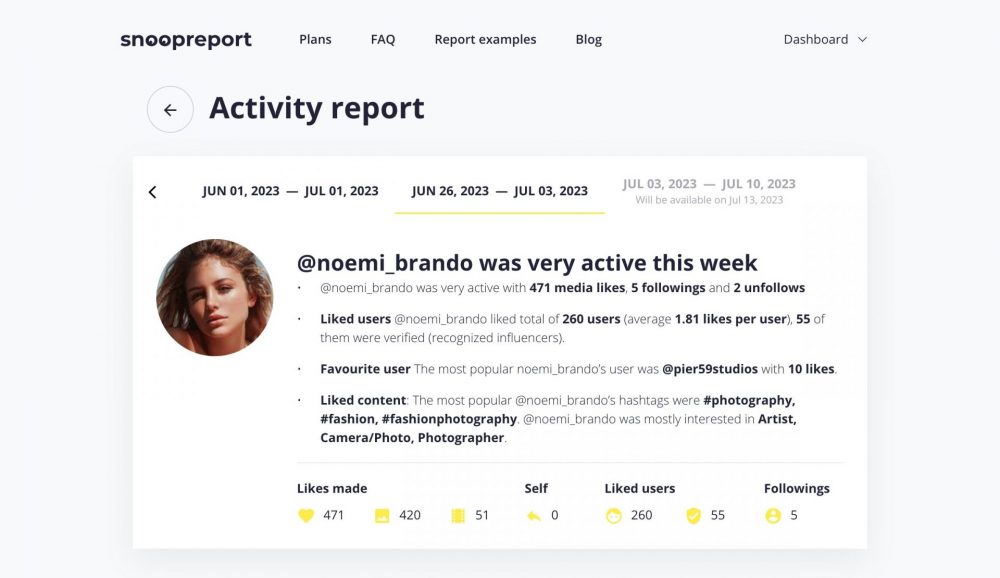 Monitoring reports from Snoopreport provide a wealth of information on Instagram accounts. From favorite users, liked content, new followers, liked media tags cloud, to user interests – it's all there in the report.
Each report provides insights into the activity level of the target account over the past week, giving you a glimpse into their Instagram habits. This includes their favorite users, liked content, and more. It even indicates whether the likes were made on photos or videos, and if the liked users are verified or not.
Likes Section ❤️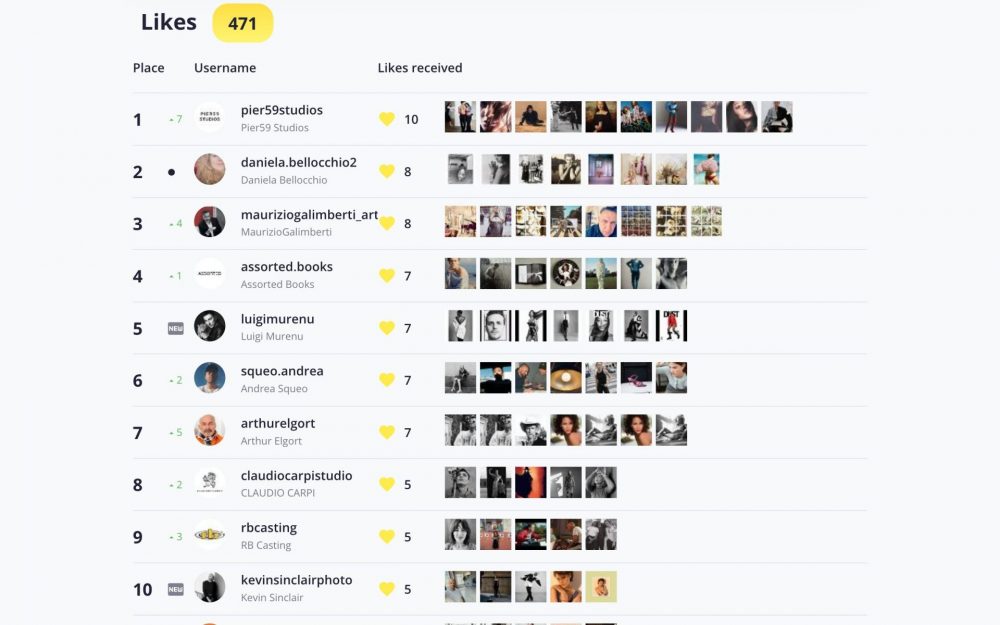 The Likes section of the report shows all the 'likes' made by the target Instagram account. The liked users are listed in descending order based on the number of likes they've received. You can also see the media liked by the target account.
You can directly navigate to the original post on Instagram by clicking on the media. Similarly, you can visit the liked user's profile by clicking on their username.
While Snoopreport aims to track every activity, it may occasionally miss one or two activities.
New Follows Section 🆕👥

The New Follows section presents information about the accounts the target person has started following in the past week. By clicking on the See more button, you can access the complete list of followed accounts.
Liked Media Tags Cloud Section ☁️

This section reveals the most liked hashtags by the target person, giving you a glimpse into their interests. The size and intensity of the hashtag indicate the level of interest the user has in that topic. Each hashtag is clickable and leads you to the specific hashtag page on Instagram.
User Interests Section 🎯

The User Interests section shows you the categories the user is most interested in. Unlike the Liked Media Tags Cloud section, these categories are not clickable.
Watchlist Section 👀
The Watchlist feature allows you to add specific Instagram accounts that you want to monitor closely. If any of the accounts you're tracking start following or liking these watchlisted accounts, you'll be notified.
This feature maintains a record of both new and old activities conducted by the target person on the watchlisted user's account.
Download Report Section 📥

If you wish to keep a record of these monitoring reports, you can download and save them on your device. Click on the Download CSV button to get a record of all activities performed by the target person on their Instagram account.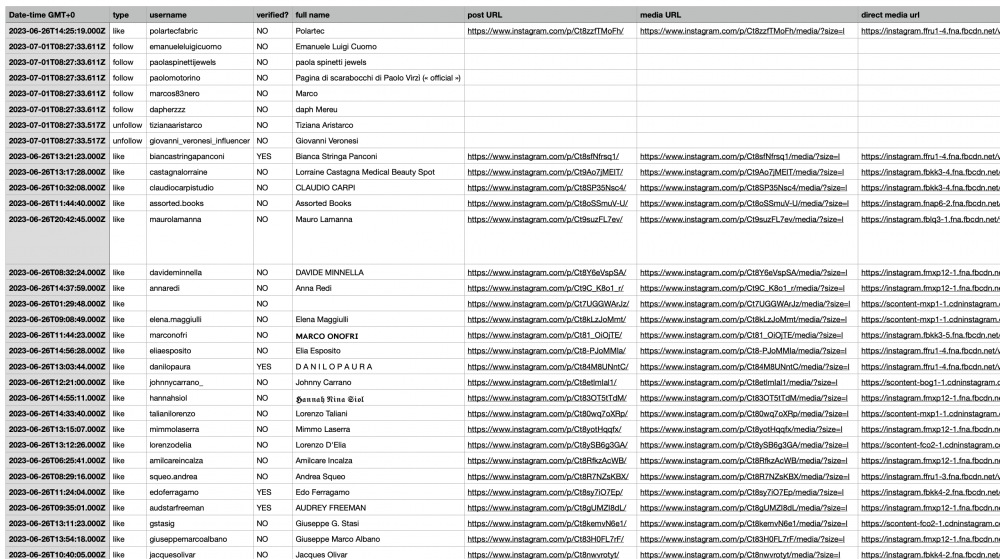 The downloaded files, provided in CSV format, contain detailed information including likes, usernames, captions, and indications of verified or non-verified users, among other data.
That's a wrap on the Snoopreport dashboard. It's designed to help you keep an eye on Instagram activities with ease, while also offering an array of data insights at your fingertips.
Snoopreport Pricing: Choose the Plan that Suits Your Needs 💲👥
Snoopreport offers an array of competitive pricing plans designed to fit different needs without creating financial stress. With three distinct plans – Personal, Small Business, and Professional – it offers affordable options for individuals and businesses alike.
Each plan varies in price and the number of accounts you can monitor, but they all offer the same impressive set of features.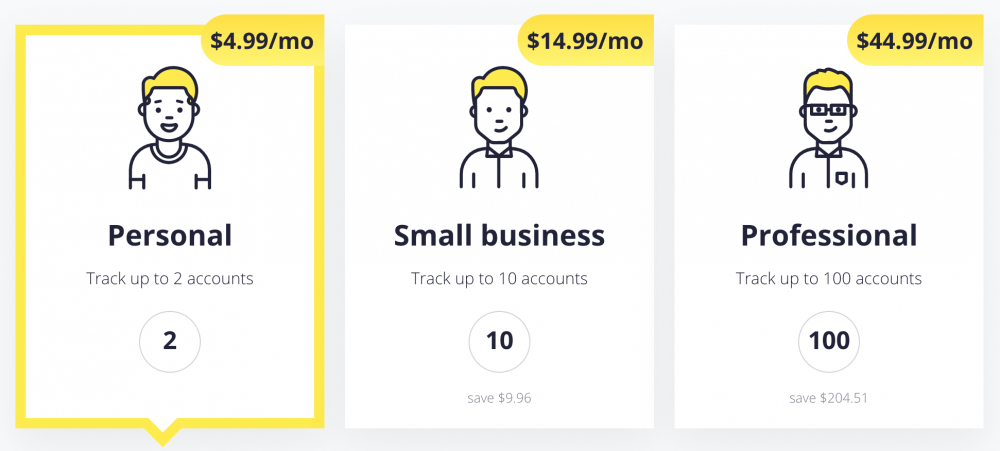 Personal Plan 🚶‍♂️
For just $4.99 per month, the Personal Plan allows you to track the activities of two Instagram accounts. This plan is an excellent choice if you're an individual looking to keep tabs on your children's Instagram usage, or if you want to monitor the activity of a partner.
Small Business Plan 🏢
The Small Business Plan is available for $14.99 per month and gives you the ability to track ten Instagram accounts simultaneously. This plan is an excellent fit for smaller businesses or brands that need to keep an eye on a modest number of customers or competitors on Instagram.
Professional Plan 💼
For larger businesses, the Professional Plan costs $44.99 per month and allows for tracking of up to 100 Instagram accounts at a time. This plan is most suited for brands with larger customer bases, marketing agencies, or larger companies that need extensive tracking capabilities on Instagram.
In essence, Snoopreport's pricing is flexible and scalable, catering to a variety of needs. Whether you're an individual or a business, there's a plan designed with your Instagram monitoring needs in mind.
Snoopreport vs. Glassagram: A Comparative Analysis 🕵️‍♀️🆚🕵️‍♂️
| Feature | Snoopreport | Glassagram | Remarks |
| --- | --- | --- | --- |
| Track private Instagram account | No | Yes | Glassagram can track private Instagram accounts |
| Monitor Instagram Without Installing an App | Yes | Yes | Both can track Instagram without installing an app |
| Track DMs | No | No | You can't track DMs on both Instagram monitoring tools |
| View Story | No | Yes | You can check the Instagram story of someone only on Glassagram |
| See Likes | Yes | Yes | Both offer this feature |
| User Interest | Yes | No | Only Snoopreport lets you see user interest |
| View Comments | No | Yes | Snoopreport cannot show you the comment made on Instagram but Glassagram does |
When it comes to monitoring tools for Instagram, Snoopreport and Glassagram are two noteworthy contenders. Both offer various features to help users gain insights into Instagram activity, but they differ in several aspects. Here's a comparison of the two tools based on key features.
In conclusion, while both Snoopreport and Glassagram offer valuable Instagram monitoring tools, they differ in specific areas. Depending on your requirements – be it tracking private accounts, viewing stories, assessing user interests, or monitoring comments – you'll need to choose the one that suits your needs best.
Final Verdict
In conclusion, Snoopreport certainly emerges as a powerful and unique tool for tracking Instagram activity. Its ability to provide insights on likes, new follows, and user interests, all without requiring app installation, makes it stand out. However, like all tools, it has its limitations such as the inability to track private Instagram accounts, view Instagram stories, or monitor direct messages.
Throughout this article, we've explored its features, user interface, reporting mechanisms, pricing, and comparisons with another similar tool, Glassagram. The versatility of Snoopreport is evident in its use cases, ranging from parents monitoring their teenagers' Instagram activities to brands spying on their competitors, or even individuals keeping tabs on their favorite celebrities.
However, one of the burning questions remains: Does Snoopreport work? Based on the insights presented in this article, Snoopreport does indeed live up to its promises in most areas. It provides valuable Instagram account activity tracking and reporting features that, while not exhaustive, are comprehensive enough to cater to a broad range of needs. It's worth noting, however, that no tool is entirely infallible, and occasional misses in tracking activities could occur.
For individuals or businesses seeking an affordable, accessible, and relatively robust Instagram tracking solution, Snoopreport could be a strong contender. Despite its limitations, the benefits it offers, especially in terms of competitive advantages, ease of use, and compatibility, make it worthy of consideration. However, as always, the final decision should be based on your specific needs and preferences.
👉 FAQ